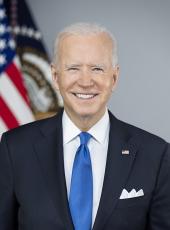 ICYMI: Secretaries Yellen and Raimondo Make the Case for President Biden's Economic Vision
In remarks today to business leaders and economists at the National Association for Business Economics and the Economic Club of Washington, D.C., Treasury Secretary Janet Yellen and Commerce Secretary Gina Raimondo, respectively, laid out why the President's Build Back Better Agenda will strengthen America's economic competitiveness, secure America's prosperity, and foster sustainable economic growth.
In her remarks, Secretary Yellen urged Congress to swiftly pass the President's economic agenda: "We face a similarly significant moment today, where Congress can think big and act big to decisively send us down a better path." She added that "President Biden's vision will allow us to make public investments needed to grow our economy, enhance competitiveness, create good jobs, and make our economy more sustainable, resilient, and inclusive."
Earlier in the day, Secretary Raimondo laid out the urgency to act: "As we recover from the pandemic, now is the time for business and government to work hand in hand to rebuild the American economy. Now is the time to prioritize investments in our supply chains, workforce, and innovation ecosystem—while ensuring equity. If we make these investments, our democracy will be stronger, and our economy will be more competitive."
See below for coverage of Secretary Yellen's and Secretary Raimondo's remarks:
Axios: First look: Yellen, Raimondo lobby business for Biden
Treasury Secretary Janet Yellen and Commerce Secretary Gina Raimondo are delivering a pair of speeches Tuesday lobbying the business community to back the entirety of President Biden's Build Back Better agenda, Axios has learned.
Why it matters: While business groups have endorsed the $1.2 trillion bipartisan infrastructure package, they're opposed to the concurrent $3.5 trillion budget reconciliation package — which would raise taxes on corporations.
In choreographing speeches from Yellen and Raimondo, the administration is going on the offensive to convince the public their overall agenda will lead to productivity gains and help grow the economy for all Americans.

The $1.2 trillion bill would invest in "hard" infrastructure like roads and bridges. The $3.5 trillion package would spend on so-called "human" infrastructure, including day care, universal preschool and caregivers.

"The bipartisan infrastructure bill and Build Back Better are two parts of one economic vision that finally addresses the challenges that have held back families — and, in turn, our economy — for decades," Kate Bedingfield, White House communications director, told Axios.
[...]
Go deeper: During her remarks, Raimondo will focus on how the package will improve supply chains and make investments in workforce development, an administration official told Axios.
The daughter of a factory worker who lost his job when his company relocated to China, the former Rhode Island governor also will tie her personal story to Biden's overall economic agenda.
Between the lines: Yellen will start her morning before the Senate Banking Committee, testifying alongside Federal Reserve Chairman Jerome Powell.
They'll discuss the effects of the roughly $4 trillion in COVID-19 relief spending signed into law by former President Trump.

Then, in the afternoon, Yellen will target her Biden remarks on climate change and infrastructure.
Associated Press: Yellen says infrastructure overhaul will US boost economy
Treasury Secretary Janet Yellen said Tuesday that President Joe Biden's spending proposals will address long-overdue U.S. infrastructure needs and prepare the country to meet future challenges.
In remarks before the National Association for Business Economists, Yellen called on Congress to support the Biden administration's $3.5 trillion "Build Back Better" initiative that would expand the social safety net and attack climate change. She also urged support for a $1 trillion bipartisan bill to address more traditional infrastructure, such as roads and bridges .
"The investments in the president's agenda would be a sweeping overhaul of our national infrastructure," Yellen said.
She listed among the improvements a new electric grid and power structure, new passenger and freight rail systems, as well as fixes for roads and bridges that she have been "in disrepair and unsafe for decades." She also listed broadband, new schools, clean drinking water and environmental remediation steps to help mitigate the impacts of climate change.
[...]
"Over the course of American history, we have seen inflection points where policymakers had the courage to think big and act big to address longstanding flaws in the prevailing economic landscape," Yellen said. "We face a similarly significant moment today where Congress can think big and act big to decisively send us down a better path."
Yellen said that all the investments would be fully paid for through higher taxes on large, profitable corporations, improved enforcement of the existing tax system and savings from reforms to government health care programs.
Reuters: U.S. Commerce chief to push investment in domestic economy
U.S. Commerce Secretary Gina Raimondo plans to outline her vision for U.S. investment in its domestic economy and doing more to compete with China, in a speech on Tuesday.
"For America to compete globally, we must invest domestically - in American workers, American businesses, and American innovation," Raimondo will say at the Washington Economic Club, according to excerpts from the speech.
Congress is considering awarding the Department of Commerce tens of billions of dollars to extend broadband services to areas lacking high-speed internet and $52 billion to boost U.S. semiconductor chip production.
Raimondo's prepared excerpts say she will argue China's R&D spending requires a response: "We must expand R&D investments and move innovations from the lab to the marketplace at 21st century speed."
Bloomberg: Raimondo Says CEOs More Reasonable on Taxes Than Lobbyists
U.S. Commerce Secretary Gina Raimondo made a fresh pitch for President Joe Biden's plan to raise corporate taxes, saying lower rates have failed to have much impact and that the chief executive officers she speaks to privately are "much more reasonable" on taxes than the trade groups aggressively lobbying against increases.
"I have not had a serious discussion where people say it's a catastrophe if we have any increase in taxes," Raimondo said of her conversations with CEOs. "There's broad recognition that they will be just fine if the rate goes above 21%."
Former President Donald Trump's reduction in the top corporate-tax rate -- to 21% from 35% -- hasn't meaningfully increased innovation and research and development spending by U.S. companies, Raimondo told reporters in a roundtable discussion ahead of a speech Tuesday in which she'll lay out her agency's priorities.
[...]
Raimondo said she has little sympathy for legislators who complain about the potential political backlash from their votes.
"I'm personally never sympathetic when members of Congress say, 'That's tough for me politically,'" she said. "It's time for members of Congress to do the right thing and take these votes and make this happen. To me, it's a badge of honor to do the right thing for America and face a tough election."
Raimondo was among Biden cabinet members tasked with negotiating the infrastructure package, which passed the Senate in August. Speaking at the Economic Club of Washington, where she delivered the first major outline of her agenda on U.S. competitiveness, she said she was optimistic that that bill will pass in the House this week. She also said that the president "is prepared to compromise" on the larger, up-to $3.5 trillion measure.
Under her leadership, Commerce is placing emphasis on domestic issues such as job training and workforce development, in line with the president's focus on prioritizing workers.
Her department is also focusing on diversifying supply chains and revitalizing manufacturing, with an emphasis on investing in local microchip output through the $52 billion CHIPS Act, she said in the speech.
Commerce is also preparing to invest $10 billion in regional tech hubs across the country when the House passes its version of the U.S. Innovation and Competition Act, she said.
Joseph R. Biden, ICYMI: Secretaries Yellen and Raimondo Make the Case for President Biden's Economic Vision Online by Gerhard Peters and John T. Woolley, The American Presidency Project https://www.presidency.ucsb.edu/node/352752