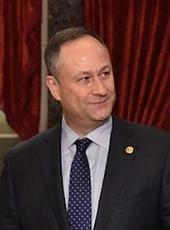 ICYMI: Second Gentleman Marks Yom HaShoah in a discussion with Holocaust Survivors
Haaretz: Doug Emhoff Left With 'Joy and Hope' After Meeting Holocaust Survivors on Yom Hashoah
[Ben Samuels, 4/27/2022]
Second Gentleman Doug Emhoff on Wednesday marked Israel's Holocaust Remembrance Day by visiting the U.S. Holocaust Memorial Museum, where he met with two survivors and toured a visiting exhibit on Americans' response to Nazism.
Emhoff, who is the first Jewish spouse of a U.S. president or vice president, began his visit to the museum (his second visit as second gentleman) by touring the "Americans and the Holocaust" exhibition, which examines the motives, pressures, and fears that shaped Americans' responses to Nazism, war, and the persecution and murder of Jews in Europe during the 1930s and 1940s.
The second gentleman then met with 89-year-old Holocaust survivors Allan Firestone and Halina Litman Yasharoff Peabody, who told a visibly moved Emhoff about their stories of survival and the importance of Holocaust education. The three then visited the eternal flame at the museum's Hall of Remembrance.
Emhoff, 57, told Haaretz that his "impactful" visit to the museum "hit hard."
"I was struck after hearing the stories of miracle survival, aided by non-Jews in both instances. To go through what they went through, but to still have the humanity and empathy, wanting to give back and tell their stories," he said. "It leaves me with a lot of joy and hope. I'm really humbled and honored that I was able to be here and spend this time with them."
Emhoff's visit is just the latest example of the second gentleman centering his Jewish heritage to his public platform, including his hosting a menorah lighting on Hanukkah, a Passover Seder and hanging a mezuzah on the vice president's residence.
"Coming into this role as a Jewish person, I did not believe it would be this big of a deal to our community but also to myself," he noted. Now over one year into his role, Emhoff notes how impactful the public and private events alike have been on him.
"Talking to Jews of all stripes, all ages, all political parties and having them tell me how me being so open and joyful in this role and leaning into it has meant to them, and in turn means so much to me."
The second gentleman further reflected on the role the Holocaust played in his Jewish upbringing, and how he internalizes its lessons as both the second gentleman and a Jewish-American.
"I went to Hebrew school and public high school. It was very openly talked about, they made miniseries about it, the truth and history of it was embraced," he noted. "When you went to school, it didn't matter if you Jewish or not. I went to school with Jewish and non-Jewish kids, we all knew about the Holocaust. Our parents talked about it, it was a part of our lives and it impacted us all."
[…]
During his meeting with the survivors, Emhoff noted the Anti-Defamation League's recent annual Audit of Antisemitic Incidents, which reported an all-time high in antisemitic incidents in 2021. He also warned about rising global antisemitism, which he learned about firsthand when visiting the Mémorial de la Shoah in Paris in November, "Truth is truth, facts are facts, history is history," he said. "I plan to keep speaking out about antisemitism particularly, and the epidemic of hate that we're seeing, more generally."
[…]
While Emhoff places a premium on these issues while serving as second gentleman, he does not intend to stop when Vice President Kamala Harris' time in office concludes. "I will continue to speak out. I never want to be in a position where I'm not doing as much as I can, whatever role I'm in," he says.
"What I've learned from this role as second gentleman, a Jew and as an American citizen, is that there's a lot of stuff going on around this country and the world that I was vaguely aware of, but now I'm very aware of. I want to make sure I continue to stay aware and continue to speak out with whatever platform I have."
"I'm not going to leave this role and fall asleep," Emhoff says. "I'm going to continue to fight for rule of law, democracy, freedom to be who you are, love who you want to love and practice the religion you want to practice."
Doug Emhoff, ICYMI: Second Gentleman Marks Yom HaShoah in a discussion with Holocaust Survivors Online by Gerhard Peters and John T. Woolley, The American Presidency Project https://www.presidency.ucsb.edu/node/355625