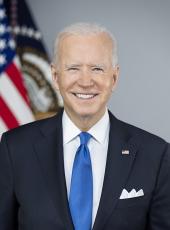 ICYMI: President Biden's American Rescue Plan is Empowering Cities and States to Bolster Public Safety in their Communities
Today, the Biden-Harris Administration announced a comprehensive strategy to combat violent crime and gun violence. This strategy implements preventative measures that are proven to reduce violent crime, and attacks the root causes – including by addressing the flow of firearms used to commit crimes.
A critical element of the strategy is the historic $350 billion in state and local funding in his American Rescue Plan, which has empowered cities and states across the country to take action to ensure the safety and well-being of their communities – including by hiring cops and bolstering community policing, as well as supporting investments in a range of programs that are proven to reduce gun violence and violent crime. Today's strategy builds on that by providing further guidance for states and cities to expand their ability to improve public safety in their communities.
See below for examples:
Philadelphia, PA: Philadelphia Mayor Jim Kenney included a suite of investments in his FY22 budget to address gun violence and reform the police department, including expanding proven violence interruption programs like Community Crisis Intervention Programs and Group Violence Intervention, establishing a new Citizen Police Oversight Commission, and investing in a Transitional Jobs Program, behavioral health mobile crisis units, a pilot 911 triage and co-responder program. In the proposed budget, he stated that "An integral part of the Plan is an estimated $1.4 billion from the American Rescue Plan."
Akron, OH: Mayor Horrigan is proposing a $20 million investment to reduce community/youth violence through employment programs and training, support for ongoing initiatives, more recreational assets for teens and young adults and combating gun violence.
DeKalb County, GA: DeKalb County CEO Michael Thurmond put forward a proposal to use ARP funds for police training and equipment, including automated license plate readers.
Watertown, NY: Watertown is seeking to use ARP funds to rehire police officers who were cut during budget deliberations last year.
North Carolina: Governor Cooper is proposing $7mm in funding to increase the Department of Public Safety's youth workforce development and adult and youth re-entry support programs.
New Haven, CT: Mayor Elicker is proposing a $6.2mm investment in summer youth employment, training, and other recreational programs.
Connecticut: CT Gov. Lamont proposed spending $3 million over the next two years on community gun violence prevention programs using ARP funds
New York City, NY: Mayor De Blasio proposing a $48.4mm investment in public safety and criminal justice programming including $27mm of cure violence and youth employment funds.
Minneapolis, MN: Minneapolis Mayor Jacob Frey stated his intent to use ARP funds to support violence prevention, intervention, and emergency response, with specific investments in a Youth and Community Safety Fund; Violence Prevention Groups (e.g., Group Violence Intervention (GVI) program, Next Step, and Minneapol-US/ Interrupters); Youth-Specific Group Violence Intervention; Community Service Officers and Civilianization; Investigative and Patrol Assistance from Local Law Enforcement; and a Violent Crime Hot Spot Task Force.
Hamden, CT & North Haven, CT: Hamden is seeking to use ARP funds to hire five police officers, while North Haven is looking to hire three police officers and two firefighters.
Portland, OR: Portland Mayor Ted Wheeler listed 'Transform public safety system to community safety system' as a priority for spending the city's ARP funds.
Memphis, TN: Memphis Mayor Jim Strickland plans to use ARP funds to give police and firefighters a 9% bonus on top of his previous proposal to give them a 2% raise in addition to investing $2M in the City's targeted deterrence and violence interrupters programs.
Westbrook, ME: Westbrook is seeking to use ARP funds to hire a new mental health liaison position at the police department and a new police sergeant.
Albuquerque, NM: Albuquerque Mayor Tim Keller plans to use more than 15% of ARP funds for the Albuquerque Police Department, including $3M to expand the city's gunshot detection system, $5M to refurbish police station houses, $1M for new police cars, and $450,000 to recruit more police officers.
Joseph R. Biden, ICYMI: President Biden's American Rescue Plan is Empowering Cities and States to Bolster Public Safety in their Communities Online by Gerhard Peters and John T. Woolley, The American Presidency Project https://www.presidency.ucsb.edu/node/350539