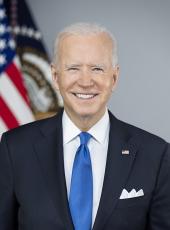 ICYMI: President Biden Visits Virginia, Highlights Administration's Plan to Lower Prescription Drug Costs
Local outlets across Virginia are spotlighting President Joe Biden's visit to Culpeper, Virginia where he outlined actions the Administration is taking to help cut costs for working families, and how his Build Back Better Agenda will lower the cost of prescription drugs.
The President was joined by Congresswoman Abigail Spanberger (VA-07) who has been a vocal advocate for lowering prescription drug prices. He was also joined by 12-year-old Joshua Davis who, like his father, has Type-1 diabetes. Like many families across the country, the Davises spend thousands of dollars a year on insulin.
President Biden's Build Back Better Agenda is the most significant effort to bring down costs and strengthen the middle class in generations. In addition to major investments in children and care, climate, and health, the President's plan will allow Medicare to negotiate prices with pharmaceutical companies and cap the price of insulin at $35 a month.
Here's a sampling of the local coverage:
Culpeper Star-Exponent: 'Everyone has less money in their pockets'—President Biden talks healthcare costs in Culpeper
[Allison Brophy Champion, 2/10/22]
President Joe Biden spoke Thursday afternoon at Germanna Community College in Culpeper, touting his Build Back Better plan for lowering the cost of health care and prescription drugs…"Everyone has less money in their pockets today because ... of health insurance. It's more expensive for everyone," the president said, citing a 50 percent hike in health care costs in the past decade. "Prescription drugs are a big chunk of that."…The president's signature legislation, which passed the House of Representatives but is stalled in the Senate, includes a provision that would charge a steep tax on drug companies whose prices increase faster than the rate of inflation.
Richmond Times-Dispatch: Biden, with Spanberger in Culpeper, urges lower prescription drug prices
[Michael Martz, 2/10/22]
President Joe Biden visited a heavily Republican rural stronghold in Virginia on Thursday to join Rep. Abigail Spanberger, D-7th, to push Congress to take action on proposals to reduce the price of insulin and other prescription drugs…"Inflation is up," Biden acknowledged, but he said, "If we do the things I'm talking about, it will bring down the costs for the average family." The president was accompanied by a family from Chesterfield County to make the case. He was introduced by Joshua Davis, a Midlothian area middle school student on the cusp of his 13th birthday, whose family pays $6,000 to $7,000 a year on insulin for him and his father, Brian, who both have Type-1 diabetes.
WVIR (Charlottesville, VA): Pres. Biden visits Culpeper Co. to talk about Build Back Better Bill
[Isabel Cleary, 2/10/22]
President Joe Biden came to Germanna Community College - Daniel Technology Center Thursday, February 10, along with 7th District Representative Abigail Spanberger, to push a part of his Build Back Better Bill…"Lowering the cost of drugs is one of the reasons why I'm here with Abigail, your congresswoman," Pres. Biden said. "That's what I wanted to talk about with you today lowering the cost of health care overall."…One 7th District family shared its struggle with insulin costs for both the son and father: "You learn tricks to save money with this life threatening disease. We will use one vial between Brian and Joshua until it's every last drop is gone. We will use insulin after it has expired, even though it's not recommended," Shannon Davis said.
WRIC (ABC Richmond, VA): Biden, Spanberger call for action on drug prices during VA visit
[Jakob Cordes, 2/10/22]
In scenic Culpeper County, on the campus of a local community college, President Joe Biden and Representative Abigail Spanberger (D – Henrico) vowed to take action on high drug prices that have devastated many American families…Among their proposals are a cap on the price of insulin, empowering the federal government to negotiate better prices for drugs offered through medicare and medicaid and a steep tax on drug companies that increase prices after a drug is already on the market…The legislative priorities they outlined are almost all included in Biden's Build Back Better plan, which Spanberger supported when it passed the House of Representatives last year.
Joseph R. Biden, ICYMI: President Biden Visits Virginia, Highlights Administration's Plan to Lower Prescription Drug Costs Online by Gerhard Peters and John T. Woolley, The American Presidency Project https://www.presidency.ucsb.edu/node/354475