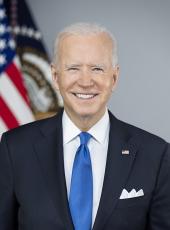 ICYMI: President Biden Ramps Up Availability of Rapid, At-Home COVID-19 Tests, Access to Free Testing
Today, the Biden Administration announced it is on track to quadruple the amount of rapid, at-home COVID-19 tests available for Americans by December to more than 200 million tests a month, and increase the number of places Americans can access free COVID-19 testing to 30,000 community-based sites around the country.
As part of today's announcement, the Administration is making an additional $1 billion investment to further mobilize COVID-19 testing production and procure an additional 180 million rapid, at-home tests by the end of the year. This builds on a $2 billion investment the President announced in September to ensure COVID-19 tests are available to those who need them and expand testing production.
In September, the President also committed to expanding the number of pharmacies in the federal government's free testing program to 10,000 local pharmacies across the country. We are on track to meet that goal in the coming weeks and are now doubling our commitment to 20,000 pharmacies, which will bring the total number of community-based free testing sites in the U.S. to 30,000.
See below for coverage of today's announcements:
New York Times: The White House said it will spend $1 billion to increase the supply of rapid at-home tests.
[Noah Weiland, 10/6/21]
"The changes reflect the administration's growing emphasis on at-home testing as a tool for slowing the spread of Covid-19. President Biden in September said that he would use the Defense Production Act to increase the production of rapid testing kits and would work with retailers, including Amazon and Walmart, to expand their availability. He pledged $2 billion to the effort, or roughly 280 million tests."
Axios: White House to expand supply of at-home COVID tests by December
[Marisa Fernandez, 10/6/21]
"Why it matters: Despite vaccination efforts, public health officials have said rapid home tests will be essential for businesses, homes and schools to get back on track to normalcy."
CNN: Biden administration to boost at-home rapid testing with $1 billion investment
[Betsy Klein and Maegan Vazquez, 10/6/21]
"The administration is working to increase US vaccinations, with 76% of the US population over 12 years of age having at least one vaccine dose as of Wednesday and that number growing as workplace mandates go into effect. But fast, easy, affordable testing remains a critical tool to getting the pandemic under control and curbing outbreaks."
Washington Post: White House announces $1 billion purchase of rapid, at-home coronavirus tests
[Yasmeen Abutaleb and Dan Diamond, 10/6/21]
"'This is a big deal," said Scott Becker, chief executive of the Association of Public Health Laboratories, who said the spotty availability of rapid tests had hampered efforts to track and combat the surge of coronavirus cases driven by the highly transmissible delta variant."
NBC News: White House announces additional $1 billion investment in rapid, at-home Covid tests
[Heidi Przybyla and Shannon Pettypiece, 10/6/21]
"Carole Johnson, the White House testing director, said the announcement will 'help to send a signal to manufacturers to ramp up production, and that's why we're confident here that we'll see increased production. In the coming weeks all of the major impacts of these major investments and improvements will be visible,' she said. The White House, she said, has also secured commitments from leading retailers to sell the tests at cost and they're arranging for tests to be distributed through food banks and community health centers. 'We're continuing to work on the cost issue,' Johnson said."
Joseph R. Biden, ICYMI: President Biden Ramps Up Availability of Rapid, At-Home COVID-19 Tests, Access to Free Testing Online by Gerhard Peters and John T. Woolley, The American Presidency Project https://www.presidency.ucsb.edu/node/352810