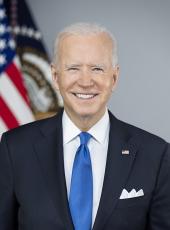 ICYMI: President Biden Presses Bold Climate Action Forward to Lower Energy Costs and Build a Better America
This week, President Biden and his Administration took historic executive actions to tackle the climate crisis, lower energy costs for families, and grow the clean energy economy. As President Biden continues pressing Congress to pass tax cuts and additional investments that advance U.S. clean energy manufacturing and deployment, he is taking bold action to ensure we can meet this moment to combat climate change with the urgency it demands. Thanks to President Biden's vision, leadership, and actions, America has become a magnet for clean energy manufacturing investments – with private companies investing billions in electric vehicles, batteries, offshore wind, solar, and more. Thanks to his agenda, last year marked the largest deployment of solar, wind, and batteries in United States history, and electric vehicle sales have doubled since the President took office.
This week, the Biden-Harris Administration built on this progress with actions that:
President Biden's historic actions received widespread praise from labor unions, business leaders, Members of Congress, climate and environmental organizations, and more.
Read what they are writing and saying about President Biden's climate action:
Defense Production Act for Clean Energy Manufacturing
CNN: Biden Announces New Executive Actions to Spur Domestic Solar, Clean Energy Development
[Ella Nilsen, 6/6/22]
President Joe Biden authorized the Defense Production Act to spur US manufacturing of solar and several other forms of clean energy, the White House announced Monday. Biden authorized the Energy Department to use the DPA to speed up domestic manufacturing of solar panel components, energy-efficient heat pumps, building insulation, electric transformers needed for the power grid and equipment like electrolyzers and fuel cells. The White House also announced it will leverage the power of the federal government's purse for clean energy, using federal procurement to increase US solar manufacturing.
NBC: Biden Invokes Defense Production Act to Boost Solar Panel Manufacturing
[Rebecca Shabad, 6/6/22]
President Joe Biden is using his executive powers Monday to boost the domestic production of solar panels and their parts and will issue a 24-month tariff exemption on imports of the products from several countries. The White House said Biden will authorize the use of the Defense Production Act to accelerate manufacturing of solar panels in the United States as a way to strengthen the administration's efforts to shift the country toward clean energy.
AP: Biden Orders Emergency Steps to Boost U.S. Solar Production
[Will Weissert, 6/6/22]
President Joe Biden ordered emergency measures Monday to boost crucial supplies to U.S. solar manufacturers and declared a two-year tariff exemption on solar panels from Southeast Asia as he attempted to jumpstart progress toward his climate change-fighting goals.
Vox: Why Joe Biden is Invoking a War Power to Build Heat Pumps and Solar Panels
[Neel Dhanesha, 6/8/22]
The executive actions could bring thousands of manufacturing jobs to the country while also making the US less dependent on foreign oil and gas, particularly as the war in Ukraine continues.
Lonnie Stephenson, President, International Brotherhood of Electrical Workers (IBEW): "Today's action by the Biden administration will build America's energy arsenal and spur domestic energy manufacturing while reducing energy costs, supporting good-paying union jobs, and strengthening U.S. energy independence. And it will do it while maintaining strong labor standards. We applaud the Biden-Harris administration's recognition of these challenges and the ability to strike the delicate balance of aggressively restoring domestic solar manufacturing jobs through the invocation of the Defense Production Act, federal procurement policy, and sustaining the construction of solar projects already underway." [Statement, 6/6/22]
Heather Zichal, CEO, American Clean Power Association: "President Biden's proclamation today to use the full power of executive authority to jumpstart the domestic solar industry is a bold act of leadership. It recognizes the immediate need to protect middle-class American jobs, promote U.S. energy independence, protect consumers from rising electricity bills in the face of inflation, and stay true to his climate commitments." [Statement, 6/6/22]
Chair of the Environment and Public Works Subcommittee on Clean Air, Climate, and Nuclear Safety, Massachusetts Senator Ed Markey: "President Biden's decision to invoke the Defense Production Act to bolster the clean energy industry will make our country safer and more resilient for years to come. By investing in the clean energy that will power our nation's future – from solar panels to heat pumps to clean energy technologies – the President is answering our call for immediate action to lower energy prices, fortify our independence from a corrupt global oil market, boost American manufacturing, create good-paying jobs, deliver a healthier environment, and build a more resilient economy. I will continue to fight alongside climate warriors from across the country and work with my colleagues in Congress to deliver the comprehensive climate justice and clean energy action we need to meet the magnitude of the climate crisis head-on." [Statement, 6/6/22]
Chair of the Select Committee on the Climate Crisis, Florida Congresswoman Kathy Castor: "By using the Defense Production Act to unleash the economic potential of clean technologies, President Biden is taking an important step to lower energy costs and to protect existing American jobs in the clean energy industry, while helping create new ones in domestic manufacturing and construction projects. He's also working to ensure America's true energy independence and security, which means investing in clean technologies and renewables produced in the USA, while helping more families avoid volatile and expensive fossil fuels." [Statement, 6/6/22]
Dan Shugar, CEO, Nextracker: "President Biden's measures will enable us to increase the amount of US steel we procure and jobs we create; adding production shifts as demand increases. 10s of thousands of jobs will be created over the coming months through the solar ecosystem. Nextracker Inc. calls on all participants in the US solar market to support Pres Biden's actions, and invest in US manufacturing capacity as we have. Supply security, energy independence, clean power, and jobs have never been more important than right now." [Statement, 6/6/22]
Silfab Solar: "Silfab applauds today's announcement [by the Biden administration] that provides clarity and opportunity for the US solar industry to recover from months of supply chain uncertainty. North America's energy future will involve the expansion of domestic solar manufacturing and we want to acknowledge and thank the various government officials who have supported our efforts. Silfab Solar, already one of North America's largest PV panel producers, continues to add capacity and create jobs as a result of persistent demand for our high-quality products. We support efforts and policies that encourage greater local solar panel production while ensuring supply chain efficiencies. Entrepreneurial, innovative companies like Silfab are well-positioned to meet long-term demands for North American-made solar." [Statement, 6/6/22]
Jason Whitaker, President & CEO, Shoals Technologies Group: "As the leading manufacturer of electrical balance of systems components (EBOS) in the United States for the solar industry, we applaud President Biden's Executive Action invoking the Defense Production Act to spur domestic manufacturing, strengthen our power grids, and accelerate job creation while also granting a 24-month tariff exemption bridge. Our partners rely upon the steady flow of solar panels and components to address the Administration's climate change goals. This Executive Action provides near-term certainty for them to proceed forward, which will lead to tens of thousands of good-paying American jobs in construction and the US clean energy manufacturing field." [Statement, 6/7/22]
Matthew Davis, Senior Director of Government Affairs, League of Conservation Voters: "This is exactly the kind of bold executive action voters are demanding from their climate president – thank you President Biden. Today's move will immediately turbocharge clean energy manufacturing and production in the United States, create good-paying jobs, and accelerate our transition to the healthier, more equitable, and more affordable clean energy future our children and families deserve. Already, announced expansions in solar manufacturing since the start of the Biden-Harris administration will triple U.S. capacity to crank out the solar panels we need to rapidly achieve true energy independence." [Statement, 6/6/22]
New Proposed Standards for National EV Charging Network
New York Times: Biden Administration to Set Rules of the Road for Charging Electric Vehicles
[Lisa Friedman, 6/9/22]
Mr. Buttigieg and Energy Secretary Jennifer Granholm outlined the proposed regulations, which are designed to make sure that rural areas and communities with few services would have the same access to electric charging stations as more urbanized areas that already have access . . . Biden administration officials have pointed to electric vehicles as an answer to climbing gas prices; electric cars are generally much cheaper to operate than vehicles that burn gasoline. The administration is also promoting electric vehicles as a way to reduce the country's dependence on foreign oil and to fight climate change.
CNN: Biden Administration Wants to Standardize Electric Vehicle Charging, Like Gas Stations
[Gregory Wallace, 6/9/22]
Its new proposed rule would require the half-million electric vehicle chargers it plans to fund to be interoperable, similar to the way a gas pump works with any vehicle. Charging stations funded under the federal program would also be open to anyone – prohibiting any membership requirements – and set a common standard for payment and other technologies. The charging stations would be built along America's highways.
USA Today: Biden to Require Electric Vehicle Charging Stations Every 50 Miles on Federal Highways
[Michael Collins, 6/9/22]
President Joe Biden has pledged to have 500,000 public charging stations for electric vehicles in place by 2030. The administration is providing more than $5 billion to states over the next five years to build a network of charging stations along the nation's interstates. The proposed standards, which will be published next week in the Federal Register, dictate that a charging station be located every 50 miles along the interstate and no more than a mile off the highway. Stations would be required to maintain a minimum number and type of chargers capable of serving multiple customers.
CNBC: Biden Announces Standards to Make Electric Vehicle Charging Stations Accessible
[Emma Newburger, 6/9/22]
"We're paying attention not only to the quantity of EV chargers but also their quality," Buttigieg said. "Everyone should be able to find a working charging station when and where they need it."
"We're tackling range anxiety and vehicle charging deserts by making sure that charging stations are easily and equally accessible, allowing every American can get coast to coast in an electric vehicle," Energy Secretary Jennifer Granholm said in a statement.
John Bozzella, President and CEO, Alliance for Automotive Innovation: "While we are still reviewing, today's announcement is positive momentum to speed the rollout of a national EV charging network that is reliable, equitable, ubiquitous and ready to meet the needs of current and future EV drivers. We are gratified the announcement reflects the recommended attributes for EV charging stations Auto Innovators released in December." [Statement, 6/9/22]
ChargePoint: "ChargePoint has been working with the federal government, states, and our partners to ensure the NEVI program is designed and implemented in a way that best addresses the needs of EV drivers. This draft guidance incorporates many best practices we have developed over the last 15 years. We applaud the federal government for working to increase access to EV charging by embracing contactless credit card payment technology & supporting roaming between charging networks. The draft also gives states flexibility on critical issues like the spacing of chargers and training requirements, allowing state programs to address communities' unique needs and geographic realities. Finally, it highlights the need to train electricians across the country to install EV charging infrastructure — which we are proud to support through our new partnership with the National Electrical Contractors Association." [Tweet, 6/9/22]
Chair of the Senate Environment and Public Works Committee, Delaware Senator Tom Carper: "I'm glad to see that @POTUS is all in on EVs! Thanks to these new standards and our investments in the Bipartisan Infrastructure Law, the coming nationwide network of EV
chargers will be reliable, affordable, and accessible." [Tweet, 6/9/22]
The Climate Mayors: "Today, the Biden Administration announced new standards to build out a National Electric Vehicle Charging Network — as a key piece of the Bipartisan Infrastructure Law. Accelerating EVs is critical to advancing just and sustainable cities." [Tweet, 6/9/22]
Reem Rayef, Policy Advisor, BlueGreen Alliance: "Today's proposed rule illustrates this administration's commitment to creating good, union jobs and supporting American manufacturing as part of our nationwide efforts to reduce transportation-related greenhouse gas emissions and improve air quality for communities. By enforcing the Build America, Buy America Act and requiring EV Infrastructure Training Program certification for all journey-level electricians working on these projects, DOT is delivering on the administration's promise that workers and communities everywhere immediately see the benefits of the transition to electric vehicles." [Statement, 6/9/22]
Hieu Le, Senior Campaign Representative, Sierra Club's Clean Transportation for All Campaign: "Many electric vehicle drivers view taking road trips or going to new destinations as a rite of passage. Public charging stations can be difficult to find, their availability and functionality can be uncertain, and the cost of charging can be a mystery. Now, companies will be required to address these issues and ensure the EV charging experience is reliable and convenient. The public health and climate crises that we face, and soaring gas prices, requires that we urgently transition from gas vehicles to electric vehicles. We must ensure that the broad charging infrastructure network is built in a way that is equitable, accessible, and safe and advances family-sustaining careers in the U.S." [Statement, 6/9/22]
World Ocean Day Actions
Washington Post: Biden Proposes Making Underwater Canyon off New York a Marine Sanctuary
[Anna Phillips, 6/8/22]
The Hudson Canyon — spanning nearly 7½ miles wide and more than two miles deep in some places — rivals the Grand Canyon in scale. The push to add it to the National Marine Sanctuary System reflects the Biden administration's broader effort to safeguard critical habitat threatened by development and global warming by conserving 30 percent of the nation's land and waters by 2030 . . . The administration will also announce plans Wednesday to craft an ocean climate action plan with guidance on renewable energy development, zero-emission shipping and other ocean-related efforts to mitigate the worst effects of climate change.
New York Times: Biden Proposes a New Marine Sanctuary Off the Northeastern U.S.
[Lisa Friedman, 6/8/22]
Hudson Canyon, a vast gorge in the Atlantic Ocean that is home to endangered whales, sharks, sea turtles, would become a national marine sanctuary under a proposal made by the Biden administration on Wednesday. Located about 100 miles southeast of the Statue of Liberty, the Hudson Canyon would be off limits to oil and gas drilling in order to protect marine life and cold-water coral as well as several shipwrecks.
NPR: Hudson Canyon, a Giant Underwater Chasm, Could Be the Newest National Marine Sanctuary
[Eric McDaniel, 6/8/22]
Hudson Canyon is the second marine sanctuary Biden has backed, after advancing a proposal last year for the Chumash Heritage National Marine Sanctuary off the coast of central California. Before he took office, Biden pledged to conserve 30% of U.S. land and water by 2030 — part of a global push to address climate change.
The Hill: Biden Administration Announces New Ocean Conservation Proposals
[Zack Budryk, 6/8/22]
The Biden administration announced a raft of ocean-related conservation efforts on Wednesday, World Oceans Day, including ending the use of single-use plastics on federal lands and a proposed marine sanctuary off the coast of New York . . . The administration also announced a plan to phase out single-use plastics in national parks and on public lands by 2032. In a secretarial order Wednesday, Interior Secretary Deb Haaland also directed department staff to find biodegradable or compostable alternatives for such products.
John Racanelli, President & CEO, National Aquarium: "Big goals like combatting climate change, stopping plastic pollution and saving wildlife and habitats will take all of us working together. These broad and sweeping federal changes echo the commitments made by our aquariums and help make meaningful progress toward these goals." [Statement, 6/8/22]
John Calvelli, Executive Vice President for Public Affairs, Wildlife Conservation Society: "This is a once in a generation opportunity to support marine conservation and deepen the connection of the more than 28 million residents in New York and New Jersey to our treasured ocean resources. This nomination highlights the role that aquariums can play to not only educate and inspire, but also help encourage audiences to support actions that advance conservation impact." [Statement, 6/8/22]
Christy Leavitt, Plastics Campaign Director, Oceana: "Our national parks, by definition, are protected areas — ones that Americans have loved for their natural beauty and history for over a century — and yet we have failed to protect them from plastic for far too long. The Department of Interior's single-use plastic ban will curb millions of pounds of unnecessary disposable plastic in our national parks and other public lands, where it can end up polluting these special areas. We applaud President Biden and U.S. Interior Secretary Deb Haaland for recognizing the devastating impact single-use plastic is having on our planet and taking meaningful action to keep this persistent pollutant out of our oceans and communities. We urge the secretary and Interior Department to move swiftly to carry out these changes to protect our parks from single-use plastic." [Statement, 6/9/22]
Jamie Rappaport Clark, President and CEO, Defenders of Wildlife: "On #WorldOceansDay, I'm grateful to the Biden administration for taking new steps to protect and conserve our marine environment." [Tweet, 6/8/22]
Julie Packard, Executive Director, Monterey Bay Aquarium: "Happy #WorldOceanDay! Thank you @POTUS @WhiteHouse for new steps to conserve & restore the health and productivity of the ocean for the benefit of all Americans. The health of the ocean impacts everyone in the United States & beyond. The new @Interior plan to reduce & phase out sale of single-use plastic products in national parks, wildlife refuges & other public lands helps cut back on the 14 million tons of plastic entering the ocean every year. Thank you @SecDebHaaland! The climate crisis is here & the time is now for a whole-of-government approach ensure our ocean is protected from harm & a part of climate solutions. Thank you to the Biden White House for kicking off the #OceanClimateAction plan! [Tweet, 6/8/22]
Summit of the Americas Climate Partnerships
NBC: White House Announces International Efforts to Combat Climate Change at Americas Summit
[Dareh Gregorian & Elyse Perlmutter-Gumbiner, 6/9/22]
President Joe Biden and Vice President Kamala Harris are announcing new initiatives Thursday at the Summit of the Americas in Los Angeles that aim to combat climate change while creating jobs throughout the hemisphere. The initiatives "will help us and our partners tackle the climate crisis while harnessing the opportunity for countries in the region to create good-paying jobs, grow clean energy economies and build resilient communities," a senior administration official said ahead of the announcement.
Washington Post: At Summit of the Americas, Biden Seeks Unity on Climate Change
[Maxine Joselow, 6/9/22]
Harris will unveil the first initiative, dubbed the U.S.-Caribbean Partnership to Address the Climate Crisis 2030, before meeting with Caribbean leaders on Thursday. The goal of the partnership is to "elevate U.S. cooperation with Caribbean countries to support climate adaptation and strengthen energy security, while building the resilience of critical infrastructure and local economies to the climate crisis," according to a White House fact sheet. The second major program, dubbed the Renewable Energy in Latin America and the Caribbean initiative, calls for reaching 70 percent installed capacity for renewable energy generation in the region's electricity sector by 2030.
Miami Herald: U.S. is Launching New Climate, Clean Energy Partnership with Caribbean
[Jacqueline Charles, 6/9/22]
In a meeting with Caribbean leaders Thursday during the Ninth Summit of the Americas in Los Angeles, Vice President Kamala Harris will announce a series of new initiatives to help Caribbean nations better tackle climate change and make the move to alternative energy sources. The U.S. is committing to, among other things, help countries identify and launch clean energy and climate projects, access financing for climate initiatives and facilitate investments by connecting Caribbean nations with American companies and technologies like climate-smart tools.
Rejuvenated DOE Loan Programs Office
The Hill: DOE Makes Major Loan to Hydrogen Energy Project
[Rachel Frazin, 6/8/22]
The Energy Department announced on Wednesday that it will make a major loan to a facility that would create and store clean hydrogen energy. It will loan $504.4 million dollars to the Advanced Clean Energy Storage Project, which will be located in Delta, Utah . . . The newly announced loan is the first loan guarantee for a new clean energy project that the Energy Department's Loan Programs Office has issued since 2014.
E&E News: DOE Finalizes Loan for Massive Low-Carbon Hydrogen Project
[David Iaconangelo, 6/9/22]
The Advanced Clean Energy Storage (ACES) project, as it's known, bundles together renewable-powered production of hydrogen with the creation of what DOE called "the largest clean hydrogen storage facility in the world" — an underground salt cavern in Delta, Utah . . . Under the Biden administration, LPO has also announced conditional awards to expand a hydrogen and carbon black production site in Nebraska and to scale up a Louisiana graphite processing plant for use in electric vehicle batteries. Those marked the revival of the office, which was all but shuttered during the Trump administration.
Joseph R. Biden, ICYMI: President Biden Presses Bold Climate Action Forward to Lower Energy Costs and Build a Better America Online by Gerhard Peters and John T. Woolley, The American Presidency Project https://www.presidency.ucsb.edu/node/356389