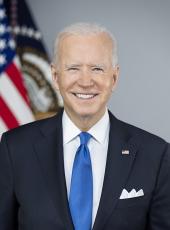 ICYMI: President Biden Now Has 129 Federal Judges Confirmed – More Than Last 3 Presidents
Since taking office, President Biden - working with Leader Schumer and Chair Durbin - has seen 129 of his federal judicial nominees confirmed. That is a higher number of confirmations than President Trump, President Obama, and President George W. Bush had up to this point in their presidencies. In recent days:

Nancy Abudu was confirmed to a Georgia seat on the U.S. Court of Appeals for the Eleventh Circuit – becoming the first Black woman to ever serve on the Eleventh Circuit.
Brad Garcia was confirmed to the U.S. Court of Appeals for the District of Columbia Circuit – becoming the first Latino to ever serve on the D.C. Circuit.
Jeremy Daniel was confirmed to serve as a District Court Judge for the Northern District of Illinois. Daniel is a veteran of the U.S. Marine Corps.
The President continues to nominate highly-qualified and experienced individuals committed to the rule of law – who reflect the best of America and look like America:

Of the President's confirmed federal judges, 68% are women and 67% are people of color.
The President has seen 13 Black women confirmed as circuit court judges - more than all other presidents combined.
In total, the President has seen 44 Black federal judges confirmed.
The President has seen 27 Hispanic federal judges confirmed - including five Hispanic circuit court judges.
On May 17, the Senate Judiciary Committee held a hearing for two of President Biden's circuit nominees—Judge Ana de Alba for the Ninth Circuit and Judge Irma Ramirez for the Fifth Circuit. This was the first time that two Latina circuit nominees have ever been considered on the same hearing, and if both are confirmed, President Biden will have confirmed more Latina circuit judges than any President in history.
The President has nominated 27 AA and NHPI individuals to federal judgeships and 20 have been confirmed. This includes six AA and NHPI circuit court judges.
See coverage below:
Bloomberg Law: Nancy Abudu Confirmed as First Black Woman on Eleventh Circuit
[Tiana Headley, 5/18/23]
Civil rights lawyer Nancy Abudu has been confirmed to the US Court of Appeals for the Eleventh Circuit, where she will be the first Black woman to sit on the Atlanta-based court.
[…]
Abudu, 48, has litigated voting rights cases across the Deep South and at the national level for the SPLC and the American Civil Liberties Union. She's challenged felon disenfranchisement, voter ID and proof of citizenship laws, and pushed for greater enforcement of federal voting-related laws in federal and state courts.
Her confirmation comes amid Biden's broader effort to increase the demographic and professional diversity of the judiciary. Abudu, the daughter of Ghanaian immigrants, is the fourth Black woman nominated by Biden to serve on a federal appeals court that's never had one before.
Axios: Biden's push for more Latino federal judges
[Russell Contreras, 5/18/23]
The Senate this week confirmed Bradley N. Garcia to be a judge on the U.S. Court of Appeals for the D.C. Circuit, making him the first Latino nominee confirmed to that influential circuit.
The big picture: Garcia's appointment is part of a broad push by the Biden administration to appoint more Latinos to the courts. The D.C. court hears major national cases and is often a pipeline to the Supreme Court.
Civil rights organizations, like the Mexican American Legal Defense and Educational Fund (MALDEF), have long pushed Biden to nominate more Latinos to the federal bench, arguing that failing to have equal representation reduces people's' faith in the courts.
Details: With Garcia's confirmation, 27 Hispanic men and women have been confirmed as federal judges under President Biden, according to the White House.
Former President Trump saw 12 Latinos confirmed in his four years, and former President Obama saw 37 during his two terms.
Just 7.7% of federal judges in 2022 were Hispanic, a slight increase from 6.5% in 2020, according to the American Bar Association. Latinos are 19% of the U.S. population.
What they're saying: "Brad Garcia has spent much of his career defending civil and human rights," says Lena Zwarensteyn, senior director of the Leadership Conference on Civil and Human Rights' fair courts program.
Zwarensteyn said Garcia's appointment brought the judiciary closer to reflecting the nation's diversity.
What's next: The Senate Judiciary Committee is scheduled Thursday to hold a hearing on two Latina circuit nominees.
Judge Irma Ramirez has been nominated to serve on the U.S. Court of Appeals for the Fifth Circuit, and Judge Ana de Alba on the U.S. Court of Appeals for the Ninth Circuit.
Of note: If confirmed, Ramirez — a native Texan and a sitting federal magistrate judge — will become the first Hispanic woman on the Fifth Circuit.
De Alba would become the fourth Hispanic woman to serve on the Ninth Circuit.
"It has been reported that, with these two nominations, this administration has surpassed any other in the number of Latina appointments to the courts of appeals. That three total Latina nominations passes this benchmark is an embarrassing indication of how far we have to go," Thomas A. Saenz, president and general counsel of MALDEF, said in a statement last month.
Joseph R. Biden, ICYMI: President Biden Now Has 129 Federal Judges Confirmed – More Than Last 3 Presidents Online by Gerhard Peters and John T. Woolley, The American Presidency Project https://www.presidency.ucsb.edu/node/361838