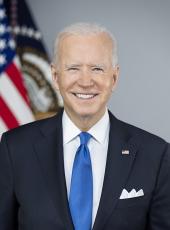 ICYMI: President Biden Directs Infrastructure Funding to Ease Supply Chain Backups At Ports
As the American economy sees an unprecedented recovery, and Americans are again able to buy what they need at record levels, we are also encountering a global supply chain disrupted by the pandemic and infrastructure that has been neglected for decades. As a part of the Bipartisan Infrastructure Deal recently passed by Congress, the Administration has outlined $17 billion for improvements at ports and waterways. On Wednesday, the President will travel to a port in Baltimore to further speak to these efforts.
Today the Biden Administration announced its ongoing plan to support our ports in getting goods to the American people. See below for some highlights from today in local and national media:
CNBC: Biden rolls out multibillion-dollar plan to upgrade aging U.S. ports after passage of infrastructure bill
[Amanda Macias, 11/9/21]
The officials said the administration plans to standardize data-sharing requirements for shipping lines, terminal operators, railroads, truckers, warehouses and cargo owners.
"There is not a lot of data-sharing among the private sector and participants in the goods movement chain," the official said, adding that the lack of data exchange causes delays and inefficiencies as cargo moves from one part of the supply chain to another.
The U.S. Digital Service is working with the Federal Maritime Commission and the joint program office at the Department of Transportation to build a data framework that will help move goods more efficiently, the senior Biden administration official said.
Wall Street Journal: Biden Administration Outlines New Moves to Alleviate Supply-Chain Logjams at Ports
[Alex Leary and Paul Berger, 11/9/21]
Ports snarled with supply-chain problems, including a major one in Georgia, will be able to redirect money from other federally funded projects to help ease the logjams under a plan outlined by the Biden administration.
[…]
The moves come as supply-chain issues continue to mount, with significant container backups at ports leading to slower delivery times and product shortages. It has become both a logistical and political problem for the White House and has persisted despite months of attention to the issue.
[…]
"This plan will provide a road map for more than $4 billion in funding to repair outdated infrastructure and to deepen harbors for larger cargo ships," the White House said in a fact sheet distributed Tuesday.
CNN: Biden administration announcing actions to alleviate supply chain issues at nation's ports
[Betsy Klein, 11/9/21]
The actions announced Tuesday include flexibility for port grants through the Department of Transportation to solve supply chain disruptions, funding for a pop-up container yard project underway at the Port of Savannah, a $420 million grant program for ports and marine highways that will be launched within the next 45 days and identifying coastal and waterway projects for $4 billion in funding for US Army Corps of Engineers construction.
It will also prioritize identifying key US ports of entry for $3.4 billion of modernization and expansion projects within 90 days, and open competition for $475 million in port infrastructure grants through the bipartisan bill within 90 days.
Atlanta Journal-Constitution: Infrastructure bill means $8 million to Savannah port, White House says
[Michael E. Kanell, 11/9/21]
Savannah has the second-largest port on the East Coast and is the nation's largest conduit for containerized agricultural exports.
The spending is partly a response to supply chain woes that have caused the delay in many consumer and commercial items arriving from factories in Asia. The Savannah plan for five popup container yards is aimed at speeding up deliveries as the holiday crush approaches.
Ships are backed up in the harbor waiting to unload, but the worst of the jam happens onshore. Ports' officials recently estimated that 80,000 containers were stacked up at the Savannah facility. That's roughly 60% more than before the pandemic.
The Port of Savannah has added nearly 400 workers in the past year, expanding its workforce to about 1,520, and is already working around the clock. The authority also has other massive projects underway that will add to the port's overall capacity.
Washington Post: New White House supply chain 'action plan' aims to ease tremendous backlog
[David J. Lynch, 11/9/21]
Still, the administration's effort to highlight actions that will have limited immediate impact reflects the challenge confronting the president, who is scheduled to visit the Port of Baltimore on Wednesday. Even as supply woes spark voter angst, the private companies responsible for the ports, trucks, terminals and trains that make up the nation's goods pipeline operate beyond easy federal direction.
President Biden spoke by phone Tuesday with the chief executives of top retailers and shipping companies about measures the government and industry could take to alleviate the supply chain crisis. The heads of Walmart, Target, UPS and FedEx described for the president unspecified steps that they are taking to speed goods through the system and to ensure that store shelves "are well-stocked this holiday season," the White House said.
USA Today: Before busy holiday season, Biden lays out new efforts to ease supply chain congestion
[Maureen Groppe, 11/9/21]
Most immediately, the Georgia Port Authority will be able to reallocate more than $8 million in previous funding to create pop-up container yards in Georgia and North Carolina.
That will free up more docks space at the Port of Savannah, the No. 3 container import port in the country and the top port for containerized agricultural products.
The administration estimated the pop-up sites will be operational in 30-40 days.
The Hill: Biden admin allowing ports to redirect unused funds on supply chain problems
[Morgan Chalfant, 11/9/21]
The Biden administration announced Tuesday that it will allow port authorities to redirect cost savings from existing federal projects to help address supply chain bottlenecks as part of a broader effort to speed up the movement of goods.
Administration officials said that the new policy change will allow the Georgia Port Authority to redirect more than $8 million to fund new pop-up container yards in Georgia and North Carolina. The container project, once completed, will allow the port of Savannah to transfer containers a couple hundred miles inland to clear dock space and accelerate the outward flow of goods.
"It's a great way to get capacity and efficiency at the port," a senior administration official told reporters Tuesday. "We expect that that kind of flexibility will help other projects as well."
The official estimated that the container yards would be operational within 30 to 45 days and would represent the first project funded by the new policy change.
Joseph R. Biden, ICYMI: President Biden Directs Infrastructure Funding to Ease Supply Chain Backups At Ports Online by Gerhard Peters and John T. Woolley, The American Presidency Project https://www.presidency.ucsb.edu/node/353326