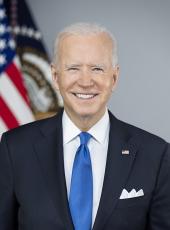 ICYMI: President Biden Delivers First Joint Address to Nation
Tonight, President Biden delivered his first joint address to Congress, highlighting the Administration's accomplishments in tackling the crises facing this nation: vaccinating America to beat the pandemic, delivering much needed help to American families, making transformative investments to rescue and rebuild our economy, and fundamentally showing that government can deliver for its people.
The President also introduced the American Families Plan as part of his broader vision to build back better. The plan makes once-in-a-generation investments in our kids, families, and economic future and will strengthen the foundations of middle-class prosperity: education, health care, and child care.
See below for coverage highlights:
New York Times: Biden Seeks Shift in How the Nation Serves Its People
President Biden laid out an ambitious agenda on Wednesday to rewrite the American social compact by vastly expanding health care, family leave, child care, preschool and college education for millions of people to be financed with increased taxes on the wealthiest earners.
The $1.8 trillion plan he unveiled in advance of his first address to a joint session of Congress along with previous proposals to build roads and bridges, expand other social programs and combat climate change represent a fundamental reorientation of the role of government not seen since the days of Lyndon B. Johnson's Great Society.
"We have to prove democracy still works, that our government still works and can deliver for the people," Mr. Biden planned to say in his nationally televised speech, according to excerpts released by the White House earlier in the day.
Wall Street Journal: Biden Cites Progress, Pushes Economic Agenda in Speech to Congress
Addressing a joint session of Congress for the first time as president, Mr. Biden sought to strike a hopeful tone, stressing his efforts to combat the pandemic, expand Covid-19 vaccinations—which he urged all Americans to get—and spur economic growth.
"America is moving. Moving forward. And we can't stop now," he said.
Mr. Biden promoted his economic plans to the public, including his new American Families Plan, which is paid for largely by raising taxes on the wealthiest Americans, and his $2.3 trillion infrastructure package that includes new spending on bridges, roads and broadband internet. Mr. Biden cast the massive spending proposals as necessary to help the nation's economy and workers.
Taken together, the Democratic president's proposals represent an ambitious effort to redefine the government's role in shaping the economy. Betting that government can be a driving force for growth, the White House is shifting away from long-held assumptions within both parties that the public sector is inherently less efficient than the private and that policy makers should generally defer to markets.
AP: Biden to the nation and world: 'America is rising anew'
Biden repeatedly hammered home how his plans would put Americans back to work, restoring the millions of jobs lost to the virus. He laid out a sweeping proposal for universal preschool, two years of free community college, $225 billion for child care and monthly payments of at least $250 to parents. His ideas target frailties that were uncovered by the pandemic, and he argues that that economic growth will best come from taxing the rich to help the middle class and the poor.
For Biden, whose moment has been nearly a half century in the making, his speech also provided an update on combating the COVID-19 crisis he was elected to tame, showcasing hundreds of millions of vaccinations and relief checks delivered to help offset the devastation wrought by a virus that has killed more than 573,000 people in the United States. He also championed his $2.3 trillion infrastructure plan, a staggering figure to be financed by higher taxes on corporations.
Seizing an opportunity born of calamity, Biden has embraced major action over incremental change.
Reuters: China 'closing in fast,' Biden warns Congress, as he asks for trillions in spending
The Democratic president spoke of a willingness to speak with lawmakers on both sides of the aisle to come to an agreement. He is to meet the top Democratic and Republican lawmakers at the White House on May 12 to try to find common ground.
His plan includes $1 trillion in spending on education and childcare over 10 years and $800 billion in tax credits aimed at middle- and low-income families, according to a White House fact sheet. It also includes $200 billion for free, universal preschool and $109 billion for free community college regardless of income for two years, the White House said.
The American Families Plan and the infrastructure and jobs plan the White House introduced this month could represent the most significant government transformation of the economy in decades.
Bloomberg: Biden Sees U.S. 'Rising Anew' in Call for Massive Investment
President Joe Biden declared the U.S. has turned the corner on a pandemic that's killed more than half a million Americans and crippled the economy in his first speech to Congress, outlining a broad plan for federal spending on infrastructure, education and other Democratic priorities.
"America is on the move again," Biden said in his address to a joint session of Congress on Wednesday. "Turning peril into possibility. Crisis into opportunity. Setback into strength."
But he warned corporations and wealthy Americans that he expects them to carry more of the burden of financing the nation's advancements.
"It's time for corporate America and the wealthiest 1% of Americans to pay their fair share," he said, promising to "reward work, not wealth" by raising taxes for the richest 1% and ordering an Internal Revenue Service "crackdown on millionaires and billionaires who cheat on their taxes."
Biden unveiled his American Families Plan, a $1.8 trillion package of tax credits and domestic priorities including child care, paid family leave, and tuition-free community college that would be funded in part by the largest tax increases on wealthy Americans in decades.
USA Today: Police reform, banning assault weapons, looking beyond COVID-19: Takeaways from Joe Biden's address to Congress
In his first address to a joint session of Congress, President Joe Biden both looked back on his first 100 days in office and laid out a vision for the future of his administration, from talking about increasing taxes on the rich, to urging Congress to take action on gun violence and police reform.
"I can report to the nation: America is on the move again. Turning peril into possibility. Crisis into opportunity. Setback into strength. Life can knock us down," Biden said. "But in America, we never stay down."
The president focused on goals he achieved during his first 100 days in office, a milestone he will pass on Friday. The benchmark, while arbitrary, has been a standard by which presidents have held themselves accountable for delivering on policy priorities since Franklin D. Roosevelt first coined the phrase.
NBC News: 'A dose of hope': Biden's speech touts improving pandemic conditions, pitches $4 trillion in economic spending
President Joe Biden painted a nation on the mend, recovering from the pandemic but still in need of a boost from the federal government, in his first address to Congress on Wednesday as he seeks to shift his focus beyond the coronavirus pandemic nearly 100 days into his administration.
"I can report to the nation: America is on the move again. Turning peril into possibility. Crisis into opportunity. Setback into strength," Biden said at the opening of his remarks.
But Biden argued that simply getting the pandemic under control was not enough.
"We have to do more than just build back. We have to build back better," he said, pitching $4 trillion of ambitious investments in the American economy and social safety-net programs.
Biden unveiled for the first time his American Families Plan, a roughly $1.8 trillion package that includes universal preschool, two years of free community college and expanded access to child care. It is the second phase of Biden's two-part push to boost the economy, following the $2 trillion infrastructure and jobs package, which he announced last month.
ABC News: Key takeaways from Biden's 1st address to a joint session of Congress
An energized Biden sought to take credit for strides the United States has taken fighting COVID-19 -- noting 220 million vaccine doses will have been administered by Thursday.
He said he had "inherited a nation" that was "in crisis" -- facing a historic pandemic and economic crisis and reeling from the Jan. 6 insurrection at the Capitol.
"Now, after just 100 days," Biden said, "I can report to the nation" America is on the move again."
Americans, he said "never, ever, ever stay down" and "always get up."
CBS News: President Biden delivers address before the joint session of Congress
Jobs. Infrastructure. Police reform. Gun control. Ending cancer. President Joe Biden delivered a hopeful message to America in his first address before a joint session of Congress as he touted his recovery plans and even more ambitious proposals.
"It's good to be back," the former senator told his former colleagues, although the eerily quiet House Chamber had an audience of just 200, compared to the normally boisterous 1,600 who usually attend this address - COVID-19 forced the smaller guest list.
Mr. Biden pushed forward with the message that "In America, we always get up" though "100 days ago, America was on fire." He highlighted the vaccination rate; the American Recovery Plan, the nearly $2 trillion stimulus plan; his infrastructure proposal, the American Jobs Plan, and his latest bold proposal, the American Families Plan.
Politico: 'Setback into strength': Biden makes emotional pitch in first joint address to Congress
The speech marks an early victory lap for a White House fashioning itself as having one of the most consequential starts to a presidency in American history. It is also an opportunity to build momentum for two proposals — the American Jobs Plan and the American Families Plan — that, if enacted, would alter the course of the country for decades to come. Biden is framing the spending blueprints, which carry a combined price tag of about $4 trillion over the next decade, as a necessary corrective to rebuild the foundation of the middle class and society writ large at a time when trust in government is on the wane. "We have to prove democracy still works — that our government still works and can deliver for the people," he said. The president's speech is focusing on his first 100 days in office, including the progress the country has made in vaccinating residents against the coronavirus, and it will outline his multitrillion-dollar infrastructure and social welfare proposals.
Joseph R. Biden, ICYMI: President Biden Delivers First Joint Address to Nation Online by Gerhard Peters and John T. Woolley, The American Presidency Project https://www.presidency.ucsb.edu/node/349737