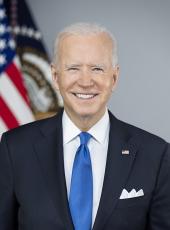 ICYMI: President Biden Brings Back Manufacturing Jobs
From semiconductors, batteries, electric vehicles, and more, President Biden is bringing back manufacturing jobs to the United States. President Biden has set an ambitious vision and created a concerted strategy that is restoring U.S. industrial strength, positioning us to win the clean energy future, and creating good-paying, union jobs.
Today, General Motors announced it will invest $7 billion across several Michigan electric vehicle manufacturing sites. Last week, Intel announced plans to invest $20 billion in a new Ohio semiconductor manufacturing facility. And in November, Texas Instruments revealed it would substantially increase its production capacity in Sherman, Texas through a $29 billion plant, creating 3,200 jobs.
Since President Biden took office, the economy has added 367,000 manufacturing jobs – the most in nearly 30 years – and automakers have announced investments of over $100 billion in American manufacturing of electric vehicles and batteries. As the President stated last week, this is just the beginning. The Bipartisan Infrastructure Law includes historic investments that mobilize electric vehicle manufacturing and supply chains, and his Build Back Better will further catalyze manufacturing for Made in America electric vehicles, batteries, and semiconductors.
See below for excerpts of media coverage highlighting the announcements.
Detroit Free Press: GM to invest historic $7 billion in 4 facilities across Michigan, creating 4,000 jobs
[Jamie L. LaReau, 1/25/22]
In a big win for Michigan, General Motors will invest $7 billion in four manufacturing facilities, making the state the "hub" of electric vehicle development and manufacturing.
GM said Tuesday it will spend $2.6 billion to build a new battery factory in the Lansing area and $4 billion to convert its existing factory in Orion Township to make electric pickups. It will also spend about half a billion dollars to make upgrades to its two existing vehicle assembly plants in Lansing.
GM calls it the "single largest investment announcement in GM history," saying the move will create 4,000 jobs and retain 1,000 others.
Economists say that, in turn, will create thousands more ancillary jobs. GM currently employs 50,631 people in Michigan.
GM also said it is working to build a new, more reliable supply chain through strategic supplier agreements for batteries and EV components. It is expected to be scalable, more resilient, more sustainable and more North American focused. Global supply chain issues have hampered GM and other automakers throughout the pandemic.
A joint statement from UAW President Ray Curry and Terry Dittes, UAW vice president and director of the UAW GM Department, said GM's commitment to spending $7 billion on Michigan manufacturing and creating and retaining 5,000 jobs creates a strong future for UAW members, their families and communities.
Herald Democrat: Texas Instruments chooses Sherman for new $29B facility
[Michael Hutchins, 11/17/21]
Texas Instruments announced plans Wednesday morning to continue operations in Sherman through a new $29 billion production plant along U.S. Highway 75. The announcement follows a months-long discussions, negotiations and consideration on where TI would develop its new site.
The announcement brought attention to Sherman from across the state due to the size of the development. Sherman officials said the site will be the largest production facility in the state once completed and among the largest in the nation.
"For more than 90 years, TI has been a member of the powerful 'Made in Texas' brand and we are proud that the company has chosen to continue its legacy of innovation in the Lone Star State," Governor Greg Abbott said Wednesday. "In addition to bringing billions of dollars in capital investment and thousands of new jobs to North Texas, this historic expansion will keep Texas a national leader in semiconductor manufacturing while also strengthening the domestic semiconductor supply chain.
"I thank TI for choosing Sherman as the site for its four new semiconductor manufacturing facilities as we work together to keep Texas a global hub for innovation in advanced technology and manufacturing."
USA Today: 'This is just the beginning,' Biden says as Intel plans $20 billion semiconductor complex in Ohio amid chip shortage
[Joey Garrison and Mark Williams, 1/21/22]
Intel, the world's largest semiconductor manufacturer, unveiled plans Friday to build a $20 billion complex outside of Columbus, Ohio, a move President Joe Biden hailed as a major sign of progress in his administration's work to boost U.S. production of the critical microchips.
"To be able to say 'made in Ohio,' 'made in America,' we used to always be able to say that 25, 30 years ago," Biden said in remarks from the White House with Intel CEO Pat Gelsinger on hand. "That's what this is about."
The COVID-19 pandemic has led to a shortage of semiconductor microchips, which power thousands of products such as cars, cell phones, appliances, gaming consoles and medical devices. The shortage depleted vehicle inventory, producing global supply chain issues and increasing consumer prices on automobiles and other goods.
Increasingly, the U.S. has relied on foreign imports for computer chips. Currently, 12% of the world's chips are made in the U.S., down from 37% in the 1990s, according to industry officials. About 80% are made in Asia.
Intel CEO Pat Gelsinger likened the future Ohio mega site to a "small city," calling its impact on the community "simply profound" and a magnet for the entire tech industry. He said the company's decision was motivated by the CHIPS Act, which would allow the complex to be built "bigger and faster."
The Hill: Biden hails GM's $7B investment in EVs as sign of 'manufacturing comeback'
[Alex Gangitano, 1/25/22]
President Biden on Tuesday called General Motors' (GM) nearly $7 billion investment in Michigan a sign that the administration's efforts to strengthen the economy are leading to a "manufacturing comeback."
"Today's announcement by GM — to make its largest investment ever, $7 billion to create 4,000 new jobs at EV manufacturing sites in Michigan — is the latest sign that my economic strategy is helping power an historic American manufacturing comeback," the president said in a statement.
Biden said the administration has been "laser focused" on manufacturing electric vehicles and making sure the U.S. is a global leader in the industry into the future. More than $100 billion has been invested in auto manufacturing to build electric vehicles and batteries over the past year, according to the president.
He pointed to an executive order he signed in August that "aimed at getting to 50% electric vehicle sales share in 2030, and set ambitious new standards."
He also pointed to the bipartisan infrastructure bill, which he signed into law in November, that invests in electric vehicles and nationwide charging networks.
"The Bipartisan Infrastructure Law was a major step toward this future by investing in EV charging, and Congress can catalyze more with additional incentives for Made in America electric vehicles, batteries, and semiconductors built by union hands," he said.
Joseph R. Biden, ICYMI: President Biden Brings Back Manufacturing Jobs Online by Gerhard Peters and John T. Woolley, The American Presidency Project https://www.presidency.ucsb.edu/node/354244