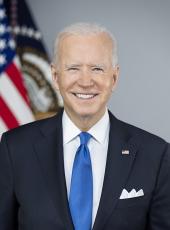 ICYMI: President Biden and Congressional Democrats are Tackling Inflation, Lowering Costs, and Delivering Results for Working Families
President Biden promise promised to tackle inflation, address the climate crisis, and reduce costs for the American people. In the past week, President Biden and Congressional Democrats have taken historic and decisive actions to do just that. Congress sent to the President's desk the CHIPS and Science Act to lower costs on everything from cars to dishwashers and create more good paying jobs across the country. And Congressional Democrats reached an agreement on the Inflation Reduction Act of 2022 to lower prescription drug and energy costs, invest in energy security and clean energy jobs, require profitable companies to pay their fair share, and reduce inflationary pressure on the economy.
The Washington Post: Biden poised for big wins in Congress
The first major prescription drug legislation in nearly 20 years. More than $50 billion to subsidize computer chip manufacturing and research..."These legislative victories would be very significant because they address voters' top concerns, which is inflation and the cost of prescription drugs," said Ben LaBolt, a Democratic strategist.
Axios: Biden poised to deliver on decades-long Democratic promise
Democrats have been campaigning for 30 years on promises they'd let Medicare directly negotiate the cost of prescription drugs — and after all that time, they might finally be about to achieve it.
AP: Dems seem headed for climate, health win after ups and downs
Approval [of the Inflation Reduction Act] would let President Joe Biden and his party claim a triumph on top priorities.
Axios: Biden's success story
President Biden has slowly but substantially re-engineered significant parts of the American economy... Biden has pumped billions into infrastructure projects, helped revive the domestic semiconductor industry, and accelerated U.S. viral research and vaccine production capabilities. He might be on the cusp of the biggest domestic clean-energy plan in U.S. history.
Bloomberg: Chipmakers Get $52 Billion in Senate Bill in Big Win for Biden
The 64 to 33 vote comes after more than a year of debate and marks a major legislative victory for President Joe Biden... The measure has been presented as both a way to reinvigorate the US industrial base and fortify the country's national security interests against future supply chain disruptions overseas, where the vast majority of advanced semiconductors are currently produced.
Politico: In victory for Democrats, Congress sends chip subsidy bill to Biden
President Biden, who has hailed the legislation as "historic," reiterated Thursday he will swiftly sign it into law..."The CHIPS and Science Act is exactly what we need to be doing to grow our economy right now," the president said in a statement after the House passed the bill. "By making more semiconductors in the United States, this bill will increase domestic manufacturing and lower costs for families. And, it will strengthen our national security by making us less dependent on foreign sources of semiconductors."
Joseph R. Biden, ICYMI: President Biden and Congressional Democrats are Tackling Inflation, Lowering Costs, and Delivering Results for Working Families Online by Gerhard Peters and John T. Woolley, The American Presidency Project https://www.presidency.ucsb.edu/node/357185