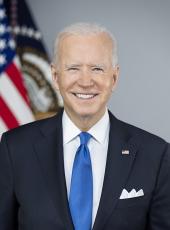 ICYMI: Op-Ed: Senate Republicans Must End Their Block of Well Qualified Federal Reserve Nominees
Op-Ed: Senate Republicans must end their block of well qualified Federal Reserve nominees
Reps. Joyce Beatty (OH-03), Alma Adams (NC-12), Maxine Waters (CA-43), 3/2/22
The Federal Reserve's leadership has never reflected the diversity of the American public. Only three Black men have ever served on the Board of Governors, and there has never been a Black woman or a Latinx Federal Open Market Committee (FOMC) participant. President Biden acted to change that, but last week Senate Banking Committee Republicans held up their nominations by refusing to show for a vote.
President Biden's slate of qualified and diverse individuals—Chair Jerome Powell, Dr. Lael Brainard, Sarah Bloom Raskin, Dr. Lisa Cook, and Dr. Philip Jefferson—would complete the first fully confirmed seven-member Federal Reserve Board in nearly 10 years. As members of the House Financial Services Committee, we understand the urgency of having the Federal Reserve at its full capacity, especially during this critical time of high prices and economic uncertainty. As such, we urge the Senate to quickly confirm these nominees for the good of our country and economy.
All five nominees are committed to fighting inflation, fostering financial stability, full employment, and recovery through the pandemic, and equitable economic growth that removes barriers faced by workers of color. These nominees provide a sensible mix of continuity and change, bringing fresh perspectives to once-neglected issues and diverse voices to the FOMC, a consensus-based, deliberative body.
Some nominees, however, are receiving more undue scrutiny than others. Ms. Bloom Raskin has come under attack by Sen. Pat Toomey (R-Pa.), who falsely claims that Bloom Raskin would "pressure banks into choking off credit to traditional energy companies." Bloom Raskin has never taken such a stance, and her views on climate risk management have been affirmed by Chair Powell, CEOs of major financial institutions such as Larry Fink and Jamie Dimon, and her Republican predecessor in the Vice Chair for Supervision role.
Cook, who previously served on the Council of Economic Advisers (CEA) under President Obama, dealt with many of the key economic issues facing the United States during the aftermath of the Great Recession, including how small business owners and homeowners who had faced foreclosure were recovering. She is widely respected in the field of economics and served in leadership roles at the National Economic Association and American Economic Association. Additionally, she spent three years as a research fellow at the conservative Hoover Institution. This wide-ranging background makes her one of the most qualified Fed nominees in history and makes her uniquely well-positioned to forge consensus at the FOMC.
Cook, however, has received especially harsh criticism from Toomey, who asserts that her past advocacy for voting rights and racial equity somehow disqualify her from being able to apply a lifetime of economic training to the Fed's independent operations. Cook's views come from her lived experience, given her family's extensive ties to Dr. Martin Luther King Jr., and the scar still visible above her right eye from racial violence she experienced growing up in Georgia's newly desegregated public schools. The story of Cook's career demonstrates that she has used these searing experiences for good, deepening her commitment to facilitating strong, healthy labor markets, applying her economic expertise toward public service, including working under presidents of both parties. Toomey's objection overlooks a stellar career and invents a standard that would preclude many qualified Black Americans from service on the Board of Governors.
We expect members of the Senate to consider every nominee on their merits. That's why Toomey's attacks on the fitness of some of these nominees greatly disappointed us—especially given some of the nominees he has supported in the past.
As recently as 2020, Toomey supported the confirmation of Dr. Judy Shelton, who the Wall Street Journalcalled "a goldbug who bends to fit Trump." Additionally, Shelton openly questioned whether the central bank ought to be independent of politics at all and floated the idea of eliminating deposit insurance. Former Fed alumni took the rare step of calling her nomination an "unnecessary distraction from the tasks at hand." Toomey enthusiastically backed Shelton but somehow claims Cook would not respect the Fed's independence.
It is fair to ask precisely what is Toomey's standard for who is qualified to serve on the Fed? Objectively, Cook is well-qualified. In fact, in comparison to previous nominees—many of whom Toomey himself has supported—Cook is particularly well-suited to assume the role to which she's been nominated. Unfortunately, we have seen Senate Republicans use this playbook before to obstruct Democratic presidents' nominees to the Fed before. In 2011, Republicans refused to allow a vote on Obama nominee Peter Diamond by questioning his qualifications, even though Diamond won a Nobel Prize while his nomination was pending. Toomey has also used this confirmation process to air his grievances about the lack of accountability at the regional Federal Reserve Banks. And yet each day that Toomey delays a vote on Biden's nominees to the Board of Governors ensures that those very same private Reserve Bank officials hold outsized power in managing inflation and dictating the course of monetary policy.
Senators should want a FOMC with a qualified and diverse set of voices making the most important decisions affecting our economy. That objective is jeopardized when proudly uninformed, extreme, and inexperienced nominees are hailed as a breath of fresh air, but eminently qualified and respected nominees find themselves subjected to a set of ever-shifting goalposts—particularly those who are women of color.
As fellow members of Congress, we hope to see the Senate extend Cook, Jefferson, and Bloom Raskin the same consideration afforded to many other nominees—almost exclusively white and male—who have received broad bipartisan support in the past. Our country and economy cannot afford anything less.
House Financial Services members Gregory Meeks (D-N.Y.), Bobby Scott(D-Va.), Al Green (D-Texas), Emanuel Cleaver (D-Mo.), Al Lawson (D-Fla.), Ritchie Torres (D-N.Y.), and Nikema Williams (D-Ga.) contributed.
Waters is House Financial Services chair, Adams is a House Financial Service member and Beatty is a Financial Services member and Congressional Black Caucus chair.
Joseph R. Biden, ICYMI: Op-Ed: Senate Republicans Must End Their Block of Well Qualified Federal Reserve Nominees Online by Gerhard Peters and John T. Woolley, The American Presidency Project https://www.presidency.ucsb.edu/node/354731