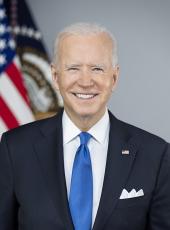 ICYMI: OECD Report: The U.S. Economy Is Recovering Faster Than Every Other Advanced Economy in the World
President Biden's economic plan is working. Since President Biden took office, there has been historic job growth—more than 5.6 million jobs created, the most in any President's first six months—with more than 620,000 jobs created on average per month. The unemployment rate has fallen faster this year than any other year in the last five decades and now stands at 4.6%—the lowest level since the beginning of the pandemic. Before the Rescue Plan passed, the Congressional Budget Office projected we would reach 4.6% unemployment in the fourth quarter of 2023. President Biden's economic agenda has also propelled the U.S. economy to the fastest economic growth over the first three quarters of the year in decades. At a 5% annualized rate, that's almost twice as fast as the best year under the previous president.
Now, a new report from the OECD finds that the U.S. is the only major economy in the world to have already exceeded pre-pandemic levels of GDP and household income per capita. U.S. household income in the second quarter was more than 6% higher than pre-pandemic levels, compared to just 3.6% among the OECD overall. The OECD attributes America's strong household income growth relative to GDP growth to historic relief efforts, including through President Biden's American Rescue Plan. These findings build on independent projections from the CBO, the IMF, the Federal Reserve, and the World Bank that suggest America will this year reach the highest levels of growth in decades—faster than Japan, Canada, the Euro Area, and the G7 overall. The Biden economy is booming.
Joseph R. Biden, ICYMI: OECD Report: The U.S. Economy Is Recovering Faster Than Every Other Advanced Economy in the World Online by Gerhard Peters and John T. Woolley, The American Presidency Project https://www.presidency.ucsb.edu/node/353338