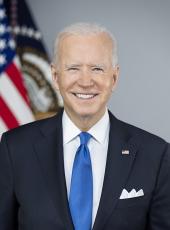 ICYMI: New Reports, Statements Underscore Congress' Shared Responsibility to Raise the Debt Limit and Protect Economic Recovery
Today, two new reports highlighted Congress' shared responsibility to raise the debt limit and pay for past spending – while Wall Street forecasters warn of the catastrophic impact on our economy if they fail to do so.
The Center for American Progress published a new report outlining how Republicans are now threatening to refuse to raise the debt limit to pay the trillions of dollars in debt that they previously authorized, writing: "Only a small fraction of total U.S. debt subject to the limit—about 3 percent—was incurred after Biden took office on January 20, 2021. (see Figure 1) By contrast, 27.5 percent of the debt—or $7.8 trillion—was incurred during President Trump's term." The Congressional Research Service shared a memo with similar findings.
Meanwhile, Wall Street sector forecasters urge Congress to act to avoid enormous economic damage:
Goldman Sachs: "A failure to raise the debt limit would have serious negative consequences. While it seems likely that the Treasury would continue to redeem maturing Treasury securities and make coupon payments, if Congress does not raise the debt limit by the deadline the Treasury would need to halt more than 40% of expected payments, including some payments to households."
JP Morgan: "Given the experience of the debt ceiling debate in 2011, we think a technical default is extremely unlikely, but such an event could impact markets and the economy in a number of permanent ways. First, a technical default would likely negatively impact the sovereign ratings of the United States…[It] would likely impair demand for Treasuries and…have adverse implications for financing markets."
Joseph R. Biden, ICYMI: New Reports, Statements Underscore Congress' Shared Responsibility to Raise the Debt Limit and Protect Economic Recovery Online by Gerhard Peters and John T. Woolley, The American Presidency Project https://www.presidency.ucsb.edu/node/352528