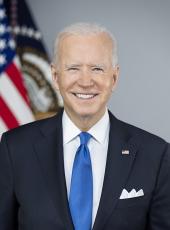 ICYMI: A Month of 0% Inflation and 500,000 Jobs is Welcome News to Families and Economists
The President's economic plan is working, and we are making progress.
Today, we received news that our economy had zero percent inflation in July. Core inflation, excluding food and energy costs, went up 0.3% -- the lowest amount in several months. Real wages went up. Gas prices have declined $1 this summer – one of the fastest declines in decades. This is providing families' breathing room.
And, the July jobs report showed that the unemployment rate matches the lowest it's been in more than 50 years: 3.5%. More people are working now than at any point in American history. During the President's administration, nearly 10 million jobs have been created - that's millions of families with the dignity and peace of mind that a paycheck provides.
There is more work to do, and Congress should send the Inflation Reduction Act to President Biden's desk as soon as possible, to lower health care, prescription drug, and energy costs.
See below for reporting and reactions to July's 0% inflation:
Bloomberg: Biden Sees Signs Inflation Moderating After Promising July Data
[Jordan Fabian and Jenny Leonard, 8/10/22]
Axios: Inflation drops to zero in July due to falling gas prices
[Neil Irwin, 8/10/22]
Washington Post: Inflation eased in July from a year ago, as energy prices fell off summer peaks
[Rachel Siegel, 8/10/22]
ABC News: Inflation slows significantly as gas prices drop in July
[Max Zahn, 8/10/22]
Tweets:
Justin Wolfers, Professor of Public Policy and Economics, University of Michigan
@JustinWolfers: Holy cow: There was ZERO inflation last month. That's the headline number, which is well below expectations of +0.2%. Also a good core inflation reading: +0.3%, also below expectations of 0.5%. Finally some good news on the inflation front. We've likely seen the inflation peak.
Ben Casselman, Economics Reporter for the New York Times
@bencasselman: We knew headline inflation would slow in July because of falling gas prices. But "core" inflation (excluding food and energy) also cooled on a month-to-month basis: Prices up 0.3% in July, vs 0.7% in June. Year-over-year up 5.9%, same as a month earlier.
Emerson Sprick, Policy Analyst at the Bipartisan Policy Center
@te_sprick: Not to get lost in all the CPI chatter is this morning's real earnings report. Average earnings continued to increase last month, up a half-percent in July.
This is the first real earnings increase since Sep 2021!
Neil Irwin, Chief Economic Correspondent at Axios
@Neil_Irwin: July was a huge inflation relief month for American consumers.
Jason Furman, Former Chair of the Council of Economic Advisers and Aetna Professor of the Practice of Economic Policy, Harvard University
@jasonfurman: A great CPI report. If you use the unrounded numbers the headline was actually -0.02%, deflation! Core was +0.3%, the lowest since September 2021. The more intertial parts of core, eg rent, slowed too. I only update a little based on 1 month but the update is a good one.
Mark Zandi, Chief Economist at Moody's Analytics
@Markzandi: Phew! July consumer price inflation was better than expected, easing in earnest due mostly to the decline in oil prices, and thus gas and diesel prices, from their record high 2 months ago. It won't be a straight line, but inflation appears set to steadily moderate from here.
Joseph R. Biden, ICYMI: A Month of 0% Inflation and 500,000 Jobs is Welcome News to Families and Economists Online by Gerhard Peters and John T. Woolley, The American Presidency Project https://www.presidency.ucsb.edu/node/357214