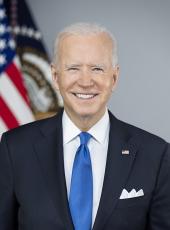 ICYMI: IBM and Micron Announced Historic Multi-Billion Dollar Investments in American Manufacturing
Yesterday, President Biden visited the IBM facility in Poughkeepsie, New York where the company announced a $20 billion investment over the next decade in R&D design and manufacturing of semiconductors, mainframe technology, artificial intelligence and quantum computing across the Hudson Valley.
This investment will create good-paying manufacturing jobs in the Hudson Valley, and was made possible thanks to the President's economic plan – including the CHIPS and Science Act.
Earlier in the week, Micron Technology Inc. announced a $100 billion investment to manufacture chips in upstate New York.
Under President Biden, our economy has created 10 million new jobs and nearly 700,000 manufacturing jobs — proving that under this Administration, "Made in America" is no longer just a slogan.
Read below for coverage of the IBM announcement:
The Washington Post: Biden promises supply chain will start and end in the U.S.
"Where is it written that we can't lead manufacturing in the world?" Biden asked in remarks at the facility in Poughkeepsie, N.Y. "I don't know where that's written. That's one of the things that the CHIPS act is going to change, the law that's going to build a future and a proud, proud legacy not only for IBM, but for the country." He added: "The supply chain is going to start here and end here in the United States."
Bloomberg: Biden Hails IBM's Plans to Invest $20 Billion in Visit to NY
IBM has promoted key elements of Biden's legislative agenda. Krishna attended the August chips bill signing ceremony and the company lobbied lawmakers to pass a bipartisan infrastructure bill that includes funding to build out broadband networks.
Associated Press: Biden: IBM investment to help in tech competition with China
President Joe Biden said Thursday that a $20 billion investment by IBM in New York's Hudson River Valley would help give the United States a technological edge against China, …The president cited IBM's commitment as part of a larger manufacturing boom, spurred by this summer's passage of a $280 billion measure intended to boost the semiconductor industry and scientific research.
Poughkeepsie Journal: Biden visits New York as IBM announces $20B program; what to know about Poughkeepsie trip
In a statement, Krishna said the legislation "will ensure a reliable and secure supply of next-generation chips for today's computers and artificial intelligence platforms as well as fuel the future of quantum computing by accelerating research, expanding the quantum supply chain, and providing more opportunities for researchers to explore business and science applications of quantum systems."
Reuters: Biden hails IBM's $20 Billion New York manufacturing deal
NPR: Biden has $52 billion for semiconductors. Today, work begins to spend that windfall
Fox Business: Biden tours New York IBM site after company announces $20B investment
Fortune: Biden is using IBM's $20 billion investment to tout the manufacturing 'boom' sparked by his CHIPS act
Spectrum NY1: White House: IBM to announce tech investment in Poughkeepsie during Biden visit
New York Daily News: Biden set to visit IBM Poughkeepsie plant to highlight $20B expansion plan
New York Upstate News: IBM to invest $20 billion to expand manufacturing, research in Hudson Valley
Rochester First News: Biden to tout $20B IBM investment in Hudson Valley
Read below for coverage of the Micron announcement:
Associated Press: Micron to bring microchip plant to upstate New York
Micron, one of the world's largest microchip manufacturers, announced Tuesday it would open a semiconductor plant in upstate New York, promising a long-term investment of up to $100 billion and a plant that could bring 50,000 jobs to the state. … The company was lured to the Syracuse area with help from a generous set of federal, state and local incentives, including up to $5.5 billion in state tax credits over 20 years.
New York Daily News: Micron to build massive Syracuse, N.Y. factory; Schumer hails 'Erie Canal moment'
Micron's plan for the plant includes commitments to use 100% renewable electricity and to aim for zero landfill waste, among other green pledges. … Micron's chief executive, Sanjay Mehrotra, credited both the passage of the federal measure, called the CHIPS and Science Act, and the state Green CHIPS law for making the Clay project possible.
The New York Times: Micron Pledges Up to $100 Billion for Semiconductor Factory in New York
The commitment by Micron is a sign that the federal government's prodding and package of generous incentives are helping to steer investment decisions. Legislation that passed in August, the CHIPS and Science Act of 2022, provides $52 billion in grants and subsidies for companies to build and expand computer chip factories in the country. "There is no doubt that without the CHIPS Act, we would not be here today," said Sanjay Mehrotra, chief executive of Micron.
The Washington Post: Chipmaker Micron to build $20 billion N.Y. factory amid semiconductor boom
Taiwan's TSMC, the world's largest chipmaker, is building a $12 billion factory in Phoenix that it aims to finish late next year. SkyWater Technology is building a chip factory and research facility next to Purdue University in West Lafayette, Ind., and Samsung and Texas Instruments have announced large chip-making construction projects in Texas. Most of the companies have said that the federal subsidy program induced them to invest.
The Hill: Micron to invest up to $100 billion in New York chip plant
Reuters: Micron to invest up to $100 bln in semiconductor factory in New York
WAER (Syracuse University, NY): It's official: Micron chip maker is moving in to the Town of Clay
Syracuse Post-Standard: Biden: Micron's computer chip deal in Syracuse area 'another win for America'
Spectrum NY1: Micron to open 'transformational' chip plant in Syracuse suburb, bring thousands of jobs
CNY Central: President, local lawmakers react to Micron choosing Central New York for plant
Albany Times Union: Schumer unveils Micron's plans to build $100 billion chip fab outside Syracuse
Joseph R. Biden, ICYMI: IBM and Micron Announced Historic Multi-Billion Dollar Investments in American Manufacturing Online by Gerhard Peters and John T. Woolley, The American Presidency Project https://www.presidency.ucsb.edu/node/358277