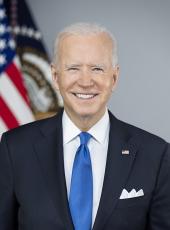 ICYMI: Highlights from the Biden-Harris Administration Supply Chain Disruptions Task Force
Supply chain issues have been a key challenge coming out of this unprecedented economic crisis resulting from this pandemic. For months, the Biden-Harris Administration has been engaged in a whole-of-government response, led by the Secretaries of Commerce, Transportation, and Agriculture.
In June, the White House launched the Supply Chain Disruptions Task Force to address short-term supply chain bottlenecks as the economy rapidly reopens, spurred by the Administration's historic vaccination and economic relief efforts.
Department of Transportation Addresses Supply Chain Disruptions
In August, the White House announced John Porcari as the White House Port Envoy to the task force. Porcari is a nationally recognized public and private sector infrastructure leader, who has delivered on some of America's most challenging projects and driven the adoption of equitable, community-serving infrastructure policies and projects at the local, state and federal levels.
Port of Los Angeles Praises Biden Response to Ports: "We've got all hands-on deck from the Administration":
In a Fox Business interview, Port of Los Angeles Executive Director Gene Seroka praised the Administration's response to ports on Wednesday October 6, stating that "we've got all hands on deck from the Administration" while highlighting the Port's recent expansion of hours of operation:
We're working very closely with the Administration and senior officials, led by John Porcari our Port Envoy assigned by the White House and trying to move everything we can. We've created a program called Accelerate Cargo LA, pushing cargo out to importers because cargo is sitting longer than ever before…
We've got all hands-on deck from the Administration and folks that are really working the private-sector at the C-suite level to bring together these plans and programs like Accelerate Cargo LA and others. Moving towards more regulated service, hours of operation, and that just simply means that this large orchestra of players in the supply chain need to get on similar schedules. The port has expanded hours and days of operation--we need more of that from the warehouse community and the private sector in addition to bringing more truckers back to the industry.
The Port of Los Angeles also announced this week that it has succeeded in reducing dwell time for rail cargo from a peak of more than 13 days to 4.4 days after working with International Longshore and Warehouse Union workers, terminal operators, and railroads.
WATCH: Today, Secretary Pete Buttigieg joined MSNBC's Morning Joe to discuss supply chain bottlenecks
"This is something that's been a major priority for the White House, certainly for our Department. We're looking at basically everything between those ships and your shelves that gets the goods to where they need to be." WATCH HERE.
USDA Addresses Food Supply Chain Disruptions
USDA Announces $3 billion of Targeted Investments Including Assistance to Address Agricultural and Food Supply Chain Disruptions
Last week, USDA announced a $3 billion investment through the Commodity and Credit Corporation (CCC). These investments include targeted assistance to deal with supply chain disruptions including $500 million to provide relief from agricultural market disruption such as transportation challenges and the availability of certain materials and $1.5 billion to provide schools with assistance to respond to food supply chain disruptions that affect school meals.
READ: Bloomberg: USDA Funds $1.5 Billion to Combat School Meal Supply-Chain Problems
"The coronavirus pandemic has impacted every stage of our food supply chain, from commodity production through processing and delivery," Vilsack said in a statement.
WATCH: Nexstar: Biden administration looks to tackle increased prices at grocery stores
The White House says it is fighting against higher prices at grocery stores. "You need to have greater diversity across the board here, so we're looking for ways to increase the market," Secretary Vilsack said.
The Biden administration points to a 2019 study from the Open Markets Institute, which found the four largest beef packing companies control 82-percent of the market.
And this week, USDA announced $100 million in funding from the American Rescue Plan to leverage hundreds of millions more in lending to expand meat and poultry processing capacity and finance other food supply chain infrastructure.
This builds on top of several investments USDA has announced to expand the agricultural production supply side while increasing competition, such as $500 million in American Rescue Plan funds to expand meat and poultry processing capacity and another more than $150 million for existing small and very small processing facilities to help them weather COVID.
Commerce Department Takes Action on Semiconductor Chip Shortage
READ: Reuters: U.S. Commerce chief: 'Aggressive' action on chip shortage needed

"As you know, we've been working the semiconductor shortage since day one of the president's administration and it's time to get more aggressive."
"Fundamentally the solution is that we need to make more chips, and we need to make more chips in America, which is why the House can't pass the Chips Act fast enough, as far as I am concerned."
READ: CNBC: Raimondo: Need companies to build factories in U.S.
"There are bottlenecks across the economy, mostly due to COVID. There's disruption in the supply chain. Some of it will work itself out naturally but others like semiconductors will require investments so we make chips in America again. We have to make investments now so that never happens again."
Last week, the Commerce Department stood up a Microelectronics Early Alert System for COVID-related shocks to the semiconductor supply chain. The new system is up and running and already receiving input from companies.
And at a September convening of semiconductor industry participants, the Commerce Department announced the launch of a Request for Information (RFI) that is asking all parts of the supply chain – producers, consumers, and intermediaries – to voluntarily share information about inventories, demand, and delivery dynamics. This will advance Commerce's effort to improve transparency, trust, and communication across the supply chain. The goal of is to understand and quantify where bottlenecks may exist, helping provide the private sector with the information they need to address the shortage. Firms have 45 days to reply to the survey.
Joseph R. Biden, ICYMI: Highlights from the Biden-Harris Administration Supply Chain Disruptions Task Force Online by Gerhard Peters and John T. Woolley, The American Presidency Project https://www.presidency.ucsb.edu/node/352875