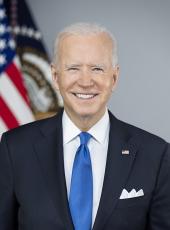 ICYMI: Former Treasury Secretary and Former Federal Reserve Vice Chair Call for Quick Confirmation of Biden's Fed Nominees
In the Wall Street Journal and CNBC today, Former Federal Reserve Vice Chair Alan Blinder and Former Treasury Secretary Jack Lew called on the Senate to confirm President Biden's Federal Reserve nominees, highlighting Sarah Bloom Raskin's experience and qualifications, rebutting debunked Republican criticisms of her, and underscoring the need for confirmed leadership at the Federal Reserve to help keep prices stable and maintain our strong economic recovery.
Jack Lew emphasized the importance of having the Federal Reserve at full force in order to effectively address the consequences of Russian invasion of Ukraine and maintain the Fed's mission. Alan Blinder singled out criticism of Sarah Bloom Raskin as being "misguided" and "flimsy", and praised her "near-perfect resume" and extensive experience.
Read more below:
CNBC: Obama Treasury Secretary Lew urges Senate to confirm Fed nominees amid Ukraine crisis, inflation
[Thomas Franck, 3/3/22]
Former Treasury Secretary Jacob Lew urged Senate leaders to confirm President Joe Biden's nominees to the Federal Reserve as soon as possible to help contain added inflationary pressures caused by Russia's invasion of Ukraine.
Failure to do so, he wrote in a letter sent Wednesday, could risk damaging the nation's economic recovery from the Covid-19 pandemic as well as the financial security of American families as rising prices eat away at their savings.
"As Russia's unwarranted assault on Ukraine threatens to cause increased global economic unrest, drive up energy costs, and deepen the inflation crisis, it is more important than ever that the Senate immediately confirm the full slate," Lew wrote. He addressed the letter to Senate Leaders Chuck Schumer, D-N.Y., and Mitch McConnell, Republican of Kentucky.
[…]
WSJ: Sarah Bloom Raskin Belongs at the Fed
[Alan Blinder, 3/2/22]
In a sign of these rancorously partisan times, the political right has drawn a target on the back of Sarah Bloom Raskin, President Biden's superb nominee to become the Federal Reserve's vice chairman for supervision. On Feb. 15 Republicans on the Senate Banking Committee blocked a vote on all five pending Fed nominees, but the clear target was Ms. Raskin. The next day, the Journal's editorial board declared her "unfit for the Federal Reserve."
I beg to differ. Ms. Raskin comes closer to being a perfect fit. Rejecting her nomination would be a terrible mistake for the Senate and a real loss to the Fed and the country. (Disclosure: Ms. Raskin is both a personal friend and a sometime professional colleague.)
The case against Ms. Raskin is flimsy. It stems mainly from her declarations, while a private citizen, that climate change is a serious problem that poses a wide variety of business risks, including to financial institutions. Does anyone doubt that? Many others, including Fed Chairman Jerome Powell and the Bank for International Settlements, have voiced similar sentiments. Should bank regulators strike losses from climate change from their list of risks?
The case for Ms. Raskin is powerful, starting with her impressive credentials. When Mr. Biden named her, I practically jumped for joy that someone with her stellar résumé would take the job.
[…]
Joseph R. Biden, ICYMI: Former Treasury Secretary and Former Federal Reserve Vice Chair Call for Quick Confirmation of Biden's Fed Nominees Online by Gerhard Peters and John T. Woolley, The American Presidency Project https://www.presidency.ucsb.edu/node/354742