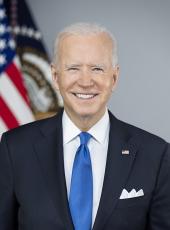 ICYMI: Former Judge and Reagan, Bush Appointee Endorses Ketanji Brown Jackson
Washington Examiner: Former judge and Reagan, Bush appointee endorses Ketanji Brown Jackson
[Christian Datoc, 3/3/22]
A former Republican-appointed federal judge endorsed Judge Ketanji Brown Jackson's nomination to serve on the Supreme Court, according to a letter sent to Senate Judiciary Committee leadership obtained by the Washington Examiner.
"Based on what I know of Judge Jackson, from her record on the bench and my own interactions with her at the American Law Institute, I believe she has been that kind of a judge and will be that kind of a Justice," David Levi wrote to Senate Judiciary Chairman Dick Durbin and ranking member Chuck Grassley in a letter dated Wednesday.
Levi, who serves as the president of the American Law Institute and the director of the Bolch Judicial Institute at Duke Law School, was appointed by former President Ronald Reagan to serve as the U.S. attorney for the Eastern District of California in 1986. He was then nominated by former President George H.W. Bush to serve as district judge for the Eastern District of California in 1990.
Levi also endorsed Supreme Court Justices Neil Gorsuch and Brett Kavanaugh when former President Donald Trump nominated them and Judge Michelle Childs when President Joe Biden nominated her to serve on the U.S. Court of Appeals for the District of Columbia Circuit.
"I only write when I know the nominee personally and hold the strong conviction that the nominee will be a superb judicial officer with the qualities I admire in a judge," he continued. "As must be apparent, it is not important to me whether the judge is the nominee of a President of a particular party or has views on certain questions of law that agree with my own. What is important to me is that the nominee has the ability and temperament to excel as a judge and that the nominee shows an understanding that, in our system, a good judge must be neutral, non?partisan, exercise self?restraint, model civility, and approach each case with an open mind and with the determination to reach as just, wise, and correct a result as possible."
Biden nominated Jackson to replace retiring Justice Stephen Breyer in late February. She, guided by the White House's confirmation "sherpa" Doug Jones, began meeting with senators on Capitol Hill Wednesday, and her confirmation hearing is scheduled to begin on March 21.
Joseph R. Biden, ICYMI: Former Judge and Reagan, Bush Appointee Endorses Ketanji Brown Jackson Online by Gerhard Peters and John T. Woolley, The American Presidency Project https://www.presidency.ucsb.edu/node/354738