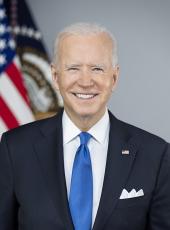 ICYMI: Former Ford Chief Economist, Obama and Reagan Administration Senior Economic Official: Lisa Cook is perfect for the Federal Reserve
The Hill: Opinion: Lisa Cook is perfect for the Federal Reserve
[Ellen Hughes-Cromwick, 2/4/22]
I am the former chief economist for Ford Motor Company. I've served on the staff of the Council of Economic Advisers under President Ronald Reagan and was named chief economist for the Commerce Department for President Barack Obama. I've also known and worked with Lisa Cook, the Biden administration's pick for Federal Reserve Governor, for more than a decade. Cook is not only qualified for this position; she is perfect for it.
The Federal Reserve deliberations and policymaking will benefit greatly from her contributions. There is no ambiguity or lack of clarity underpinning her expertise, sound judgement, extensive experience, her character or her life story that should exclude her from confirmation. In fact, they would make her a better Fed Governor.
Yet despite her remarkable career, she has faced relentless and unfair attacks since her nomination to the Fed Board. I am disappointed, though not surprised, because the main knock against her is that she is different and therefore unqualified, which is something I can relate to.
We are both women economists, which when we were starting out was about as rare as a buffalo nickel. As most women economists will tell you, there are many days of others questioning our "qualifications." In addition, neither of us went to marquee colleges. I received my PhD in economics from Clark University in working class Worcester, Mass. Cook earned an undergraduate scholarship to Spelman College before getting her PhD at prestigious UC Berkeley.
Nothing was handed to either of us. Ours has been a professional lifetime of overcoming the skepticism of others. Her experience has been significantly more challenging as she confronted racism and violence because of the color of her skin. So for those who are now just learning of Cook, allow me to lay that skepticism to rest.
Cook is a brilliant economist and compassionate trailblazer. Her academic research, public service, dedication to mentoring future generations of economists, and the extensive list of awards, fellowships, and leadership positions is beyond what most top-tier economists achieve in a lifetime — male, female, African-American or white.
Her graduate fields in macroeconomics and international economics are ideal for the board's mission. Her pathbreaking and acclaimed work on innovation, patents and Black entrepreneurship fills a needed blind spot for the Fed. That she has studied and done research in Russia, France, Senegal, and the UK will provide the board with substantial international depth of understanding about the global economic linkages and their effects on U.S. economic growth and inflation.
From any objective standpoint, her career is remarkable and qualifications unimpeachable. At least that's what economists believe or she would not have been named a Research Associate at the National Bureau of Economic Research — the hall of fame for economists. These appointments are long-term and reserved for tenured faculty members. They are recommended to the NBER board by the directors of the NBER's 20 research programs. These positions are vetted thoroughly by leading scholars in each of the research programs. As economists, we look at the NBER as a "seal of approval," that these researchers have reached the pinnacle of the academic profession and are pushing new frontiers of understanding.
If that's not enough, like me, Cook is a lifelong Democrat whose work was valued, unbiased and respected enough to serve in administrations of both parties. She was a senior economist at the Council of Economic Advisers under President Obama. She was a senior advisor on Finance and Development at the U.S. Treasury Department during part of the George W. Bush administration.
Cook worked hard to achieve the heights of success in the economics profession. She studied, did research, traveled and worked in other countries, received numerous fellowships and awards, undertook distinguished public service, gave of her time to mentor students in her classes at Michigan State University and beyond. She has been an economic leader to many in the profession. She has made her mark on many of us. And now, she is ready — and supremely qualified — to serve on the Board of Governors of the Federal Reserve. We can all have full confidence in her ability to collaborate and contribute to the success of this important institution for the benefit of our entire country.
Ellen Hughes-Cromwick, PhD., is a Senior Resident Fellow at Third Way, a center-left think tank
Joseph R. Biden, ICYMI: Former Ford Chief Economist, Obama and Reagan Administration Senior Economic Official: Lisa Cook is perfect for the Federal Reserve Online by Gerhard Peters and John T. Woolley, The American Presidency Project https://www.presidency.ucsb.edu/node/354408