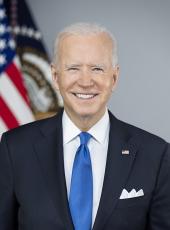 ICYMI: Economic Leaders Praise President Biden's Historic Economic Proposals
President Biden's efforts to revitalize the economy and support small businesses, including his proposed corporate tax plans, continue to receive praise from trusted economic leaders as America gets on the move again.
At the annual Berkshire Hathaway shareholders meeting this weekend, Berkshire CEO Warren Buffet dismissed the claim that higher corporate taxes will have a negative impact on consumers: "It's a corporate fiction when they put out statements about the fact that this will be terrible for all of you people if we pay more taxes."
In an op-ed for Barrons, Former Secretary of Commerce, Penny Pritzker, writes: "Now, President Biden is pursuing a large-scale, smart initiative for which I have long advocated: a focused, long-term economic competitiveness strategy that does more to support our workers through massive and historic investments in America's job creation engines of the future. The American Jobs Plan includes shrewd investments in our infrastructure, both physical and digital; in clean energy innovation; in early stage technologies such as 5G, quantum computing, and artificial intelligence; in regional economic development; in inclusive upskilling, education and workforce adaption; and in strengthening our social safety net by providing access to programs and health care for those who need it most. All told, the Biden economic plan will help create more than 19 million new jobs, with roughly 75% of them for workers with no more than a high school diploma.
[...]Business optimism is rebounding in both the manufacturing and service sectors and the S&P 500 has broken at least 21 records since President Biden took office, the most in a president's first 100 days since John F. Kennedy."
More economic leaders are backing the President's economic vision – Reuters writes, "International Monetary Fund officials endorsed U.S. President Joe Biden's plan to raise corporate income taxes and negotiate a global minimum tax, adding that companies and wealthy individuals that have prospered during the pandemic can afford to pay more. 'The IMF has been calling for a minimum global corporate income tax rate as a way to interrupt the race to the bottom in corporate income taxation," IMF Fiscal Affairs Director Vitor Gaspar told a news conference. 'And that is something which is important to ensure that governments have the resources needed to the various spending priorities that they have to serve.'"
Realtor Magazine highlighted the administration's commitment to supporting small businesses: "[President Biden] also laid out new reforms to make it easier for small businesses, sole proprietors, independent contractors, and the self-employed to get Paycheck Protection Program loans. The initiative included prioritizing small businesses over larger ones for a two-week period, simplified loan forgiveness, and improved loan calculations for independent contractors. The President said 70% of those helped by the effort were women and people of color."
Joseph R. Biden, ICYMI: Economic Leaders Praise President Biden's Historic Economic Proposals Online by Gerhard Peters and John T. Woolley, The American Presidency Project https://www.presidency.ucsb.edu/node/349774