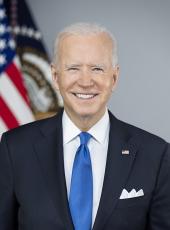 ICYMI: CNN: Senior Citizens Won't Pay More Than $35 a Month for Insulin as New Drug Provisions Kick In
Beginning this month, senior citizens and other Medicare beneficiaries won't have to pay more than $35 per month on their insulin prescription because of President Biden's historic Inflation Reduction Act. The cap on insulin for Medicare beneficiaries will benefit at least 1.4 million people, and is one of several cost-saving provisions in the Inflation Reduction Act that go into effect this month.
Other provisions that take effect in 2023 include allowing Medicare beneficiaries to get recommended vaccines, such as the shingles vaccine, for free. Starting this year, drug companies will also have to pay Medicare a rebate if they raise their prices faster than inflation. And, because of the Inflation Reduction Act, 13 million Americans will continue to save an average of $800 per year on health insurance.
See the full story below to read more about the historic cost-saving measures in the Inflation Reduction Act in effect this year:
CNN: Senior citizens won't pay more than $35 a month for insulin as new drug provisions kick in
[Tami Luhby, 1/9/23]
Senior citizens and other Medicare enrollees can now get a break on the cost of their insulin.
They won't pay more than $35 a month for each insulin prescription that's covered by their Medicare Part D plan. And they won't be subject to a deductible for insulin.
It's one of several drug-related provisions of the Inflation Reduction Act that are kicking in this year. The law, which Congress passed last summer, aims to make it easier for Americans, particularly the elderly, to afford their medications. The other measures taking effect in 2023 include allowing seniors to get more vaccines at no charge and penalizing drugmakers that raise prices higher than inflation.
For Medicare enrollees who take insulin via a pump, which is covered by Part B, the $35 monthly cap starts on July 1.
Though insulin was discovered more than a century ago and is relatively inexpensive to manufacture, its price has soared in recent years. This has contributed to about 1.3 million Americans with diabetes – or 1 in 6 insulin users – rationing their insulin in the past year, according to research published in the journal Annals of Internal Medicine in October. Skipping the medication can lead to death.
The new provision is the first cost-sharing limit for insulin ever enacted at a federal level, said Elise Tollefson, vice president for federal affairs at the American Diabetes Association. Some 22 states and the District of Columbia have placed caps ranging from $25 to $100 on insulin, supplies or devices, though they only pertain to insurance plans regulated by the state.
The $35 cap on insulin is expected to translate into big savings for some senior citizens. Some 3.3 million Medicare Part D enrollees used insulin in 2020, according to the Centers for Medicare and Medicaid Services.
Part D insulin users paid $54 per prescription, on average, across all insulin products in 2020, according to a study by the Kaiser Family Foundation. That's 39% more than they did in 2007. (The analysis did not include those who receive low-income subsidies.)
In total, enrollees shelled out just over $1 billion on insulin in 2020, more than quadruple the amount they spent in 2007.
"This is going to be quite a bit of savings for people, especially for people who use insulin consistently throughout the year or who use other drugs and who might find themselves in the coverage gap," said Stacie Dusetzina, professor of health policy at Vanderbilt University.
In the coverage gap, Part D enrollees are responsible for 25% of the cost of drugs after their total spending on medication exceeds $4,660 in 2023.
Limitations to the monthly cap
There are some important caveats that Medicare Part D insulin users need to know.
The $35 monthly cap applies to each prescription of insulin, so those who take two types, for instance, could pay up to $70 a month for their medications.
Part D plans also have until the end of March to update their systems to reflect the $35 cap, so enrollees might be charged a higher amount until then. But insurers must reimburse them within 30 days for any amount paid above the cap.
In addition, plans are not required to cover all insulin products. So enrollees should be sure that their policies cover the insulin their doctors prescribe for them. CMS is offering a special enrollment period this year to allow insulin users to switch plans if needed.
And the law does not cover non-insulin medications, such as Trulicity, that many diabetics use to control the disease. Advocates say that other provisions of the law, which take effect in coming years, will help seniors afford these drugs.
Among the biggest drawbacks is that the $35 cap only applies to Medicare enrollees. Democrats had wanted to broaden the provision to cover the commercial market as well, but it had to be narrowed after a challenge by GOP senators prevented the more comprehensive measure from being included in the package. Some lawmakers are already calling for Congress to take up legislation to widen the cap's scope.
More than 37 million adults in the US have diabetes, but 1 in 5 don't know it, according to the Centers for Disease Control and Prevention.
More vaccines at no cost
Medicare enrollees can now get additional vaccines at no cost, thanks to the Inflation Reduction Act.
Before this year, vaccines for Covid-19, the flu, pneumonia and hepatitis B, for higher risk patients, were covered by Medicare Part B with no cost sharing.
Now, all adult vaccines covered by Medicare Part D that are recommended by a federal advisory committee on immunization are available to enrollees at no cost. This includes the shingles vaccine.
Just over 4 million Medicare beneficiaries received a vaccine covered by Part D in 2020, including 3.6 million who got the shots to prevent shingles, according to Kaiser. Total out-of-pocket spending on Part D vaccines was $300 million.
Enrollees in 2018 paid an average of $57 for each dose of the shingles vaccine, which is typically free for those with private insurance, Kaiser said.
Eliminating the cost sharing for the shingles vaccine resonated with AARP members, said Leigh Purvis, director of health care costs and access for the advocacy group's Public Policy Institute. Now, some of their hesitancy to get the shot may be gone, though she's waiting to see whether utilization actually increases.
Restrict growth in drug prices to inflation
Another new provision that could help seniors indirectly requires drug companies to pay rebates if they hike their prices in Medicare faster than inflation.
The rebates will be deposited in the Medicare trust fund that helps finance the Part D program, as well as the Part B program, which covers physician services.
This is aimed at restraining the annual increase in drug prices, which would slow the hikes in premiums and cost sharing that seniors face.
Joseph R. Biden, ICYMI: CNN: Senior Citizens Won't Pay More Than $35 a Month for Insulin as New Drug Provisions Kick In Online by Gerhard Peters and John T. Woolley, The American Presidency Project https://www.presidency.ucsb.edu/node/359314