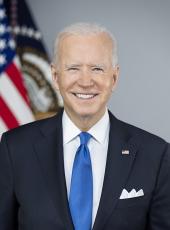 ICYMI: Business Support Grows for Build Back Better Climate Provisions
Six major U.S. companies—Amalgamated Bank, Amazon, Exelon, Google, IKEA, and Logitech—have joined a growing wave of businesses calling on Congress to pass strong climate provisions through budget reconciliation. These new announcements reflect support across the financial, technology, retail, and utility sectors for President Biden's Build Back Better Agenda.
Amalgamated Bank sent a letter to leaders in Congress expressing "strong support of the Build Back Better agenda." Amalgamated Bank is already investing "in climate solutions that also support good-paying jobs and deliver the benefits of clean energy to low-income Americans"—but "cannot do it alone." The letter urges passage of "the full reconciliation budget" that "is paid for fairly, that invests in people and infrastructure, and will grow the economy."
Amazon issued a statement calling for Congressional "action to modernize the transportation network, reduce emissions and address the climate change crisis" and expressing support for investments in both the Bipartisan Infrastructure Deal and the Build Back Better Act "to lower emissions" and "advance America's carbon reduction goals."
Exelon, a Chicago-based utility, expressed support for the Clean Electricity Performance Program (CEPP) to achieve President Biden's goal of 80% clean electricity by 2030. David Brown, Exelon's Senior Vice President of Government Affairs and Public Policy, said: "The CEPP encourages companies not only to build clean generation, but to do it faster than we would see in a business as usual scenario."
Google is also voicing support for climate action. Karan Bhatia, Google's Vice President of Government Affairs and Public Policy, said: "We support pending legislative proposals that would invest in green tech innovation, modernize our power grid, promote public transit, and protect against weather disasters."
IKEA U.S. issued a statement to "urge Congress to include robust funding for strong climate measures as it considers the Build Back Better Act," including "the Clean Electricity Performance Program," "expanding and extending incentives for clean energy and electric vehicles," and "enlisting a new Civilian Climate Corps." The statement emphasizes that "the inclusion of electric vehicles and renewable energy provisions in the Build Back Better Act will make clean energy investments accessible to companies of all sizes."
Logitech also announced support for "the climate investments outlined in both the Budget Reconciliation package and the Bipartisan Infrastructure bill." Bracken Darrell, CEO of Logitech, said: "Logitech is not a political company, and I rarely take stands on proposed policy. But the U.S. needs to move faster and more decisively on climate change. This is our last best chance to pass meaningful climate legislation."
These announcements follow on support from Salesforce, Netflix, General Motors, and the Outdoor Industry Association, alongside 29 of the trade group's member companies. In addition, more than 1,000 business leaders also called for climate action via reconciliation in letters organized by the American Sustainable Business Council (ASBC), E2 (Environmental Entrepreneurs), and Clean Energy for America (CE4A). Walmart announced that it is "encouraged by the many climate-related policy proposals being debated by Congress, including proposals made through budget reconciliation and the Infrastructure Investment and Jobs Act."
Joseph R. Biden, ICYMI: Business Support Grows for Build Back Better Climate Provisions Online by Gerhard Peters and John T. Woolley, The American Presidency Project https://www.presidency.ucsb.edu/node/352792