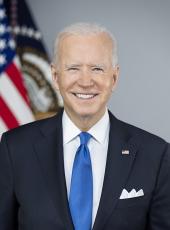 ICYMI: Biden-Harris Administration Pushes Forward on Clean Energy Investments in the American Jobs Plan
This week, the Biden-Harris Administration continued to highlight the clean energy investments in the America Jobs Plan, underscoring how they will position America to win the future, create good-paying, union jobs, and tackle the climate crisis.
Energy Secretary Jennifer Granholm traveled to Las Vegas, Nevada to hold a clean energy jobs and justice forum with clean energy advocates and elected officials, highlighting how Nevada is leading the way towards a clean energy economy that tackles climate change and creates jobs. She also visited a solar-powered model home built by University of Nevada, Las Vegas students. In the Midwest, Agriculture Secretary Tom Vilsack held a roundtable in East Lansing, Michigan with farmers, foresters, and conservationists on addressing climate change and employing innovative solutions that support economic growth. Additionally, Transportation Secretary Pete Buttigieg spoke with local reporters about how the resilient infrastructure investments in the American Jobs Plan will help us rebuild communities across the country that have been hit hard by the devastating effects of climate change fueled extreme weather.
Administration leaders have visited communities to showcase the need for resilient and sustainable infrastructure that can withstand the impacts of climate change, highlight the impact of eliminating and replacing 100% of lead pipes to ensure clean drinking, and demonstrate how we can create good-paying, union jobs that will power a clean energy future.
See below for coverage on American Jobs Plan visits highlighting clean energy:
Energy Secretary Jen Granholm in Las Vegas, NV
Credit: Chase Stevens/Las Vegas Review Journal
Las Vegas Review Journal: Granholm touts Biden jobs plan in Las Vegas visit
[Rory Appelton, 6/10/21]
"U.S. Energy Secretary Jennifer Granholm met with elected officials, advocates and students in Las Vegas on Thursday as she hosted a series of events centered around President Joe Biden's American Jobs Plan, which the administration says will create millions of good-paying jobs in clean energy industries. Granholm praised the state's leaders over the strides toward clean energy made in Nevada, and she stressed Biden's $2.3 trillion proposal would be largely complimentary to Nevada's ongoing plans to modernize its power grid and position itself at the forefront of a green energy economy."
Las Vegas Sun: Energized Granholm pushes Biden jobs plan, clean energy in Las Vegas
[John Sadler, 6/10/21]
"Secretary of Energy Jennifer Granholm touted Nevada as a leader in clean energy during a visit on Thursday, calling the state a test case on how to pass renewable energy legislation that can also provide jobs. She was in town to push for President Joe Biden's American Jobs Plan, an omnibus infrastructure package at the center of debate in Washington. 'I feel like our hair is on fire in making this happen quickly," Granholm said. "People are out there hurting, and they need assurances.' As part of her visit to Nevada, Granholm took part in a roundtable with state leadership, including Gov. Steve Sisolak and Rep. Steven Horsford, whose district makes up much of North Las Vegas and a large portion of the state's rural areas."
KSNV-TV (NBC Las Vegas): U.S. Energy secretary tours Las Vegas, touts jobs bill
[Jeff Gillan, 6/10/21]
"Nevada is turning out to be a model for the country. That's the message Energy Secretary Jennifer Granholm delivered Thursday at a roundtable with the governor, a congressman, and other clean energy leaders. 'You are a step ahead of us. The American Jobs Plan is very complimentary, as you said, to what you have done,' Granholm told a roundtable in North Las Vegas, complimenting the state and its lawmakers on the steps Nevada has taken to be a green energy leader. Granholm is here to sell the benefits of the infrastructure bill; the White House calls it the American Jobs Plan, and being the secretary of energy, she's focusing on its clean energy components."
KLAS-TV (CBS Las Vegas): Energy secretary visits Nevada as governor signs renewable plans into law, Secretary Granholm touts American Jobs Plan
[David Charns, 6/10/21]
"The infrastructure proposal, with an estimated price tag of $2 trillion, would be paid with tax increases on the wealthiest Americans and corporations while adding millions of new jobs, White House officials said … 'On transmission, you're going to need electricians to be able to put that up," she said. "You're going to need construction workers. You're going to need if you end up burying the wires, you're going to need people who are able to move big equipment. You're going to need people who plan it. You're going to need solar installers. You're going to need people who maintain it.'"
Agriculture Secretary Tom Vilsack in Ann Arbor, Michigan
Credit: USDA
Michigan Radio: U.S. Agriculture Secretary Vilsack visits Michigan, talks vaccines and climate-smart farming
[Caroline Llanes, 6/11/21]
"Vilsack says a big part of those conversations will be climate change and how it impacts agriculture in the coming years, and how farmers can be a part of the solution. 'The ability to use land to sequester carbon, the ability to capture methane and reuse it, the ability to convert agricultural waste into a variety of different bio-based materials creates new revenue streams for farmers and also new job opportunities for rural folks in Michigan.'"
Transportation Secretary Pete Buttigieg Talks Resilient Infrastructure with Local TV in California, North Dakota, and Minnesota
KGTV-TV (ABC San Diego): Buttigieg continues to push for Biden's Infrastructure Plan
[Rina Nakano, 6/9/21]
"The plan also includes a $50 billion investment in 'Resilient Infrastructure' against extreme weather, including earthquakes, a big concern for Californians. '[It includes] research dollars to help make sure we have more durable materials, and some remarkable things like what basically amounts to self-healing concrete that's appropriate for certain kinds of structures that I think in the long run will save lives and taxpayer dollars,' Buttigieg said … 'The President believes in everything from roads and bridges to getting the lead out of the water pipes that kids drink from,' Buttigieg said. 'We've got to act in a big way, and when we do, we can create millions of jobs. So it truly is a win-win.'"
KVRR-TV (FOX Fargo): Sec. Buttigieg explains American Jobs Plan impact on North Dakota & Minnesota
[Raya Quttaineh, 6/9/21]
"'It is every kind of infrastructure we count on,' Buttigieg explained in an interview with KVRR Wednesday. "Getting rid of lead pipes, which is important in the Midwest. Getting broadband out to everybody, which is certainly an issue in many rural areas of North Dakota and Minnesota … We got to make sure that we manage this in a way that makes America safer and stronger and faces the reality of climate in a way that will create more jobs. Remember, independent analysts believe that the American Jobs Plan will create millions of jobs and importantly, most of them don't require a college degree,' Buttigieg said."
Department of the Interior's New Leases for Renewable Wind Energy
Additionally, in support of the Biden-Harris administration's goal of installing 30 gigawatts of offshore wind energy by 2030, the Department of the Interior today announced a proposed sale for offshore wind development on the Outer Continental Shelf (OCS) in the New York Bight – an area of shallow waters between Long Island and the New Jersey coast. This would be the first competitive offshore wind lease sale for the Biden-Harris Administration – a key policy that will create good-paying, union jobs that fuel a clean energy economy. Read more below:
New York Times: For Lease: Windmill Space in the Atlantic Between Long Island and New Jersey
[Lisa Friedman, 6/11/21]
"The Biden administration on Friday announced that it would begin the formal process of selling leases to develop offshore wind farms in shallow waters between Long Island and New Jersey as part of its push to transition the nation to renewable energy … The move is part of efforts by the Biden administration to jump-start the country's offshore wind sector … A 2020 study by Wood Mackenzie, an international energy consulting firm, found that the development of offshore wind in the New York Bight would support 32,200 jobs and $3.3 billion in wages annually. The lease sale 'not only opens a door to investment in New York, but will support jobs and businesses throughout the U.S.,' said Erik Milito, president of the National Ocean Industries Association, which represents offshore oil, gas and wind producers."
"The Bureau of Ocean Energy Management is proposing several stipulations as part of the lease sale — including a provision that would require labor agreements. The new rules would require companies that win lease awards to "make every reasonable effort" to enter into a project labor agreement covering construction in the lease area. There also is a proposed requirement for companies to create "mechanisms to provide benefits to underserved communities" as well as enhanced communication with fishing communities and others."
Joseph R. Biden, ICYMI: Biden-Harris Administration Pushes Forward on Clean Energy Investments in the American Jobs Plan Online by Gerhard Peters and John T. Woolley, The American Presidency Project https://www.presidency.ucsb.edu/node/350343