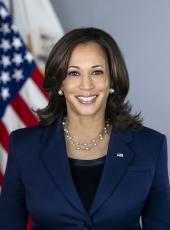 ICYMI: Biden-Harris Administration Officials Highlight the President's Efforts to Advance Equity and Opportunity for Black Americans
Last week, Vice President Kamala Harris and senior Administration officials traveled to New York for the National Action Network's 2023 Convention to highlight President Biden's ongoing efforts to grow the economy, help lower costs for families, support veterans, small businesses, and students, and ensure communities are receiving adequate investments and support.
The Vice President addressed the attacks on freedom and basic rights that Americans are experiencing throughout the country, including attacks on voting rights, reproductive rights, and the right to be safe from gun violence. She also reflected on her visit to Nashville, Tennessee where she met Representatives Justin Jones and Justin Pearson and made clear that the bedrock of democracy is the people's ability to make their voices heard. See her remarks here.
Senior Administration officials including Domestic Policy Advisor Ambassador Susan Rice (remarks here), Department of Veterans Affairs Secretary Denis McDonough, Department of Transportation Secretary Pete Buttigieg, Department of Education Secretary Miguel Cardona, Department of Homeland Security Secretary Alejandro Mayorkas, United Nations Ambassador Linda Thomas-Greenfield, Department of Commerce Secretary Gina Raimondo, and Environmental Protection Agency Administrator Michael Regan also traveled to New York to participate in the National Action Network's 2023 Convention.
Since day one, the Biden-Harris Administration has delivered real and lasting change and continues to work each day to deliver equitable outcomes for Black Americans. See additional details on how the Administration has advanced equity and opportunity for Black Americans and communities across the country here.
Read more below:
MSNBC Morning Joe with Mika Brzezinski and Rev. Al Sharpton:

[See full clip here, 4/17/23]
BRZEZINSKI: You could really see her, Reverend Al, connecting there on this issue. This is definitely a great move on the Biden Administration's part, putting her out there on this. She's good. Her talents are really showing when it comes to this issue and this fight.
SHARPTON: No, she has the passion and fire on this issue. What was interesting to me, when she spoke at our conference on Friday, a lot of our members are very much for civil rights, very much for reform, but some of them are very religious and have different views in terms of choice and not having choice. She got through with them because she talked about freedom and freedom of choice. She put it in a context, that I saw some fundamental ministers that are a part of National Action Network saying, now, I can support that, even though I may advise my daughter differently. Kamala Harris could do it. She's the first woman, not only the first Black woman, first woman to be Vice President of the United States. So she's addressing this personally as a woman and as a –
BRZEZINSKI: She's got it. As a prosecutor, she knows what this is about.
SHARPTON: Absolutely.
BRZEZINSKI: She can talk circles around Republicans who somehow cannot see reality and religion on this, quite frankly, when it comes to 50 years of rights taken away. First of all, there is something wrong with not only women, and men who love them, are incredibly insulted they know something is wrong. But again, I can't say it enough, it's about our lives, about our health care, about being able to go to the hospital and receive treatment and not die. That's where we are right now.
MSNBC PoliticsNation with Rev. Al Sharpton:

Secretary Cardona [See full interview here, 4/16/23]
SHARPTON: I had the chance to interview number of high-ranking cabinet members of the administration. One of them is the Secretary of Education Miguel Cardona. I started by asking him how we can make schools safe in light of the most recent in Nashville.
CARDONA: Not only as an educator but as a father, I wonder, how many deaths of children will it take before we take this issue as seriously as it needs to be taken? You know, in Tennessee, not only the massacre of children but then, when we have lawmakers speaking up for sensible gun safety legislation, they get pushed out. We really need to face this as a country. This is unacceptable. Children dying should never be normalized so what we are trying to do is provide dollars through bipartisan safer communities act, two billion dollars, to double the number of social workers in our schools, to provide the support for our schools, to make sure our schools have dollars for professional development of our educators and make sure that their emergency plans could be funded so that the schools are safe as possible. What we do in the schools alone, Reverend, is not enough. Unsafe communities lead to unsafe schools. We have to make sure we understand that this is a community issue. It was a school one day, it's bank the next day, it's supermarket the next day if we are not serious about sensible gun safety legislation that removes assault weapons from the hands of people that can kill a number of people in seconds, then we are just dancing around the edges. We have to do a multi-pronged approach, providing safe school environments, professional development, mental health support workers for students in need, or families in need. But we also have to recognize that this is not just about schools, it is about communities and we all have a role here to make sure that we have good legislation as well.

Secretary Buttigieg [See full interview here, 4/15/23]
SHARPTON: I had chance to interview a number of cabinet members of the Biden administration one of them, Secretary of Transportation Pete Buttigieg. I sat down with the secretary, and started by asking him where our country stands in light of recent hate crimes against Black and LGBTQ+ communities.
BUTTIGIEG: Well I think we are at a vulnerable moment for vulnerable people. We have to concern ourselves not just with the injustice that can come to people for an institution but also the way it is randomized and the way that there have been hate crimes, the way that there have been attacks including things that we know that we can do something about what the police tools we have. I know the entire administration's focused on, that for our department things like making sure transit is safe an accessible for everyone. And that everyone is fear free as they're just going about their day, going to work, going to see loved ones. It's a top priority an something we are very focused on.
Spectrum News: In New York, VP Harris warns U.S. 'founding principles are under attack'
[Justin Tasolides, 4/14/2023]
Speaking at this year's National Action Network convention in New York, Vice President Kamala Harris condemned recent mass shootings, attacks on abortion rights and voting access nationwide, warning the crowd that the country's "founding principles are under attack."
"We all love our country," Harris said at the annual gathering of the National Action Network, the nonprofit civil rights group founded by Rev. Al Sharpton. "That's why we fight so hard, we love our country. And we stand in the long tradition of those who have faithfully believed in the founding principles of our nation."
"But at this moment, the founding principles are under attack," she continued. "And I believe, always and especially today, that the strength of our nation depends on us each to fulfill our duty — yes, I said 'our duty' — to stand and protect our democracy."
Politico: Harris feels the love in Midtown
[Zachary Schermele, 4/14/2023]
On the same day, the GOP convened in the Midwest for the National Rifle Association's yearly gathering despite mass shootings in Kentucky and Tennessee. Harris was eager to sharpen contrasts between the two parties. […]
"The right to public safety is not only about the freedom to learn in a classroom without fear of an active shooter," Harris said. "It is also freedom to drive to one's mother's house without being killed by five lawless officers."
Page Six: Brittney Griner vows to fight to bring home Americans detained overseas
[Carlos Greer, 4/13/2023]
U.N. Ambassador Linda Thomas-Greenfield delivered the keynote address, and thanked Sharpton for the "critical work that you and this organization did to bring Brittney home."
"It's especially important for us right now as we work for the safe return of Evan [Gershkovich], the Wall Street [Journal] jounalist… as well as [former Marine] Paul Whelan and every single American who's being unjustly detained," Thomas-Greenfield said.
NewsOne: NAN Convention 2023: Everything You Need To Know
[Bilal G. Morris, 4/10/2023]
The four-day summit will bring together the likes of Vice President Kamala Harris and nearly a dozen Biden Administration officials, Tyler Perry, Kerry Washington, Magic Johnson, and other leaders in entertainment, business, civil rights, education and other fields, to discuss the state of Black America and galvanize the Civil Rights Movement.
Kamala Harris, ICYMI: Biden-Harris Administration Officials Highlight the President's Efforts to Advance Equity and Opportunity for Black Americans Online by Gerhard Peters and John T. Woolley, The American Presidency Project https://www.presidency.ucsb.edu/node/360661