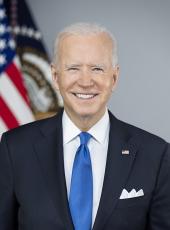 ICYMI: Biden-Harris Administration Announces Public and Private Sector Actions to Strengthen Teaching Profession and Help Schools Fill Vacancies
Yesterday, the Biden-Harris Administration announced new efforts to strengthen the teaching profession and support schools in their effort to address teacher shortages as the new school year begins. This announcement included new commitments from leading job platforms to make it easier for Americans to find opportunities in the education field, and new initiatives from teachers unions and national and state organizations to expand high-quality pathways into the profession for future teachers.
First Lady Jill Biden, Secretary of Education Miguel Cardona, Secretary of Labor Marty Walsh, Domestic Policy Advisor Susan Rice, the executive leadership of ZipRecruiter, Handshake, and Indeed, and leaders from the National Governors Association, American Federation of Teachers, National Education Association, Council of Chief State School Officers, and American Association of Colleges for Teacher Education met in the Roosevelt Room to discuss the staffing challenges schools are facing, these new actions, and additional ways that the federal government, state and local governments, education organizations and the private sector can strengthen the teaching profession.
Read more about the announcement below:
USA TODAY: Exclusive: Biden administration partnering with job search companies to help fill teacher shortages
[Alia Wong and Joey Garrison, 8/31/22]
The Biden administration will partner with several major job search companies to try to address teacher shortages that have plagued many of the country's school districts – moves that aim to boost a profession increasingly under attack. According to a White House memo provided exclusively to USA TODAY, the companies will set up ways school districts can recruit and hire prospective teachers and for teachers looking for jobs to find openings. ZipRecruiter is launching a new online job portal specifically for K-12 schools. Indeed will set up virtual hiring fairs for educators and other staff across the country. And Handshake, which helps college students find employment, is creating new ways of sharing job openings with undergraduate students in education, including a virtual event this October for college students interested in the field.
EdWeek: Here's How the White House Is Tackling Teacher Shortages
[Madeline Will, 8/31/22]
The Biden administration has unveiled a three-point plan to address teacher shortages: partner with recruitment firms to find new potential applicants, subsidize other prospective teachers' training, and pay them more so they'll stay. To unveil the effort, first lady Jill Biden led a White House discussion on Wednesday with top administration officials, including U.S. Secretary of Education Miguel Cardona and Secretary of Labor Marty Walsh, the two national teachers' union presidents, and executives from the participating job-search companies.
Washington Post: First lady, done with covid isolation, promotes White House achievements at education gathering
[8/31/22]
First lady Jill Biden, in her first public event since emerging from coronavirus-related isolation, spoke about the Biden administration's efforts to strengthen the teaching profession during a gathering of education leaders at the White House. In remarks given at the start of the event — which was led by Susan Rice, the administration's Domestic Policy Council director, and during which leaders discussed teacher shortages across the nation — the first lady spoke about the obstacles teachers face, starting with low pay and restricted access to resources. "If we want to draw more bright, talented people into this field, if we want educators to be able to do what they do best, we have to give them the pay and support they deserve," the first lady saidin a copy of her remarks provided by the White House.
U.S. News and World Report: White House Moves to Bolster Educator Pipeline
[Lauren Camera, 8/31/22]
With the new school year underway for a majority of America's children, the White House announced on Wednesday its most serious effort yet to help districts fill teacher and school staff vacancies and alter the educator pipeline to make it easier and more attractive to enter the profession. "Too many students don't have sufficient teachers and staff to provide the support and education they need," said Director of the White House Domestic Policy Council Susan Rice, speaking from the Roosevelt Room on Wednesday. "So today we brought together critical leaders from across the spectrum to discuss the challenges and the ways the public and private sector can work together to get more quality people into the classroom."
Spectrum: White House, job search companies partner to address teacher shortage
[Justin Tasolides, 8/31/22]
The White House on Wednesday announced a new private-public partnership with online hiring companies Indeed, ZipRecruiter and Handshake to help schools fill crucial vacancies amid a nationwide teacher shortage… The announcement comes ahead of a meeting Wednesday at the White House — hosted by First Lady Jill Biden, a longtime teacher and education advocate — to discuss staffing challenges in schools nationwide and how the government and private sector can help.
Nexstar: White House takes aim at nationwide teacher shortage
[Chip Brewster, 8/31/22]
A multi-pronged effort was announced today by the Biden-Harris administration to address staffing shortages in education across the country. Each of the meeting's members are taking aim at part of the perceived problem leading to the shortage. ZipRecruiter is launching an online job portal devoted to K-12 jobs. Handshake will host a nationwide, free virtual event to help current undergraduate students learn about the many pathways in the field of education. Indeed plans to facilitate virtual hiring fairs for educators throughout the country. The Department of Education and the Department of Labor (DOL) are encouraging the use of American Rescue Plan funds to increase teacher salaries, while the DOL is also prioritizing its apprenticeship program grants to focus on the education sector. The education-centric organizations are committing to work together to expand apprenticeship programs, teaching residencies, and Grow Your Own programs.
UPI: Biden unveils new efforts aimed at fixing teacher shortages, increasing pay
[Clyde Hughes, 8/31/22]
President Joe Biden's administration announced multiple efforts on Wednesday that are intended to address a national shortage of school teachers, including a move to increase pay. There have been teacher shortages across the United States in recent months, due to a variety of factors. Perhaps the main reason is money.
AFP: White House Pushes To Address US Teacher Shortage
[8/31/22]
Joe Biden's administration on Wednesday announced it is taking action to tackle a US-wide teacher deficit brought about in part by low salaries, as it coordinates with online organizations and unions to boost recruitment. First Lady Jill Biden, herself a longtime community college educator, was set to present the initiatives later in the day at the White House.
The Hill: Biden administration partners with job firms to address teacher shortage
[Morgan Chalfant, 8/31/22]
The Biden administration on Wednesday announced a handful of actions aimed at addressing the teacher shortage in the United States, including by partnering with job search firms to make it easier to fill openings in the education field. The White House announced that ZipRecruiter would launch a new web portal to showcase K-12 school jobs; Handshake is planning an October virtual event to encourage current college students to explore education jobs; and Indeed would host virtual hiring fairs specifically for educators. Education Secretary Miguel Cardona and Labor Secretary Marty Walsh also penned a letter to state and local officials encouraging them to pay competitive wages for education positions and to establish teacher training programs to recruit and retain educators.
ABC 11: 'So many obstacles stand in their way': White House addresses teacher shortage
[Cindy Bae, 8/31/22]
As thousands of schools in the U.S. start the 2022-2023 school year with hundreds of teacher vacancies, the White House announced new efforts on Wednesday to strengthen the teaching profession and help schools fill vacancies. The five-page release includes how the White House will partner with job search firms to make applying and recruiting for school jobs easier, invest in teachers and expand the teacher pipeline. First Lady Jill Biden had her first public event at the Roosevelt Room since recovering from COVID-19. She was joined by officials such as Education Secretary Miguel Cardona, Labor Secretary Marty Walsh and other stakeholders.
NJ.com: Apprenticeships might help solve teacher shortage, Murphy says while attending education summit in D.C.
[Jonathan Salant, 8/31/22]
Apprenticeships help train the next generation of welders, painter and mechanics. Why not teachers? That was a hot topic of conversation Wednesday as Gov. Phil Murphy traveled to the White House to join First Lady Jill Biden, Cabinet officials, teachers union leaders and executives of job search platforms for a meeting on how to address a national shortage of teachers. Murphy, chair of the National Governors Association, told NJ Advance Media after the meeting that he thought the idea had merit. "As a general matter, I'm a big apprenticeship guy," said the New Jersey governor, who added he saw how successful apprenticeship programs overall worked in Germany when he served there as a U.S. ambassador. "We like it a lot conceptually and we're going to kick the tires."
Here's what people are saying:
National Governors Association Chair New Jersey Governor Phil Murphy and Vice Chair Utah Governor Spencer Cox: "Governors welcome the steps taken by the White House and the Departments of Education and Labor to support states and territories as they invest in their educator workforce. Governors are on the forefront of developing creative strategies to recruit, train and retain qualified teachers. Governors and legislators across the country are dedicating state and federal American Rescue Plan dollars to increase support for teachers and address school staffing shortages in a myriad of ways. We are glad to see federal partners recognizing the teacher shortage and collaborating with the private sector to promote careers in education and strengthen teacher pipelines. We also appreciate the Department of Labor's increased focus on teacher apprenticeship programs and encourage the Department to be flexible in working with states/ territories as they experiment with and elevate successful models that produce high quality educators." [Statement, 8/31/22]
Carissa Moffat Miller, CEO of the Council of Chief State School Officers (CCSSO): "State education leaders are leading innovative work to address gaps in the teacher pipeline and ensure that all students have access to excellent teachers throughout their academic career. We applaud the Biden Administration's announcement today of additional supports for Registered Teacher Apprenticeship Programs and other strategies through which states can build sustainable teacher preparation efforts.
We are pleased Tennessee Commissioner Penny Schwinn, a member of CCSSO's Board of Directors, can share more about her state's program at today's White House announcement. Tennessee has been a leader in this work, through extensive Grow Your Own programs and their first-in-the-nation Registered Teacher Apprenticeship Program. Like Tennessee, states across the country are undertaking bold initiatives to bolster the teacher pipeline over the long term.
We thank leaders at the National Governors Association, National Education Association and American Federation of Teachers for their partnership in supporting quality efforts to increase pathways into the teaching profession.
CCSSO will continue our work with our state members and partners in the field to identify best practices and offer information and other support that builds on the technical assistance provided by the departments of Labor and Education." [Statement, 8/31/22]
Randi Weingarten, President of the American Federation of Teachers: "Today's announcement shows that the Biden-Harris administration gets it. The teacher shortage didn't start yesterday, and it won't end today, but we can turn the tide with, among other innovative ideas, the apprenticeship programs and 'grow-your own' initiatives announced today.
"The 21 recommendations of our Teacher and School Staff Shortage Task Force report, "Here Today, Gone Tomorrow?" —adopted unanimously at our biennial convention in July—provide a comprehensive blueprint to help do this work by outlining ways to solve the educator shortage. In short, we know education professionals want to make a difference in children's lives; rather than attack them, as some politicians do, we need to support them, as this White House convening demonstrates. They simply need the tools, trust, conditions and compensation to do their jobs and stay in their jobs.
"The shortages can be solved. In places like Houston, Texas, and Nashua, N.H., districts are working with educators and school staff to raise salaries, which has hugely helped address shortages, while states like New Mexico are investing in the future of educators by enacting legislation that raises teachers' pay, expands paid teacher residencies, creates more community schools addressing conditions children need, and eases paperwork issues and restrictions for veteran educators returning to fill vacancies plaguing the schools. These strategies need to be the rule, not the exception.
"We look forward to partnering with the Council of Chief State School Officers, governors and the National Education Association to do this work together. There is so much more we can do. Today's conversation with the first lady, Ambassador Susan Rice, Education Secretary Miguel Cardona and Labor Secretary Marty Walsh will help us identify the actions we can take immediately to support schools so teachers can help kids recover and thrive." [Statement, 8/31/22]
Becky Pringle, President of the National Education Association: "Every student deserves a great educator to inspire them and help them learn. Today's announcement from the Biden/Harris Administration will help so many enter the profession we love, and help make sure students have qualified, passionate teachers for years to come." [Tweet, 8/31/22]
Lynn M. Gangone, President and CEO of the American Association of Colleges for Teacher Education (AACTE): "It was an honor to have AACTE at the table with First Lady Dr. Jill Biden and other key decision makers, such as the Secretaries of Education and Labor. There are solutions to this crisis, and I am confident that in working together we will accelerate our work to recruit and retain highly-qualified and diverse teachers. Education is an exciting and worthwhile profession, and I believe that today's conversations, alongside members of the talent industry, will take us far as we lead collaborative and solutions-based work. To have this spotlight today on the education profession from the White House elevates the importance of teachers and education in the U.S." [Statement, 8/31/22]
Ian Siegel, CEO of ZipRecruiter: "The shortage of talent in education is a national crisis that could hinder the next generation of Americans, our students. This is an all hands on deck effort, which is why ZipRecruiter is honored to answer the President's call by powering a dedicated education jobs portal to address the teacher and school staff shortage and get more high-quality, diverse professionals into classrooms and schools across the country. We are committed to leveraging our technology for this great cause and will continue to enhance schooljobsnearme.org to serve as a destination for jobs in K-12 education. Our nation's children depend on us and we must all rise to the occasion."
Chris Hyams, CEO of Indeed: "As a former public school teacher, I know how important education is to prepare kids for their future. I also know that education requires dedicated educators. Indeed is honored to work to help solve the current shortage of teachers, administrators, and other education workers. We are excited to put our mission of helping people get jobs into action to rebuild the education workforce."
Christine Cruzvergara, Chief Education Strategy Officer for Handshake: "As a starting place, we know that there are over 280k students on Handshake that have pursued or are pursuing education majors—and that doesn't include the students studying in other fields like history, STEM, or social sciences who might be open to a career in education. We can join this call to action by making it easier for college students to see themselves working in K-12 education and by partnering with schools and districts to build connections with graduates while they recruit the next generation of educators in the US. Gen Z is a generation that cares deeply about the world around them—and want jobs that can make a positive impact. There's no better way to do that than work in a school."
Karen DeMoss, Executive Director, Prepared To Teach, Bank Street College of Education: This is an historic moment for the teaching profession--and the nation. Schools are important to every community in our country, and every school needs teachers and other staff who are well-prepared and committed to those communities and to the children and youth that parents entrust to their care. The Administration's partnership between the Department of Labor, the Department of Education, states, private sector leaders, and professional organizations and coalitions like the AFT and Pathways Alliance opens the door for states and localities all across the country to build paid, high-quality pathways into teaching. It could not have come at a more critical time. [Statement, 8/31/22]
David Donaldson, Managing Partner, National Center for Grow Your Own: "The National Center for Grow Your Own (NCGYO) is excited by The White House's commitment to registered apprenticeships in teaching. NCGYO just launched the National Registered Apprenticeship in Teaching Network with seven states participating. We also look forward to partnering with American Association of Colleges for Teacher Education and Deans for Impact as fellow co-chairs of the Pathways Alliance working group to establish national guideline standards for registered apprenticeships in teaching." [Statement, 8/31/22]
Robert Boyd, President and CEO, School-Based Health Alliance: "The School-Based Health Alliance is the national organization supporting and advocating for high quality healthcare in schools for the nation's most vulnerable children through the establishment of school-based health centers (SBHCs). We applaud the White House and the Departments of Education and Labor for announcing these critical initiatives to strengthen the teaching profession and help schools fill staff vacancies. We must hire more school-based health professionals, especially people of color, and pay them better. We must also put School-Based Health Centers in every Title I and Community School. We look forward to continuing to work with the Biden-Harris Administration and our fellow public and private sector partners to advance student health and equity in education." [Statement, 9/1/22]
Joseph R. Biden, ICYMI: Biden-Harris Administration Announces Public and Private Sector Actions to Strengthen Teaching Profession and Help Schools Fill Vacancies Online by Gerhard Peters and John T. Woolley, The American Presidency Project https://www.presidency.ucsb.edu/node/357596