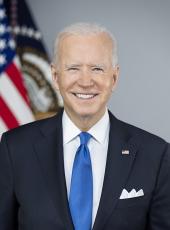 ICYMI: Biden Administration's Light Bulb Efficiency Standards Mean Lower Costs, Less Emissions, and Brighter Future
Today, as President Biden remains focused on lowering costs for Americans, the Department of Energy finalized two new rules that will make light bulbs more energy efficient and save families money on their electricity bills. These rules are projected to save consumers nearly $3 billion a year while also reducing carbon emissions by 222 million metric tons over the next 30 years—the equivalent of what 28 million homes emit in a year.
These rules are part of 100 energy efficiency actions the Biden Administration is completing this year, which together will save families $100 annually while advancing the President's climate goals.
Read more about the announcement below:
AP: Light Bulb Rule Ensures Brighter Future, Energy Chief Says
[Matthew Daly, 4/26/22]
The Biden administration is scrapping old-fashioned incandescent light bulbs, speeding an ongoing trend toward more efficient lighting that officials say will save households, schools and businesses billions of dollars a year. Rules finalized by the Energy Department will require manufacturers to sell energy-efficient lightbulbs, accelerating a longtime industry practice to use compact fluorescent and LED bulbs that last 25 to 50 times longer than incandescent bulbs.
CNN: Biden Flips the Switch on Trump's Incandescent Light Bulb Plan
[Ella Nilsen, 4/26/22]
The move is the culmination of a decades-long, bipartisan effort to phase out inefficient light bulbs. Energy efficiency standards were included in an energy bill passed under the George W. Bush administration and implemented during the Obama administration.
CNBC: Biden Blocks Sales of Inefficient Lightbulbs, Reversing Trump-Era Policy
[Emma Newburger, 4/26/22]
Joe Vukovich, an energy efficiency advocate at the Natural Resources Defense Council, said the announcement of new light bulb efficiency standards is "brilliant news" for consumers and the environment. "We are long overdue to phase out inefficient old-fashioned light bulbs as this progress was illegally delayed by the Trump administration for more than two years," Vukovich said in a statement.
The Hill: Biden Administration Finalizes Lightbulb Efficiency Rule Sidelined by Trump
[Zack Budryk, 4/26/22]
"This is a victory for consumers and for the climate, one that's been a long time coming," Steven Nadel, executive director of the American Council for an Energy-Efficient Economy, said in a statement. "LEDs have become so inexpensive that there's no good reason for manufacturers to keep selling 19th-century technology that just isn't very good at turning electrical energy into light. These standards will finally phase out energy-wasting bulbs across the country."
The Washington Post: Trump Saved this Old-Fashioned Lightbulb. Biden's Now Phasing It Out.
[Anna Phillips, 4/26/22]
Andrew deLaski, executive director of the nonprofit Appliance Standards Awareness Project, said some major retailers such as Ikea and Costco have already stopped selling incandescent lightbulbs. Others should be able to comply with the new rules more quickly than the government's timeline allows, he said. "These changes have definitely been a long time coming," deLaski said. "What this means is that all consumers, no matter where they shop, will have access to a range of efficient LED choices that'll save them money, light up just like the bulbs they replace and last 10 times longer. That's welcome news with energy prices going up."
Joseph R. Biden, ICYMI: Biden Administration's Light Bulb Efficiency Standards Mean Lower Costs, Less Emissions, and Brighter Future Online by Gerhard Peters and John T. Woolley, The American Presidency Project https://www.presidency.ucsb.edu/node/355595