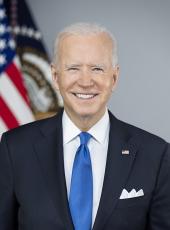 ICYMI: Biden Administration Wind Lease Sale Blows Through Records
Offshore Wind Lease Sale Showcases President Biden's Clean Energy Agenda in Action to Create Jobs, Lower Costs, and Invest in America
Yesterday, the Department of the Interior announced it completed a record-setting lease sale for offshore wind in the New York Bight – the nation's highest-grossing competitive energy lease sale in history. The clean energy auction attracted $4.37 billion in competitive winning bids from six companies for areas totaling over 488,000 acres, with the potential to power nearly two million homes.
The lease sale marks a leap forward towards President Biden's goal of reaching 30 gigawatts of offshore wind energy by 2030. The sale also paves the way to create thousands of good-paying union jobs, support products Made in America, strengthen domestic manufacturing, and make progress on lowering energy bills for consumers as clean energy scales up.
"We have the chance to breathe life into idled ports, revitalize our industrial base, and build products here in America to harness the wind and sun," says Ali Zaidi, Deputy National Climate Advisor. "President Biden's big, bold vision for offshore wind isn't just policy being imagined, it's progress being delivered right here, right now."
Read more about the historic sale below:
New York Times: Sale of Leases for Wind Farms Off New York Raises More Than $4 Billion
[Lisa Friedman, 2/25/22]
Heather Zichal, chief executive of the American Clean Power Association, which represents wind, solar, storage and transmission companies, said the lease sale "blew our expectations out of the water" and heralded a new era of demand for clean energy. "This is a major step forward for the U.S. in terms of standing up a new industry, the domestic manufacturing opportunities that come with it and another market signal in favor of U.S. energy independence," she said.
Wall Street Journal: U.S. Offshore Wind Power Auction Nets Record $4.37 Billion
[Jennifer Hiller, 2/25/22]
A U.S. auction of locations for offshore wind farms off the Atlantic coast resulted in a record $4.37 billion in winning bids, officials said Friday, a sign of robust interest in developing renewable energy in federal waters . . . The sale is the first for the Biden Administration and marks a key moment in President Biden's bid to help jump-start an American offshore wind industry as he seeks to decarbonize the nation's electricity grid in response to climate change.
Bloomberg: Offshore Wind Auction Raises $4.4 Billion to Topple Record
[Jennifer A. Dlouhy and Josh Saul, 2/25/22]
Renewable developers spent a record $4.4 billion buying the rights to install wind turbines off the New York and New Jersey coast in a blockbuster auction that underscores surging enthusiasm for carbon-free electricity. The sale shattered previous records, a sign of growing momentum for the country's nascent offshore wind industry and President Joe Biden's bid to decarbonize the electric grid.
Reuters: U.S. offshore wind auction draws record $4.37 bln in bids
[Valerie Volcovici, 2/25/22]
An offshore energy industry group, the National Ocean Industries Association, said the auction reflected optimism among offshore wind developers of strong future demand. "The record-shattering interest in the New York Bight lease sale is testament to how bright the American offshore wind outlook is and how confident developers are in the strength of the U.S. offshore wind industry as a whole," said Erik Milito, president of NOIA.
The Philadelphia Inquirer: Six companies bid record $4.3 billion for N.J. and N.Y. offshore wind energy leases
[Frank Kummer, 2/25/22]
Ed Potosnak, executive director of the New Jersey League of Conservation Voters, said he was "thrilled to see the Biden administration take steps to responsibly develop offshore wind projects that can provide reliable and affordable clean energy, which can power our homes, protect our shore communities from rising sea levels, create good-paying union jobs, and will address the air pollution that creates health disparities in low income and communities of color."
Financial Times: Wind power companies bid more than $4bn for ocean waters near New York
[Myles McCormick, 2/25/22]
The permitting process has been expedited under the current White House. Two large wind farms have been fully permitted and begun construction. The latest auction was the first of as many as seven offshore lease sales the administration hopes to hold by the end of 2025. Others are planned off the coasts of the Carolinas and California later this year, the interior department said.
E&E News: N.Y. offshore wind sale earns record $4.4B
[Heather Richards, 2/25/22]
The long-awaited sale was expected to draw big spending, given the fledgling industry's momentum under the Biden administration. Still, the revenues soared past previous federal energy auction records, with one lease alone closing at more than $1 billion.
AP: Offshore wind energy auction in NJ, NY draws $4.37B in bids
[Wayne Parry, 2/25/22]
President Joe Biden has set a goal to install 30 gigawatts of offshore wind power by 2030, generating enough electricity to power more than 10 million homes. The administration has approved the nation's first two commercial-scale offshore wind projects in federal waters: the 800-megawatt Vineyard Wind project off the Massachusetts coast and the 130-megawatt South Fork wind farm near New York's Long Island.
HuffPost: Biden's Offshore Wind Sale Brings In Record $4.3 Billion
[Chris D'Angelo, 2/25/22]
The Biden administration's first offshore wind lease sale raked in an astonishing $4.37 billion in high bids — more than any offshore energy auction in U.S. history, including all oil and gas lease sales. The record sale, which the Interior Department announced Friday, offered up six tracts totaling more than 488,000 acres in New York Bight, the waters between Long Island and the New Jersey coast.
Joseph R. Biden, ICYMI: Biden Administration Wind Lease Sale Blows Through Records Online by Gerhard Peters and John T. Woolley, The American Presidency Project https://www.presidency.ucsb.edu/node/354648