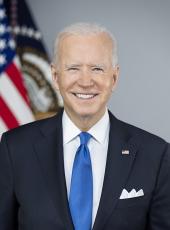 ICYMI: Biden Administration Outlines Key Resources to Invest in Coal and Power Plant Community Economic Revitalization
Last week, the White House Interagency Working Group on Coal and Power Plant Communities and Economic Revitalization released a report that was delivered to President Biden and included initial recommendations to catalyze economic revitalization, create good-paying, union jobs, and support workers in hard-hit coal, oil and gas, and power plant communities across the country.
The Interagency Working Group identified nearly $38 billion in existing federal funding that could be accessed by energy communities for infrastructure, environmental remediation, union job creation, and community revitalization efforts. This funding builds on the over $260 million in existing resources already mobilized by the Department of the Interior and could be bolstered by the historic investment in energy communities proposed in President Biden's American Jobs Plan.
In connection with the report release, the Department of Energy (DOE) announced $109.5 million in funding for innovative projects that will catalyze next generation industries to retain and create jobs directly in energy communities. Additionally, the Interagency Working Group named Brian Anderson, a longtime resident of West Virginia and a descendant of coal miners, as its Executive Director to ensure the federal government is supporting energy communities.
See below for coverage on the announcements:
Associated Press: Biden working group targets jobs for fossil fuel communities
"Six large regions nationwide that have economies reliant on fossil fuels have been targeted for federal investment and aid to create renewable energy jobs, as detailed in a new report from President Joe Biden's administration. The report released Friday is part of Biden's plan to reduce America's use of coal and other fossil fuels in order to fight climate change ... The report, from a working group comprising several federal agencies, identifies $37.9 billion in currently available funding across a wide variety of departments that can help support job creation, rural infrastructure and reclaiming abandoned mine lands."
Reuters: Report pinpoints billions in available U.S. funds to revive coal country
"The U.S. government can tap nearly $38 billion from existing federal funds to revitalize communities hard hit by the closure of coal mines or coal-fired power plants, a White House-appointed group wrote in a report for President Joe Biden released on Friday. The Interagency Working Group on coal and power plant communities, which Biden established in a January executive order, identified available federal resources that can be used to spur economic development in areas affected by the demise of coal due to market forces and the shift toward cleaner energy."
The Exponent Telegram: Editorial: Biden's ambitious plan includes relief for West Virginia to help ease transition
"It is far too early to say that President Joe Biden's climate-change plans will work, especially in the next 10 years. Like many, we remain worried about the impact of the national energy policy transition to what proponents say is more "green energy" designed to help combat the world's climate threat ... The Biden administration's announcement on Friday of funding initiatives designed to take some of the negative impact off Mountain State communities is an example of the type of thinking and coordination that will be needed to make a successful transition...We applaud that commitment, as well as the work of Sen. Manchin in keeping the interests of West Virginians as a key point of future energy plans. If that continues, the future is bright for the Mountain State."
Pittsburgh Post-Gazette: White House announces $109M for energy jobs in hard-hit coal communities
The Biden administration announced $109.5 million in funding for research projects aimed at creating job opportunities in communities ravaged by the decline of the coal industry, naming the director of the National Energy Technology Laboratory in South Park and Morgantown, W.Va., to spearhead the efforts ... The high-level makeup of the working group reflects the seriousness of the mission, he said. The group's members are most of the White House Cabinet ... The two co-chairs are National Economic Council Director Brian Deese and National Climate Advisor Gina McCarthy, both of whom spoke with Mr. Anderson about the job. Everyone understands the urgency of the challenge, Mr. Anderson said."
West Virginia News: NETL's Brian Anderson, of West Virginia, tapped to lead federal effort to revitalize coal, power plant economies
"NETL Director Brian Anderson has been named executive director of the Biden Administration's Interagency Working Group on Coal and Power Plant Communities and Economic Revitalization ... A longtime resident of West Virginia and a descendant of coal miners, Anderson brings extensive expertise in regional innovation and technology development for the energy sector. As director of NETL, Anderson has worked to unify government research institutes, private industry and academia behind the goal of delivering safe and affordable energy in an environmentally sustainable manner."
Ohio Valley Resource: Energy Secretary Pushes Regional Job Potential From Climate Action
"Granholm said the Biden administration's $2 trillion American Jobs Plan includes directives that would steer a significant amount of the funding to such vulnerable communities. 'And obviously, coal and fossil communities are at the top of the list,' she said. The newly announced DOE funding includes: $75 million for carbon capture projects, intended to remove CO2 emissions from power plants and industrial facilities; $19.5 million for "critical mineral extraction" from the waste from burning and mining coal; and $15 million for two geothermal energy research projects at West Virginia University, in cooperation with Sandia National Laboratories."
Joseph R. Biden, ICYMI: Biden Administration Outlines Key Resources to Invest in Coal and Power Plant Community Economic Revitalization Online by Gerhard Peters and John T. Woolley, The American Presidency Project https://www.presidency.ucsb.edu/node/349757