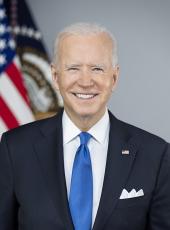 ICYMI: Biden Administration Advances Cleaner Industrial Sector to Reduce Emissions and Reinvigorate American Manufacturing
Today, the Biden Administration announced a slate of efforts from more than a dozen agencies and executive offices to incentivize clean manufacturing, reduce climate pollution and local air pollution, and create good-paying, union jobs.
Through $9.5 billion in funding from the Bipartisan Infrastructure Law, the Department of Energy will establish regional clean hydrogen hubs and invest in clean hydrogen innovation, manufacturing, and recycling initiatives. In support of the newly launched Buy Clean Task Force, the General Services Administration and the Department of Transportation will focus on procuring low-carbon concrete and other clean, American-made materials for federal construction projects. Other Administration actions will use trade policy to reward clean manufacturing of steel and aluminum, advance responsible deployment of Carbon Capture, Utilization, and Sequestration technologies, and accelerate equitable innovation across the industrial sector.
A recent national survey from Data for Progress found overwhelming bipartisan support – including 52 percent of Republicans – for these types of measures.
Data for Progress: Voters Support Federal Investments to Reduce Pollution From the Manufacturing Sector
[Danielle Deiseroth, 2/15/22]
Reuters: Biden to launch 'Buy Clean' U.S. government task force
[David Shepardson, 2/15/22]
The White House on Tuesday announced a new task force to promote use of construction materials with lower lifecycle emissions as it works to speed U.S. government purchases of greener products. The move comes after President Joe Biden said in December that the government, which buys goods and services worth more than $650 billion each year, planned to cut its emissions by 65% by 2030, on the path to net zero emissions by 2050.
New York Times: Biden Administration Promises to Buy 'Clean' Industrial Materials
[Lisa Friedman, 2/15/22]
The Biden administration on Tuesday will set out a strategy for buying "clean," lower-emissions steel, cement, aluminum and other industrial materials for federal agencies and projects, part of its effort to reduce carbon emissions from industrial manufacturing. The industrial sector is responsible for about one-third of the greenhouse gases produced by the United States — pollution that is helping to heat the planet to dangerous levels. White House officials said they would use federal purchasing power to encourage the industrial sector to develop low-carbon alternatives.
CNN: White House to unveil multi-pronged approach to reduce emissions in the manufacturing sector
[Donald Judd, 2/15/22]
The White House will unveil new efforts to reduce emissions in the manufacturing sector Tuesday, including nearly $10 billion in Department of Energy funding from President Joe Biden's signature infrastructure law aimed at "clean hydrogen" manufacturing. The announcement also includes the launch of a new "Buy Clean Task Force," which promotes the use of low-carbon and carbon-neutral materials, boosting federal procurement of clean construction materials and building on efforts already underway at the General Services Administration (GSA), which manages a nationwide federal real estate portfolio and oversees approximately $75 billion in annual contracts.
Yahoo: Biden administration rolls out effort to curb industrial greenhouse gas emissions
[Ben Adler, 2/15/22]
President Biden is launching a multi-pronged program to reduce industrial sector greenhouse gas emissions. The centerpiece of the plan, which will cover activities like manufacturing and cement production, is $8 billion in spending on Regional Clean Hydrogen Hubs, a Department of Energy initiative funded by the recently passed Infrastructure Investment and Jobs Act. (Clean Hydrogen, also known as Green Hydrogen, is created using low-carbon energy sources and can be used as a replacement for natural gas in uses such as heating.)
The Hill: Biden administration announces green manufacturing push
[Rachel Frazin, 2/15/22]
A new fact sheet from the White House said it would aim to [promote green manufacturing and take on climate change contributions from the industrial sector] through a series of initiatives aimed at bolstering clean hydrogen energy and using the federal government's purchasing power to advance its climate goals, among other efforts. The Energy Department announced that it will take a step toward carrying out programs initiated by the Bipartisan Infrastructure Law on clean hydrogen — which is when hydrogen energy is produced using clean energy — by issuing new requests for information from stakeholders … And it will expand a State Department effort known as the First Movers Coalition, which aims to help companies use their purchasing power to drive demand for clean goods, to include the aluminum, cement, chemicals and carbon removal sectors.
Axios: Biden administration unveils plan to spur carbon cuts in heavy industries
[Ben Geman, 2/15/22]
The Biden administration unveiled new plans Tuesday morning aimed at cutting emissions from heavy industries with new funding in the bipartisan infrastructure law and executive powers. Why it matters: Climate solutions for electricity and transportation probably get more attention. But the path to deeply decarbonizing the U.S. economy also goes through industries like chemicals, metals and cement that often lack tools available at commercial scale.
Engadget: Biden administration forms Buy Clean Task Force to decarbonize federal procurement
[Igor Bonifacic, 2/15/22]
On Tuesday, the Biden administration established the country's first-ever Buy Clean Task Force. The organization will work with federal agencies, including the Departments of Defense, Energy, and Transportation, to source low-carbon construction materials from American factories. In part, it will do so by producing recommendations on incentives and technical assistance the federal government can provide to domestic manufacturers to better report and reduce their emissions. It will also help the government identify materials it should use as part of federally funded projects, and establish pilot programs to purchase those materials.
Climate Wire: Biden presses industry, a climate laggard, to decarbonize
[Scott Waldman, 2/15/22]
"Until this administration, I think folks referred regularly to the industrial sector as hard to decarbonize and that wasn't the beginning of the conversation, it ended up being the end of the conversation," a senior administration official told reporters. But the official said new innovations have made it possible to cut greenhouse gas emissions in manufacturing. "If you look at steel, cement and aluminum, the real opportunity to decarbonize those sectors comes from harnessing technologies that really haven't been available in this sector in the past," the official added. To nudge that process along, Biden wants the federal government's biggest spenders — and biggest carbon polluters — to think green when they make purchases. The idea is to spur innovation in the manufacturing sector by prioritizing low carbon materials made in American factories.
Joseph R. Biden, ICYMI: Biden Administration Advances Cleaner Industrial Sector to Reduce Emissions and Reinvigorate American Manufacturing Online by Gerhard Peters and John T. Woolley, The American Presidency Project https://www.presidency.ucsb.edu/node/354553