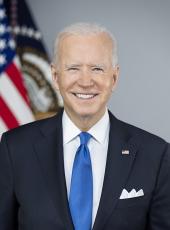 ICYMI: Bay Mills Indian Community President Praises Biden Administration's Indian Policy
'A welcome change… a re-investment in Indian Country unlike anything we have seen in history'
Today in Newsweek, President Whitney Gravelle of the Bay Mills Indian Community in Northern Michigan praised the historic commitments President Biden's Administration made to Indian Country in its first year. President Biden has appointed Native American leaders to key senior administration roles, following through on his promise to build an Administration that reflects the diversity of America. Additionally, the Bipartisan Infrastructure Law delivers over 13 billion dollars directly to Tribal communities and makes Tribes eligible for billions more. The Bipartisan Infrastructure Law is the largest investment in Tribal infrastructure ever and makes transformational investments in climate resilience, clean water and clean energy, safer roads and bridges, and good-paying jobs for Native communities across the country.
See below for the op-ed.
Newsweek: Opinion: Seen, Heard and Uplifted: A Review of Biden's Indian Policy
[Whitney Gravelle, 2/8/22]
The COVID-19 pandemic shed light on the critical needs of Indian Country over the last two years, including my own Tribal Nation. And although much of Indian Country continues waging a battle against COVID, it is also important to look and plan ahead for the future of our Tribal Nations.
Jan. 20 marked the one-year anniversary of President Joe Biden's administration, and the initiatives taken to uplift Indian Country we have seen thus far are a welcome change.
Indian Country has long been critical with its relationship with the federal government, but where President Biden got it right was the inclusion of Indigenous voices in decision making processes. This was initially achieved by the re-establishment of robust nation-to-nation consultation where it was made a priority to respect tribal sovereignty and self-governance, while also recommitting to fulfilling the federal trust and treaty responsibilities.
Yet because of this recommitment, we have also seen the swift appointment of many Native American federal appointees, including Interior Secretary Deb Haaland, acting assistant secretary of the Army for Civil Works Jaime Pinkham, National Park Service director Charles Sams, Interior solicitor Robert Anderson and Interior deputy solicitor of water Daniel Cordalis—among many others. In a historic move, we have witnessed federal agencies across the United States take it upon themselves to implement or redesign consultation policies that are reflective of the goals and spirit of Tribal Nations, which includes cooperation, consent and common agreement.
In addition to strengthening the basics of our relationships with the federal government, through the Indigenous leadership empowered by this administration, we have also seen a number of initiatives undertaken by various federal agencies. More specifically, we have seen a re-investment in Indian Country unlike anything we have seen in history.
As part of the bipartisan Infrastructure Investment and Jobs Acts, billions of dollars will be facilitated and redistributed to Indigenous communities across the United States. This is considered the largest investment ever in tribal infrastructure spanning transportation, water, sanitation, energy, environmental restoration, telecommunications and climate resiliency. However, what the infrastructure investments really illustrate is a recognition of the chronic underfunding of infrastructure in Indian Country that has harmed our Tribal Nations for decades. The future empowerment of Tribal Nations involves these first steps in establishing transformational investments that we will build on for future generations.
The goals and priorities of the Biden administration are goals and priorities Tribal Nations have been uplifting for centuries. Leadership matters, but as we have always known Indigenous leadership matters even more. As first stewards of Turtle Island (North America) we are the experts when it comes to land, water and resource protection. We are the experts in strengthening and revitalizing culture and language. We are the experts in caring for our elders, our children and our communities. We are the experts in protecting our women from harm.
Indigenous leadership matters because it is ingrained in the very fiber of our being to take care of one another. An Indigenous-led America means looking out for our children's children for future generations and respecting their relationship with land, water and natural resources, and respecting their spirits with health care, education and supportive services. This administration is letting us lead the way. While there is much more work to be done, collaborations to be made and federal agencies to be held accountable, the future of Indian Country is bright. Miigwetch.
Whitney Gravelle is the president of Gnoozhekaaning, Place of the Pike, or Bay Mills Indian Community (Ojibwe) in northern Michigan. She is a graduate of the Michigan State University College of Law—Indigenous Law Program, and serves on the Michigan Advisory Council on Environmental Justice and the Michigan Women's Commission.
Joseph R. Biden, ICYMI: Bay Mills Indian Community President Praises Biden Administration's Indian Policy Online by Gerhard Peters and John T. Woolley, The American Presidency Project https://www.presidency.ucsb.edu/node/354437