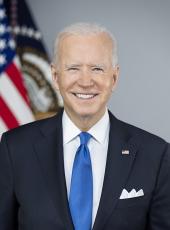 ICYMI: Analyses from Leading Economists Show How Build Back Better Investments Will Help Families Get Ahead and Grow Our Economy
President Biden has proposed a once-in-a-generation investment that responds to the decades-long challenges that have held back families from getting ahead, and in turn our economic growth. This week, analyses from several leading policy institutes confirmed that the President's plan will create good jobs, lower costs for working families, and grow our economy towards a more equitable and prosperous future.
The Washington Center for Equitable Growth (EG) published a cost-benefit analysis of the President's proposed investments in universal preschool, finding long-run returns on investment of 5-to-1.

President Biden is calling for a national partnership with states to offer free, high-quality, accessible, and inclusive preschool to all three-and four-year-olds, benefitting five million children and saving the average family $13,000 when fully implemented.
EG finds that in the medium-run, the program pays for itself, with a cost-benefit ratio of 1.01 due to "government budget benefits, increased wages and earnings of workers, and reduced costs to individuals from better health, less crime, and fewer incidences of child abuse and neglect."
Over the long-run, the program reaps significant dividends of almost 5-to-1, and annual benefits continue to grow faster than costs, leading to a 10.2-1 annual return by year 35.
Further, the investments' long-run productivity effects will "boost Gross Domestic Product by 0.5 percent and may generate as many as 787,000 new jobs."
A new blog from the Economic Policy Institute (EPI) highlights the paid leave gap for low-wage workers, showing the necessity of the President's proposed National Comprehensive Paid Family and Medical Leave Program.

Based on Bureau of Labor Statistics data, EPI finds that "two thirds of low-wage workers still lack access to paid sick days during an ongoing pandemic," compared to only 5% of the highest-wage workers.
Additionally, the data shows that in private industry, "paid family leave was available to 11 percent of part-time workers and 27 percent of full-time workers."
The President's program proposes to guarantee twelve weeks of annual paid parental, family, and personal illness/safe leave, and also ensures workers get three days of bereavement leave per year, by year ten. This will help to reduce the spread of illness, decrease employee turnover, and make sure that Americans can be there for the moments in life that matter most, regardless of wage or occupation.
New factsheets from EG show how "Congressional investments in social infrastructure would support immediate and long-term U.S. economic growth."

EG reviews the economic literature in four key areas of proposed investment: Care infrastructure, paid leave, early care and education, and income support. The evidence shows that:

"Investments in care infrastructure boost economic growth, labor force participation, and worker well-being," with "employment gains for parents in the short-term and human capital improvements for children in the long term."
Paid leave increases labor force participation, especially among women, and "is an important support for small businesses".
"Accessible and affordable early care and education options can help parents who wish to work do so, promoting economic growth in the short term", while helping the "workers of tomorrow develop their skills early."
Income support has immediate and long-run economic benefits, boosting labor force participation and job matching in the short-term, while supporting the human capital development of the next generation.

EG concludes that, "Congress has the opportunity to correct decades of neglect to our nation's social infrastructure… [P]olicymakers must use the budget reconciliation process to seize this historic moment and invest in the programs and people who will grow our economy immediately and in the long term."
Joseph R. Biden, ICYMI: Analyses from Leading Economists Show How Build Back Better Investments Will Help Families Get Ahead and Grow Our Economy Online by Gerhard Peters and John T. Woolley, The American Presidency Project https://www.presidency.ucsb.edu/node/352739