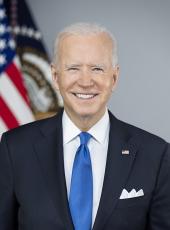 ICYMI: American Rescue Plan Boosted Employment, GDP, and Other Key Economic Metrics According to New Analyses by Moody's and CBPP
Two new studies released today from Moody's and the Center on Budget and Policy Priorities (CBPP) showed that the American Rescue Plan (ARP) and other relief measures implemented by the Biden Administration resulted in historic GDP growth, job creation, health insurance enrollment, and poverty alleviation.
These reports found that the ARP and the expanded Child tax credit :
Created 4 million additional jobs
Averted risk of double-dip recession
Lowered unemployment by 2 percentage points
Nearly doubled GDP growth (to 5.7% instead of 3%) while only contributing 0.35% to inflation
Increased health insurance enrollment by 4.2 million,
Kept 3.7 million children out of poverty in December, likely driving child poverty to record lows.
These figures definitively demonstrate the effectiveness of the Biden Administration's efforts to recover economically from the pandemic, and represent a fulfillment of the Administration's commitment to fostering economic growth and prosperity that benefits all Americans.
Read more below:
Moody's: Analytics Report: Global Fiscal Policy in the Pandemic
[2/24/22]
This morning, Moody's Analytics released an analysis of the macroeconomic impact of the American Rescue Plan.
The Moody's analysis found that for 2021, the American Rescue Plan resulted in 4 million more jobs, 2 points lower unemployment and nearly doubled GDP growth, while only adding 0.35% to inflation.
Unemployment is over 2 points lower thanks to ARP: Moody's finds that without the American Rescue Plan, unemployment would have risen in summer 2021 to back over 7% and remain materially high after that.
4 million more jobs added in 2021 thanks to ARP: The ARP is responsible for adding well over 4 million more jobs in 2021, and the economy is currently on track to recovering all the jobs lost in the pandemic by the second quarter of this year.
GDP grew by 5.7% in 2021 vs. just 3% without ARP: Moody's estimates that without the American Rescue Plan, real GDP would have declined in the second quarter of 2021 and grow by just 3% overall — a little more than half of the 5.7% growth we saw in 2021, which was the fastest growth since 1984.
High risk of double-dip recession if Rescue Plan had not passed: Without the Rescue Plan, the U.S. would have "come close to suffering a double-digit recession in spring 2021."
ARP contributed 0.35% at most to inflation – less than half a point: The American Rescue Plan contributed just one third of one point of inflation – i.e. inflation would be just 0.35 less without the American Rescue Plan.


This is in line with a San Francisco Federal Reserve analysis from October, which found that ARP contributed just 0.3% to inflation.
Center on Budget and Policy Priorities Report: Robust COVID Relief Achieved Historic Gains Against Poverty and Hardship, Bolstered Economy
[2/24/22]
The Center on Budget and Policy Priorities this morning released a comprehensive report on the impact of the American Rescue Plan and other relief measures – powering a strong, enduring recovery and reducing suffering.
Key Takeaways from CBPP report:
Rescue Plan helps power 4.2 million reduction in the number of Americans without health coverage: In the third quarter of 2021, 4.2 million fewer Americans were uninsured than in 2019 – thanks in large part to the American Rescue Plan.
CBPP finds state have budgeted 72% of available ARP State & Local resources by December – with more budgeted since then.
75% of budgeted State & Local investments go to three areas: health and human services, economic development, and recovering from harmful budget impacts from pandemic:


~25% of state investments are in health and human services – funding pandemic response and critical supports to help people hardest hit by the pandemic.
~25% invested in economic development, workforce, broadband, and small business aid
~25% to help recover from revenue impacts of pandemic – helping states rehire and avoid layoffs and service cuts.

Expanded Child Tax Credit kept 3.7 million children out of poverty in December.
Child poverty fell in 2021 – likely to record lows: CBPP reports that monthly estimates showed poverty continued to decline from 2020 to 2021 – which is in line with record low child poverty rates for 2021.
27 million children – and 50% of Black and Latino Children – are eligible for full CTC this tax season who previously got less. CBPP found that 91% of lower income families with kids spent monthly payments on education costs, food, housing, clothing, & utilities.
Joseph R. Biden, ICYMI: American Rescue Plan Boosted Employment, GDP, and Other Key Economic Metrics According to New Analyses by Moody's and CBPP Online by Gerhard Peters and John T. Woolley, The American Presidency Project https://www.presidency.ucsb.edu/node/354608