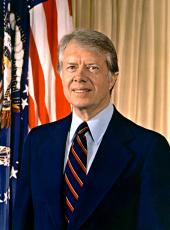 Houston, Texas Informal Exchange With Reporters on Departure.
Q. Mr. President, could you talk to us just for a minute? We were wondering, Mr. President, do you feel that your campaign has been hurt at all by the drug investigation against Mr. Kraft in that situation and his leave of absence now?
THE PRESIDENT. Well, obviously I would prefer that Tim be able to stay on until the campaign is over and beyond that. He's been very good for me, and I have confidence in Tim.
I would like to point out that the fact that there is an investigation, as there has been of Carter's Warehouse and Hamilton Jordan and others, is no insinuation that he's guilty.
Tim has denied the charges and says he's completely innocent, and I think the investigation will show that that's the case. I'm not trying to prejudge it, but I do have confidence in him. I think he made the right decision to step down now rather than to stay on throughout the campaign because it could be a focus of controversy. And Tim, in his statement on his own initiative, said he didn't want to do anything to hurt me.
Q. But, sir, do you believe this might have an influence on your campaign, be detrimental to your chances for reelection?
THE PRESIDENT. No. I don't think so. That was the main reason for Tim's decision to go ahead and take a leave of absence, so that he could answer the charges, which he says are false, and so that they would not have a politically damaging effect on our own campaign.
Q. Why didn't Hamilton Jordan step down then, Mr. President?
THE PRESIDENT. Well, you'll have to ask Hamilton about that.
Q. Do you believe the charges are false?
THE PRESIDENT. I'm not trying to prejudge it, but I have confidence in Tim, and he says that they're false.
Q. Did you discuss this with him, Mr. President?
THE PRESIDENT. No. I didn't discuss any details about it at all. Tim made his decision about stepping down on his own.

Thank you.

REPORTER. Thank you.
Note: The exchange began at 2: 45 p.m. at the William P. Hobby Airport.
Jimmy Carter, Houston, Texas Informal Exchange With Reporters on Departure. Online by Gerhard Peters and John T. Woolley, The American Presidency Project https://www.presidency.ucsb.edu/node/251089