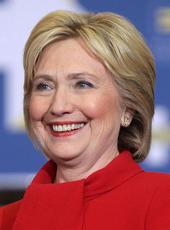 Hillary Clinton Statement on the 4th Anniversary of DACA
Hillary Clinton released the following statement on the 4th anniversary of President Obama's Deferred Action for Childhood Arrivals (DACA) policy that has helped thousands of DREAMers:
"Four years ago today, President Obama used his constitutional authority to change the lives of thousands of young people who call America home. Deferred Action for Childhood Arrivals (DACA) has given DREAMers the freedom to provide for their families, further their educations, and live their lives without fear of being deported from the country they know and love. This policy is good for our economy–and it is true to our values as Americans. We are proud of our heritage as a nation of immigrants. We believe every young person deserves the chance to live up to his or her God-given potential. We know we are stronger together.
"This anniversary also reminds us of how high the stakes are in this election. Right now, the United States Supreme Court is set to rule on the recent expansion of DACA and the creation of Deferred Action for Parents of Americans and Lawful Permanent Residents (DAPA). I strongly believe that these executive actions that are rooted in law and precedent will be upheld, but the fate of these policies, and of the millions of people who were impacted by them, will be in the hands of the next President.
"If Donald Trump is that president, he has pledged to eliminate DACA and DAPA on day one. He has said he will create a 'deportation force' to round up 11 million people. He will tear apart families, separate parents and children, rip young people out of school and workers from their jobs. He has even said he will undermine that most fundamental American value–that if you are born here, no matter who your parents are or where they came from, you are an American.
"I believe America is stronger together. When we embrace immigrants, not denigrate them. When we protect families, not tear them apart. When we build bridges, not walls.
"It is why I co-sponsored legislation to protect DREAMers throughout my time in the senate as well as legislation to enact comprehensive immigration reform, and it is why I will do everything in my power as president to protect President Obama's executive actions, go further to provide relief for families, and introduce comprehensive immigration reform with a path to full and equal citizenship within my first 100 days in office."
Hillary Clinton, Hillary Clinton Statement on the 4th Anniversary of DACA Online by Gerhard Peters and John T. Woolley, The American Presidency Project https://www.presidency.ucsb.edu/node/318663