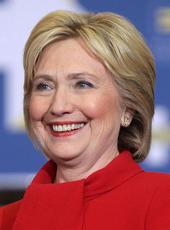 Hillary Clinton Statement on Texas v. United States
Today, following the Supreme Court's deadlocked decision in Texas v. United States, Hillary Clinton issued the following statement:
"Today's deadlocked decision from the Supreme Court is unacceptable, and shows us all just how high the stakes are in this election. As I have consistently said, I believe that President Obama acted well within his constitutional and legal authority in issuing the DAPA and DACA executive actions. These are our friends and family members; neighbors and classmates; DREAMers and parents of Americans and lawful permanent residents. They enrich our communities and contribute to our economy every day. We should be doing everything possible under the law to provide them relief from the specter of deportation.
"Today's decision by the Supreme Court is purely procedural and casts no doubt on the fact that DAPA and DACA are entirely within the President's legal authority. But in addition to throwing millions of families across our country into a state of uncertainty, this decision reminds us how much damage Senate Republicans are doing by refusing to consider President Obama's nominee to fill the vacancy on the Supreme Court. Our families and our country need and deserve a full bench, and Senate Republicans need to stop playing political games with our democracy and give Judge Merrick Garland a fair hearing and vote.
"This decision is also a stark reminder of the harm Donald Trump would do to our families, our communities, and our country. Trump has pledged to repeal President Obama's executive actions on his first day in office. He has called Mexican immigrants 'rapists' and 'murderers.' He has called for creating a deportation force" to tear 11 million people away from their families and their homes.
"I believe we are stronger together. When we embrace immigrants, not denigrate them. When we build bridges, not walls. That is why, as president, I will continue to defend DAPA and DACA, and do everything possible under the law to go further to protect families. It is also why I will introduce comprehensive immigration reform with a path to citizenship within my first 100 days. Because when families are strong—America is strong."
Hillary Clinton, Hillary Clinton Statement on Texas v. United States Online by Gerhard Peters and John T. Woolley, The American Presidency Project https://www.presidency.ucsb.edu/node/318660