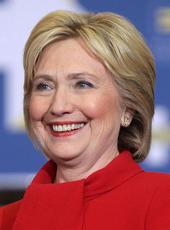 Hillary Clinton Statement on? ?Recent News Reports Related to the Water ?Crisis? ?in Flint, Michigan
Following news that three people are facing charges in connection with the water poisoning in Flint, Michigan, and the Senate's passage today of an energy bill that does not contain $250 million in crucial aid for Flint as a result of a Republican hold on the package, Hillary Clinton issued the following statement:
?"?Senate Republicans have pushed through today's energy bill at the expense of the people of Flint, who are still waiting for clean water and critical aid for rebuilding their infrastructure. It is unconscionable for this bill to move forward without this desperately-needed aid. It's important that people be held responsible for the water poisoning in Flint—but it's not enough. I will not stop fighting for the families of Flint until they receive the help all Americans should expect, and the justice all people deserve.?"
Hillary Clinton is committed to ensuring every child and family has clean air to breathe, clean water to drink, and a safe and healthy place to live, and has spoken out throughout this campaign about water quality issues affecting America's communities, calling on Congress to update the nation's toxic substances laws. She was the first candidate to speak out about the crisis in Flint and last week released a plan to make environmental justice and climate justice national priorities, including updating federal environmental and public health laws, like the Safe Drinking Water Act, to enhance criminal provisions for serious violations?.?
Hillary Clinton, Hillary Clinton Statement on? ?Recent News Reports Related to the Water ?Crisis? ?in Flint, Michigan Online by Gerhard Peters and John T. Woolley, The American Presidency Project https://www.presidency.ucsb.edu/node/319673