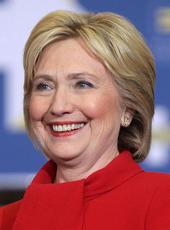 Hillary Clinton Statement on President Obama's Supreme Court Nomination
Hillary Clinton released the following statement in response to President Obama's nomination of Judge Merrick Garland to the Supreme Court:
"It is the President's Constitutional responsibility to nominate justices to the Supreme Court, with the advice and consent of the Senate. Today, in announcing Judge Merrick Garland as his nominee, President Obama has met his responsibility. He has chosen a nominee with considerable experience on the bench and in public service, a brilliant legal mind, and a long history of bipartisan support and admiration. Now, it's up to members of the Senate to meet their own, and perform the Constitutional duty they swore to undertake.
"Evaluating and confirming a Justice to sit on this nation's highest court should not be an exercise in political brinkmanship and partisan posturing. It is a serious obligation, performed on behalf of the American people, to ensure a highly qualified candidate fills a vacancy on the Court. That obligation does not depend on the party affiliation of a sitting president, nor does the Constitution make an exception to that duty in an election year.
"The Senate has never taken more than 125 days to vote on a Supreme Court nominee, and on average, a confirmation or rejection has taken just two months. This Senate has almost a full year to consider and confirm Judge Garland. It should begin that work immediately by giving Judge Garland a full and fair hearing followed by a vote. That is what the American people deserve, it is what our Constitution demands, and with millions of people's lives in the balance, anything less is entirely unacceptable."
Hillary Clinton, Hillary Clinton Statement on President Obama's Supreme Court Nomination Online by Gerhard Peters and John T. Woolley, The American Presidency Project https://www.presidency.ucsb.edu/node/318955