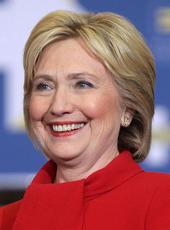 Hillary Clinton Statement on International Brotherhood of Electrical Workers Endorsement
Today, following the endorsement of the International Brotherhood of ElectricalWorkers (IBEW) and their nearly 750,000 active and retired members, Hillary Clinton issued the following statement:
"I am honored to have earned the endorsement of the International Brotherhood of Electrical Workers.
"For more than 100 years, the IBEW has kept the lights on in America's homes and businesses and enabled Americans to communicate with each other from coast to coast. They have powered the American economy, and along the way they have helped build the American middle class.
"As President, I will always stand with the IBEW to protect workers' fundamental rights to organize, to bargain collectively, to be safe on the job, and to retire with dignity and security after years of hard work. And I was proud to join striking workers on the picket line this year as they stood up to Verizon and fought for a fair deal.
"And together, we will make the kinds of investments that make our economy work for everyone—including by building a 21st century energy and communications system. We need to invest in a smarter and more resilient electrical grid, to make infrastructure permitting more efficient so we can build the transmission lines we need to get clean energy to market, and expand high-speed broadband to every home in America.
"Above all, we will make sure American workers have a seat at the table and a champion in the White House. Because when workers are strong, families are strong—and when families are strong, America is strong."
Hillary Clinton, Hillary Clinton Statement on International Brotherhood of Electrical Workers Endorsement Online by Gerhard Peters and John T. Woolley, The American Presidency Project https://www.presidency.ucsb.edu/node/319716