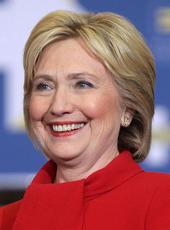 Hillary Clinton Statement on Friedrichs v. California Teachers Association
Yesterday, the Supreme Court deadlocked 4-4 in the Friedrichs decision, leaving in place the Ninth Circuit Court of Appeals decision that upheld public sector unions' ability to charge fees to cover the costs of collective bargaining to all workers and prevent free riding. Following the decision, Hillary Clinton issued the following statement:  
"Yesterday's Supreme Court decision was a win for American workers and their families, protecting collective bargaining rights and keeping public sector unions from being undermined. For decades, courts have said that because all public employees enjoy the benefits that unions negotiate, it is only fair that all employees contribute to the cost of securing those benefits. The Supreme Court's ruling leaves this precedent in place and along with it, the right of hardworking Americans to negotiate together for better wages and benefits.
"This case reminds us how important the Supreme Court—and its membership—is to the protection of individual rights and progressive traditions in our country. The Court is right now considering cases that could have consequences for women's rights to make our own health care decisions, for DREAMers' ability to live free from the fear of deportation, for diversity at colleges and universities, and for the right of millions to be fairly represented in our democracy. Yesterday's ruling may have looked very different if Donald Trump or Ted Cruz had the chance to nominate justices who would further tilt the scales away from individuals and for corporations.
"The right to organize is one of our most fundamental rights as Americans—but it is under concerted attack by Republicans and their allies in states and in the courts. As President, I will always stand with workers and lawmakers fighting for real workers' rights to organize, bargain collectively, be paid fairly and retire with dignity and security. I have been proud to fight for workers and for organized labor throughout my career—because when unions are strong, families are strong, and when families are strong, America is strong."
Hillary Clinton, Hillary Clinton Statement on Friedrichs v. California Teachers Association Online by Gerhard Peters and John T. Woolley, The American Presidency Project https://www.presidency.ucsb.edu/node/319714