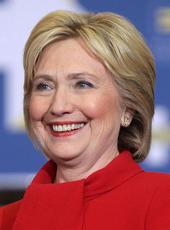 Hillary Clinton Statement on Endorsement of Gabby Giffords and Mark Kelly
Hillary Clinton released the following statement in response to receiving the endorsement of Gabby Giffords and Mark Kelly:"As an admirer of their courage in the face of incredible odds, their service to the country that they love, and their commitment to ending the epidemic of gun violence, I am humbled to receive the endorsement of these American heroes.
"Gabby and Mark know too well what is at stake in this debate and in this election. Three Americans die every hour we don't act. 90 die every day. 33,000 die every year. We cannot accept this as normal. Gabby and Mark certainly do not. Since being shot and partially paralyzed five year ago, Gabby has worked tirelessly for progress—founding Americans for Responsible Solutions, traveling across the country to tell her story and promote commonsense gun safety laws, launching a bipartisan coalition in New Hampshire to prevent gun violence, and fighting in support of President Obama's recent executive actions. Through it all, Mark has been by her side—as her partner, her champion, and her biggest fan. I am honored to join them in their fight for common sense gun reform. 
"As President Obama said last week, we must hold our leaders accountable for continuing to put the interests of the gun lobby ahead of the safety of American families. And that starts with electing a president. We need a president who would never vote against common sense background checks. We need a president who will hold gun makers and sellers accountable, not provide them with sweeping immunity from lawsuits. We need a president who will keep guns out of the hands of dangerous felons, not create loopholes that allow shooters like the one in Charleston to buy guns. We owe that to the countless families who have lost loved ones. We owe that to all America's children. We owe that to Gabby and Mark."
Hillary Clinton, Hillary Clinton Statement on Endorsement of Gabby Giffords and Mark Kelly Online by Gerhard Peters and John T. Woolley, The American Presidency Project https://www.presidency.ucsb.edu/node/318780