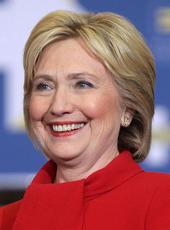 Hillary Clinton Statement on Endorsement from North America's Building Trades
corrected
~NABTU Cites Clinton Infrastructure Plan In Endorsement~
Hillary Clinton released the below statement after earning the endorsement of the North America's Building Trades. In its endorsement, NABTU said Clinton's recently released infrastructure plan proves she "understands that the state of our nation's infrastructure is a bellwether for the health of the American economy and for the economic prospects of American workers."
This is the first time in its history that NABTU has made a unified endorsement for president. Clinton now has the support of over 11 million union members across 17 different national unions and labor alliances that have endorsed her campaign.
"I am honored to have earned the endorsement of North America's Building Trades (NABTU).
"The members of the Building Trades have helped build the American middle class—by training apprentices, protecting workers' rights, and supporting good-paying jobs and pathways to careers in the construction industry. Along the way, they have helped build our mighty American economy—keeping the lights on and traffic moving, helping businesses get goods to customers and workers get to their jobs, supporting safe power generation, sending skyscrapers soaring above our cities, and maintaining the pipes beneath our streets.
"As President, I will stand with America's Building Trades against efforts to roll back prevailing wage statutes and undermine project labor agreements. I will fight to protect workers' rights to organize and bargain collectively, stay safe on the job, maintain their health benefits and retire with dignity. And I will support high-quality apprenticeship programs modeled after successful efforts promoted by the Building Trades and their contractor partners that give young people, women, African-Americans, Latinos and veterans ladders of opportunity to a career in the trades and a pathway to the middle class for their families.
"I know the members of the Building Trades and "Hardhats for Hillary" will join me in our advocacy to rebuild and expand America's infrastructure to maintain our position as the world's economic superpower. I have an ambitious, five-year plan to invest in our infrastructure, from rebuilding roads and bridges to modernizing our energy system, and put Americans to work building the future we deserve. My plan will make our economy more productive and competitive across the board. It will cut costs for families and businesses, and spur more private investment. It will boost wages up and down the supply chain and throughout the economy. Because to build a strong economy for the future, we need to start by building strong infrastructure today.
"I am honored to have earned the endorsement of North America's Building Trades and together, we're going to rebuild the country we love and put Americans back to work."
This endorsement follows the endorsement of the International Longshoreman Association, International Union of Operating Engineers (IUOE), The American Federation of State, County and Municipal Employees (AFSCME), The National Education Association (NEA), The Operative Plasterers' and Cement Masons' International Association (OPCMIA), United Brotherhood of Carpenters and Joiners of America, United Union of Roofers, Waterproofers and Allied Workers, The American Federation of Teachers, The International Association of Machinists and Aerospace Workers, The International Union of Bricklayers and Allied Craftworkers, The United Association of Journeymen and Apprentices of the Plumbing and Pipefitting Industry, International Union of Painters and Allied Trades, International Association of Bridge, Structural, Ornamental, and Reinforcing Ironworkers, International Heat and Frost Insulators and Allied Workers and Service Employees International Union (SEIU).
Hillary Clinton, Hillary Clinton Statement on Endorsement from North America's Building Trades Online by Gerhard Peters and John T. Woolley, The American Presidency Project https://www.presidency.ucsb.edu/node/318737