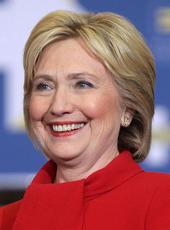 Hillary Clinton Campaign Press Release - You Can Help Hillary Clinton Win On Super Tuesday—just By Posting On Facebook
... all without even leaving your couch.
Can you feel the momentum? Because this campaign is about to go national.
Tomorrow's our biggest day yet—Democrats are headed to the polls in not one, but 13 contests. Yes, 13. And we need to turn out every single voter and caucus-goer we can.
That's where you come in.
Even if you don't live in a Super Tuesday state, I bet you have friends who do. Now's the time to reach out.
Step one: Find them on Facebook.
Click below to find your friends in Super Tuesday states:
Step two: Make sure they know where Hillary Clinton stands on issues they care about. (Don't worry, we made you a cheat sheet.)
For example, I might say something like:
Now study up, Facebook some friends, and let's go win this thing for Hillary.
Here's a quick cheat sheet on where Hillary stands on a few key issues:
Gun violence prevention
Hillary will:
Keep guns out of the hands of terrorists, domestic abusers, other violent criminals, and the severely mentally ill.?
Strengthen background checks and close dangerous loopholes in the current system.
Hold irresponsible dealers and manufacturers accountable.
Health care
Hillary will:?
Defend and expand the Affordable Care Act.
Crack down on the rising cost of prescription drugs and out-of-pocket health care expenses.?
Protect women's access to reproductive health care, including affordable birth control and safe, legal abortion—no matter where they live.
College affordability
Hillary will:?
Ensure no student has to borrow to pay for tuition, books, or fees to attend a four-year public college in their state.
Enable Americans with student loan debt to refinance at current rates.
Hold colleges and universities accountable for controlling costs and making tuition affordable.
Support historically black colleges and universities (HBCUs).
Raising incomes
Hillary will:?
Raise the minimum wage to $12 an hour, and support local efforts to raise it even higher.
Cut taxes for working families to help them manage rising costs.
Create good-paying jobs by investing in infrastructure, clean energy, and scientific and medical research.
Close corporate tax loopholes and make the most fortunate pay their fair share.
Defend Dodd-Frank and tackle dangerous risks in our financial system.
Breaking down barriers
Hillary will:?
Take on systemic racism, bigotry and discrimination.?
End the era of mass incarceration.
Protect immigrants' rights and keep families together.?
Ensure full equality for LGBT Americans.
Fight for equal pay for women.
Defend every American's right to vote.
Read more about Hillary's policy plans.
Hillary Clinton, Hillary Clinton Campaign Press Release - You Can Help Hillary Clinton Win On Super Tuesday—just By Posting On Facebook Online by Gerhard Peters and John T. Woolley, The American Presidency Project https://www.presidency.ucsb.edu/node/317192