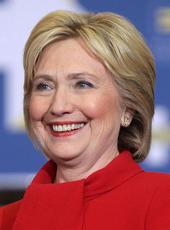 Hillary Clinton Campaign Press Release - What Republican Candidates Said at Last Night's Debate—and What They Really Meant
GOP debate-speak, decoded.
Republican candidates took the stage last night for their third presidential debate of the primary season. In between barbs, they trotted out talking points that all boiled down to one thing: Their agenda will hurt the middle class.?
We took the liberty of translating what they said into what they actually meant.
Thanks to President Obama, we've imposed tough new rules on Wall Street to prevent another crash. But Republicans have made it clear they want to weaken reforms and bring back the old and dangerous practices that led to the worst economic crisis in a generation. Many of the GOP candidates have promised to repeal Dodd-Frank, code for deregulating Wall Street.
---
Remember the days when you could be denied health coverage for a pre-existing condition? When insurance companies could put a lifetime cap on benefits and women could be charged more for coverage than men? The Republicans have either forgotten or they just don't care. Repealing the ACA would take us back to those days—and put the health care of millions in jeopardy. And yet, every GOP candidate is in favor of doing just that.
---
Rubio wants to talk about his tax plan? Well, the reviews are in and Rubio's tax plan would "largely favor the 1 percent". And he isn't alone. The Republican candidates are (once again) pushing the economic vision that wrecked our economy and and cost 9 million Americans their jobs. Despite attempts to dress up their recycled proposals with new buzzwords, they're essentially proposing "trickle-down" economics—a system that only benefits the wealthy and big corporations (and, as Hillary once put it, is one of the worst ideas from the '80s, "right up there with New Coke, shoulder pads, and big hair.")
---
For people who claim to hate big government, Republicans sure enjoy interfering in women's private health decisions. Each year, 2.7 million patients rely on Planned Parenthood for cancer screenings, birth control, and other preventive care—one in five women has relied on the organization for health care in her lifetime. So when Republicans say they want to "defund Planned Parenthood"—as nearly all of the GOP candidates have—they're talking about cutting people off from quality health care.
---
Donald Trump might be the face of anti-immigrant policies, but the truth is, there isn't much daylight between Trump and the other Republican candidates when it comes to immigration. In fact, none of the leading candidates have consistently supported a pathway to citizenship. And like Trump, they would even risk separating families by repealing President Obama's executive actions.
Last night's GOP debate may have been light on new ideas, but it wasn't light on bad ones.
Hillary Clinton, Hillary Clinton Campaign Press Release - What Republican Candidates Said at Last Night's Debate—and What They Really Meant Online by Gerhard Peters and John T. Woolley, The American Presidency Project https://www.presidency.ucsb.edu/node/316902