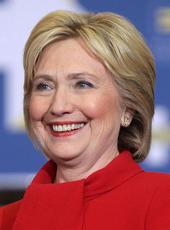 Hillary Clinton Campaign Press Release - What Carole King Wishes You Knew About Hillary Clinton and This Election

"There is a dynamic going on in the Republican Party that is outside of my radar screen."
If you've listened to the radio at any point in the past few decades, you've heard from Carole King—if not her distinctive voice, one of the more than 1,000 artists who have recorded her songs. A prolific singer-songwriter, she's blazed a trail for women in the music industry—and been a vocal advocate on behalf of the environment and other progressive causes.
The self-described "New Yorker by birth and by heart" recently dropped by Hillary Clinton's campaign headquarters in Brooklyn to talk about her earliest memories of politics, hard choices, and the conversation happening in today's Republican Party.
---
When did you first get involved in politics?
Oh, gosh. I canvassed for John F. Kennedy before I was old enough to vote for him. That was when the voting age was 21. Then, in 1972, I did a concert for McGovern. And in 1984 I got involved with the Gary Hart campaign in New Hampshire. I still have some really good friends from that—Senator Jeanne Shaheen ran his campaign. I was involved in the first President Clinton campaign—may there be a second President Clinton!—and then I got involved in John Kerry's campaign. So I've been doing this for a while.
What inspired you to get involved?
I have an issue! I'm a New Yorker by birth and by heart. But I live in Idaho, which also has my heart. It's the landscape and the people and just everything. And I became involved with an environmental project that would protect the Northern Rockies ecosystem. It has what are called wildlife corridors, where birds can migrate and so on. Right now, they're being cut down by the timber industry, and these forests are all going away. It's contributing to climate change, and that affects people everywhere. I've been involved in that for the last 25 years.
And what inspired you to support Hillary?
I support Hillary because she will support the Environmental Protection Agency (EPA) and make sure it can continue to do the work that it was intended to do. That's a very big issue.
The other thing is the fact that she understands the big picture. She doesn't just see things as this issue isolated, or that issue isolated. For example, she sees the intersection between climate change, the environment, and the economy. She understands that creating jobs in renewable energy in the United States would not only help combat climate change, it would create jobs—and those jobs would not be outsourceable. Her understanding of the big picture is the single greatest advantage she has over any candidate running.
What kind of president do you think Hillary would be?
When she represented New York, she represented everyone in New York. If she is fortunate enough to be elected president—if we are fortunate enough to have her be elected—she will represent everyone in America.
You've been involved in your fair share of elections over the years, and you've been following this one closely. Can you talk a little bit about what you're seeing?
I will say that there is a dynamic going on in the Republican Party that is outside of my radar screen. I don't understand how people can be campaigning about things that are so low on the spectrum of intellect, of understanding, of bringing people together, of seeing the big picture of what would really be good for the world.
Hillary understands that we are interconnected with the rest of the world, so anything you do affects people worldwide. And certainly she would represent the people of the United States first and foremost, but she is also thinking about how to integrate us into the rest of the world in a manner that acknowledges our commonality rather than our differences.
Of course, there are many countries that are not as easily reasoned with, just as there are many Republican candidates for president that are not as easily reasoned with. But I think it's so important to have a leader for our country who gets the need for inclusivity and working together. I think people who think about limited issues, who don't see the interconnectedness the way she does, are missing something crucial.
What about on the Democratic side?
As for the people who support Bernie Sanders: I get them. When I have discussions with friends who are Bernie supporters, it's always respectful. We really do want the same things. But they say, "I think Bernie is the way to get there." And I say, "Where's his plan?" I have no problem with the idea of free college, but I don't see how that happens. I do have a problem, however, with starting all over on universal health care—and I wish we had universal health care! But I think we can get to it by building on Obamacare, and I love that that's Hillary's approach.
She wrote a book called Hard Choices. Boy, if I were in her position, I would find her choices that she had to deal with very hard. I come from an extremely liberal, progressive point of view. I was that way when I was young—and I still am that way. I think Hillary is in the same place. We are called upon to make hard choices all the time.
What's one thing you wish people knew about Hillary?
We hear from people, quote: "I don't know if she's trustworthy." Let me answer that by saying that her opponents, and people who are scared of her politically, have spent millions of dollars throwing mud at her. They do that because they hope some of it will stick. If you think she's untrustworthy, some of it has stuck! And I'm here to tell you that I know her, and I trust her to lead our country to the best possible place it can be. To help you achieve your dreams. To help us achieve our goals. To make a better world for my children and grandchildren and your grandchildren, if you're reading this.
Hillary Clinton, Hillary Clinton Campaign Press Release - What Carole King Wishes You Knew About Hillary Clinton and This Election Online by Gerhard Peters and John T. Woolley, The American Presidency Project https://www.presidency.ucsb.edu/node/316990