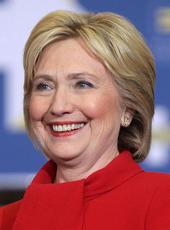 Hillary Clinton Campaign Press Release - Top Diplomats, National Security Officials Question Sanders' Plans on ISIS, Iran
On Tuesday, 10 former senior U.S. diplomats and national security officials who have served across multiple administrations issued a joint statement raising questions about Senator Bernie Sanders' proposals for countering ISIS and dealing with Iran:
"Over the past four debates, the subject of ISIS and Iran have come up a number of times. These are complex and challenging times, and we need a Commander in Chief who knows how to protect America and our allies and advance our interests and values around the world. The stakes are high. And we are concerned that Senator Sanders has not thought through these crucial national security issues that can have profound consequences for our security.
"His lack of a strategy for defeating ISIS - one of the greatest challenges we face today - is troubling. And the limited things he has said on ISIS are also troubling.
"For example, his call for more Iranian troops in Syria is dangerous and misguided and the opposite of what is needed. Supporting  Iranian soldiers on Israel's doorstep is a grave mistake. And while we support de-escalation of Sunni-Shia tensions, his argument that Iran and Saudi Arabia - two intense adversaries - should join together in a military coalition is just puzzling. Indeed, the Iranian government recently failed to stop protesters from ransacking and burning the Saudi embassy in Tehran, after which Saudi Arabia cut off diplomatic ties with Iran.
"We are all strong supporters of the nuclear diplomacy with Iran. Some of us were part of developing the policy that produced the diplomacy over the past several years. And we believe that there are areas for further cooperation under the right circumstances. But Senator Sanders' call to "move aggressively" to normalize relations with Iran - to develop a "warm" relationship - breaks with President Obama, is out of step with the sober and responsible diplomatic approach that has been working for the United States, and if pursued would fail while causing consternation among our allies and partners.
"Given these concerns, it is important to ask what he would do on other issues - on Russia, China, our allies, nuclear proliferation, and so much else. We look forward to hearing him address these issues.
"We need a Commander in Chief who sees how all of these dynamics fit together - someone who sees the whole chessboard, as Hillary Clinton does."
Signers:
Jeremy B. Bash, former Chief of Staff to the Director of the CIA; former Chief of Staff to the Secretary of Defense
Rand Beers, former senior U.S. government official
Ambassador Daniel Benjamin, former U.S. Ambassador-at-Large and Coordinator for Counterterrorism at the U.S. Department of State
Ambassador Nicholas Burns, former Under Secretary of State for Political Affairs
Derek Chollet, former Assistant Secretary of Defense for International Security Affairs
Kathleen H. Hicks, former Principal Deputy Under Secretary of Defense for Policy
Lt. General Donald Kerrick (Ret.), former Deputy National Security Advisor to the President of the United States
James N. Miller, former Under Secretary of Defense for Policy
Ambassador Wendy R. Sherman, former Under Secretary of State for Political Affairs
Julianne ("Julie") Smith, former Deputy National Security Advisor to the Vice President of the United States
Hillary Clinton, Hillary Clinton Campaign Press Release - Top Diplomats, National Security Officials Question Sanders' Plans on ISIS, Iran Online by Gerhard Peters and John T. Woolley, The American Presidency Project https://www.presidency.ucsb.edu/node/318956