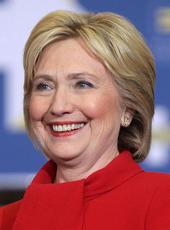 Hillary Clinton Campaign Press Release - This 8-year-old Might Be Hillary Clinton's Cutest Fan
He's fighting for college affordability.
Meet Fayde, an 8-year-old from Marion, Iowa.
He likes the things most 8-year-olds like: Star Wars, chocolate chip pancakes ... and campaigning for his favorite Democratic candidate, Hillary Clinton.
Fayde has been there for Hillary in some of her biggest campaign moments in Iowa. They first met at her Labor Day event in Cedar Rapids—and according to Fayde's mom, they became fast friends.
"I couldn't believe how my 7-year-old was acting with Hillary—swinging her arm, hanging on her. He doesn't do that with strangers. I was thinking, 'What are you thinking?! It's Hillary Clinton!'
"As we're walking away, I turn around—and there's Hillary and Fayde, laughing. She said, 'Are you ticklish?' and he said, 'Only in my armpits.' Then they were tickling. And he goes, with his tongue out:
"'Boo-yah.'
"I couldn't believe it."
Fayde and his family drove across the state to attend the Jefferson-Jackson dinner in October, where he led the crowd in cheers.
When he gets new campaign literature in the mail, Fayde makes sure he's up to date on Hillary's plan to make college affordable. It's an important issue for him because his sister is headed to the University of Iowa this fall.
And when celebrities—like Scandal's Tony Goldwyn—come to Iowa to talk about Hillary, Fayde welcomes them and thanks them for their work.
He cheers Hillary on at every debate—and he knows that even if you're watching from your living room, you've got to wear your game day outfit.
When Hillary comes to town, he makes sure to attend—even if it means missing school.
And after the event, he always makes sure to tell her she did a great job.
But most important, Fayde knows that if Iowans stand together on February 1 at the caucus, they can make history.
Hillary Clinton, Hillary Clinton Campaign Press Release - This 8-year-old Might Be Hillary Clinton's Cutest Fan Online by Gerhard Peters and John T. Woolley, The American Presidency Project https://www.presidency.ucsb.edu/node/316923