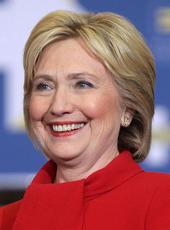 Hillary Clinton Campaign Press Release - Support from Mayors for Hillary Clinton Continues to Grow, Over 135 Backing Her Candidacy
Building off of the support of more than 50 African American mayors who recently endorsed Hillary Clinton, and in another sign of the campaign's growing momentum, the campaign welcomed the support from an additional 87 mayors from across the country:
"I'm honored to receive the support of more than 85 mayors across the country today—because mayors know how to get things done," said Hillary Clinton. "As Senator, I worked with mayors from across New York who were committed to finding creative ways to help families get ahead and stay ahead. As President, I will fight alongside mayors to rebuild and modernize our infrastructure, get middle class incomes rising, and address the epidemic of gun violence."
"I've had the honor of working with Hillary as a First Lady, Senator and Secretary of State, and in each role she has shown the leadership, values and concrete plans that make her the best choice to be our next president," said Mayor Rahm Emanuel of Chicago, IL. "Hillary has been a steadfast and progressive voice on the issues that matter most – creating jobs, expanding high-quality education options, investing in America's crumbling infrastructure and cracking down on illegal guns. I'm with Hillary and will be working tirelessly over the next year to make sure she is given the opportunity to lead this great country."
"I trust Hillary Clinton to do what's right for women, children and families," said Mayor Annise Parker of Houston, TX. "She has an emotional connection to the American people and a deep understanding of just how difficult it is for the average family to make ends meet, pay for child care, find affordable health care or send a child to college. Clinton is also a fervent voice for equality, and she is the only candidate with the head, the heart and experience necessary to lead this country."
"When Hillary Clinton becomes President, Philadelphians will wake up every day knowing they have someone who will fight for their priorities in the White House," said Mayor Michael Nutter, of Philadelphia, PA. "I'm proud to support Hillary Clinton's candidacy, and will be working through Election Day to support her agenda that will help Philadelphians get ahead and stay ahead."
"I'm proud to endorse Hillary Clinton for President.  For decades, she's been a powerful force for progressive change - from her work as a young lawyer at the Children's Defense Fund, to taking on the big insurance companies as First Lady, to being a champion in the U.S. Senate for families struggling to get by," said New York City Mayor Bill de Blasio. "Before she entered this race, we knew that she'd be one of the most experienced and capable people ever to run for the office.  The bold vision for tackling income inequality that she's outlined in this campaign - from Universal Pre-K, to paid sick and family leave, to closing tax loopholes that benefit the rich and powerful — is exactly what our country needs now. She'll be the most progressive Democratic nominee in my adult life, and she'll be a President who fights each day to rebuild our middle class."
"Throughout her career, Hillary Clinton has time and again delivered progressive results that matter for hard working families," said Mayor Greg Stanton of Phoenix, AZ. "She's long been a friend to mayors across the country and as president, Phoenix families will have an ally in the White House who will work to attract more high-paying jobs, try to close the skills gap, make college affordable, lower health care costs and help them save more for retirement. I'm proud to endorse Hillary Clinton for president because as we've seen during her campaign, she'll be a president who will have a policy agenda that addresses what keeps Phoenix families up at night and be a tireless fighter for their priorities."
"Hillary Clinton has spent her entire career standing up for the interests of working families over special interests. She is the only candidate for President with the experience and proven track record of results to address our nation's challenges on income inequality, social and economic justice, our crumbling infrastructure, public safety and more," said Mayor Ed Lee of San Francisco, CA. "For children, for families, for our shrinking middle class, for the future of our country, we need Hillary Clinton as President of the United States, and I'm very proud to support her."
"As Mayor of the City of Tampa I am honored to support Hillary. Her proven track-record as Secretary of State, Senator, and First Lady has given her the background she needs to continue fighting for America's children and families," said Bob Buckhorn, Mayor of Tampa, FL. "Nobody is better prepared to be the President of the United States and as the father of two daughters I can think of nobody better equipped to be a reminder to them that there are no barriers to their success."
"I am proud to endorse Hillary Clinton for president because I know she'll be a fighter to raise incomes in our communities," said Mayor Amy Nielsen of North Liberty, IA. "She has the tenacity to face today's challenges and a record of getting results for women and families that I know will continue in the White House."
"Hillary will make an excellent president," said Mayor Joe Riley of Charleston, SC. "No other candidate has such a deep connection to women, children, families and their day-to-day struggles."
Below is a list of supportive mayors:
Bill de Blasio, Mayor of New York City, NY
Rahm Emanuel, Mayor of Chicago, IL
Annise Parker, Mayor of Houston, TX
Greg Stanton, Mayor of Phoenix, AZ
Ben McAdams, Mayor of Salt Lake County, UT
Sam Liccardo, Mayor of San José , CA
Steve Adler, Mayor of Austin, TX
Edwin M. Lee, Mayor of San Francisco, CA
Mike Duggan, Mayor of Detroit, MI
A.C. Wharton, Jr., Mayor of Memphis, TN
Tom Barrett, Mayor of Milwaukee, WI
Robert Garcia, Mayor of Long Beach, CA
Elizabeth Hodges, Mayor of Minneapolis, MN
Kirk Caldwell, Mayor of Honolulu, HI
Carmen Yulín Cruz, Mayor of San Juan, Puerto Rico
Bob Buckhorn, Mayor of Tampa, FL
Francis Slay, Mayor of St. Louis, MO
William Peduto, Mayor of Pittsburgh, PA
John Cranley, Mayor of Cincinnati, OH
Christopher Coleman, Mayor of St. Paul, MN
Steven Fulop, Mayor of Jersey City, NJ
Rick Kriseman, Mayor of St. Petersburg, FL
Mike Spano, Mayor of Yonkers, NY
Mark Stodola, Mayor of Little Rock, AR
Jorge Elorza, Mayor of Providence, RI
María "Mayita" Meléndez, Ponce, Puerto Rico
Bill Finch, Mayor of Bridgeport, CT
Kim McMillan, Mayor of Clarksville, TN
Stephanie Miner, Mayor of Syracuse, NY
Nan Whaley, Mayor of Dayton, OH
Bob Coble, Former Mayor of Columbia, SC
Joseph P. Riley, Jr., Mayor of Charleston, SC
J. Christian Bollwage, Mayor of Elizabeth, NJ
Joseph Sinnott, Mayor of Erie, PA
Dayne Walling, Mayor of Flint, MI
Kathy Sheehan, Mayor of Albany, NY
Jorge Morales, Mayor of South Gate, CA
Jon Mitchell, Mayor of New Bedford, MA
Esther Manheimer, Mayor of Asheville, NC
Noam Bramson, Mayor of New Rochelle, NY
Thomas McDermott, Mayor of Hammond, IN
Dan Rivera, Mayor of Lawrence, MA
Elizabeth Tisdahl, Mayor of Evanston, IL
William Courtright, Mayor of Scranton, PA
Matt Hayek, Mayor of Iowa City, IA
Javier Gonzales, Mayor of Santa Fe, NM
Michael MaGuire, Mayor of Eagan, MN
Roy D. Buol, Mayor of Dubuque, IA
Thomas Roach, Mayor of White Plains, NY
Jim Hovland, Mayor of Edina, MN
Kimberley Driscoll, Mayor of Salem, MA
David Gyberts, Hagerstown, MD
Jim Bouley, Mayor of Concord, NH
Miro Weinberger, Mayor of Burlington, VT
Jason Pu, Mayor of San Gabriel, CA
Alex Morse, Mayor of Holyoke, MA
Andrew Fellows, Mayor of College Park, MD
JoAnn Seghini, Mayor of Midvale, UT
Tim Willson, Mayor of Brooklyn Center, MN
Marian McClellan, Mayor of Oak Park, MI
TJ Jean, Mayor of Rochester, NH
John Lundell, Mayor of Coralville, IA
Bob Lister, Mayor of Portsmouth, NH
Dave Coulter, Mayor of Ferndale, MI
Mark W. Huguley, Mayor of Arcadia Lakes, SC
Donald Pilon, Mayor of Saco, ME
J.M. Skip Conkling, Mayor of Altoona, IA
Amy Nielsen, Mayor of North Liberty, IA
Sandra Johnson, Mayor of Washington, IA
Fred Diehl, Mayor of Osceola, IA
Harlan Quick, Mayor of State Center, IA
Larry Butler, Mayor of Mechanicsville, IA
Shawn Hogan, Mayor of Hornell, NY
John Hollar, Mayor of Montpelier, VT
Walter Ash Jr., Mayor of Belfast, ME
Peter Lindstrom, Mayor of Falcon Heights, MN
Chris Taylor, Mayor of Swisher, IA
Joan Brown, Mayor of St. Charles, IA
Dana Hilliar, Mayor of Somersworth, NH
Norville Huston, Mayor of New Virginia, IA
John M. McNeill, Mayor of Red Springs, NC
Hans Trousil, Mayor of West Burlington, IA
Bill Moore, Mayor of Pleasantville, IA
James Bussanmas, Mayor of Bevington, IA
Michael Quill, Mayor of Auburn, NY
Robert G Taylor, Mayor of Duncombe, IA
Hillary Clinton, Hillary Clinton Campaign Press Release - Support from Mayors for Hillary Clinton Continues to Grow, Over 135 Backing Her Candidacy Online by Gerhard Peters and John T. Woolley, The American Presidency Project https://www.presidency.ucsb.edu/node/318863