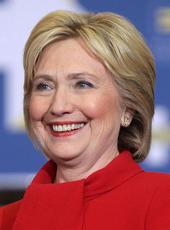 Hillary Clinton Campaign Press Release - A Republican President Would Undo President Obama's Actions On Guns, Climate, and a Whole Lot More
The stakes are higher than you might realize.
President Obama recently announced that he's going to take executive action to strengthen background checks and make it harder for dealers to sell guns to criminals. That's a commonsense step. And with more than 33,000 deaths from gun violence each year, it's a badly needed one.
A year from now, a new president is going to walk into the Oval Office—and they can either keep working to prevent gun violence in America or rip away the progress that President Obama has made. And it's not just gun violence prevention measures that are at stake—here are eight other things at risk of being ripped away if our next president is a Republican.


In the absence of congressional action, President Obama has used executive authority to tackle the urgent threat of climate change. He announced the first-ever limits on the amount of carbon pollution emitted from power plants. And his leadership made the the new international climate agreement in Paris possible. Not only would the United States' commitment to cutting emissions be at risk if a Republican climate denier gets elected president—but the entire agreement could fall apart without active U.S. leadership and participation.


When Congress failed to pass both the DREAM Act and a comprehensive immigration reform bill, President Obama took executive action to let DREAMers (undocumented immigrants who entered the United States as children) and parents of U.S. citizens and lawful permanent residents remain in the United States. These executive actions, known as DACA and DAPA, would keep millions of families together—and every leading Republican presidential candidate wants to end them.


Nearly 5 million new American workers are set to receive overtime pay, thanks to new rules that guarantees overtime pay to most salaried workers earning less than an estimated $50,440. That's a significant increase from the previous salary threshold of $23,660—a salary that's below the poverty threshold for a family of four.


A historic nuclear deal will prevent Iran from ever obtaining a nuclear weapon—yet many Republican candidates have boasted they'll tear it up a year into implementation. A Republican president would set us down the very path we've worked hard to avoid. Iran would be poised to get nearly everything it wants without giving up a thing: No restrictions on their nuclear program, no real warning if Tehran suddenly rushes toward building a bomb, and no more economic consequences—because the international economic sanctions would fall apart along with the nuclear deal.
Hillary understands that's not leadership—it's recklessness.


As millions of Americans can personally attest, student debt and the high cost of college are holding too many people back. That's why President Obama acted to help millions of borrowers with direct student loans from the federal government by allowing them to cap their monthly payments at 10 percent of their income. And the Department of Education is currently changing its regulations to make a "pay as you earn" plan broadly available within the next year—which would benefit millions more. We need to do more to help students and their families afford higher education—not undo these important steps while the cost of college skyrockets.


Marriage equality was a historic victory—but the fight for full equality for LGBT Americans isn't finished. President Obama has used executive authority to protect employment, housing, and health care for LGBT Americans—from adding gender identity to the federal anti-discrimination policy to prohibiting discrimination on the basis of sexual orientation and gender identity in all federally funded housing programs. And if you think a Republican president would maintain this progress, remember this: Every Republican running for president opposed the Supreme Court decision affirming marriage equality.


President Obama used an executive order to establish diplomatic relations with Cuba, change travel policies, and provide more opportunity and training for Cuba's growing private sector. But most Republican candidates for president would go back to a failed policy of the past that limits Cuban Americans' ability to travel to Cuba and support their family and friends and blocks American businesses that could help free enterprise take root on Cuban soil—a strategic error for the United States and a tragedy for millions of Cubans.


President Obama has signed executive orders raising wages, strengthening equal pay laws, and requiring paid sick leave for federal contractors, which will give 300,000 American workers up to seven days of paid sick leave each year. Unlike the Republican candidates running for president, Hillary will defend these actions—because she believes that raising incomes is the economic challenge of our time.
Hillary Clinton, Hillary Clinton Campaign Press Release - A Republican President Would Undo President Obama's Actions On Guns, Climate, and a Whole Lot More Online by Gerhard Peters and John T. Woolley, The American Presidency Project https://www.presidency.ucsb.edu/node/317487