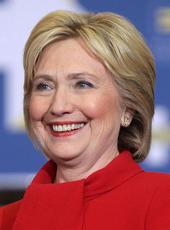 Hillary Clinton Campaign Press Release - A Republican President Could Transform the Supreme Court—and Upend Our Most Fundamental Rights
The fate of the court hinges on the next election.
President Obama has nominated Judge Merrick Garland to fill the Supreme Court vacancy left by the sudden death of Justice Antonin Scalia.
Within minutes of the president's announcement, Senate Majority Leader Mitch McConnell pledged to deny this qualified, widely respected jurist a hearing or a vote.
It's yet another reminder of what's at stake in this election. As we wait to see whether Republicans in the U.S. Senate will do their jobs and fulfill their constitutional responsibility, keep one thing in mind:
The next president will likely have the opportunity to nominate several justices to the Supreme Court. And in doing so, she or he could have the power to transform the court—and American law—for generations to come.
Here's what is at stake:
1. Safe and legal abortion
The Supreme Court recently held oral arguments from an abortion case from Texas—and the state's access to safe and legal abortion hangs in the balance. Every leading Republican presidential candidate opposes abortion, and some even oppose exceptions for rape, incest, or to protect a woman's health. And many would overturn Roe v. Wade to make that happen.
2. Voting rights
Shelby County v. Holder gutted one of the most important parts of the Voting Rights Act of 1965, a decision that has fueled a coordinated, Republican-led attack on the voting rights of people of color, low-income people, students, and seniors in recent years. (Ted Cruz has been one of the biggest cheerleaders for this decision.)
A conservative court could erode voting rights even further.
3. Marriage equality
The historic Supreme Court ruling on marriage equality was decided in a 5?4 split. A shift in the balance of power on the bench would provide the conservative wing of the court an opportunity to reverse that decision—an opportunity that a Republican president would be happy to give them (remember, every Republican candidate in this race denounced the Supreme Court's affirmation of marriage equality).
4. Campaign finance reform
The Supreme Court's ruling in Citizens United v. Federal Election Commission allows corporations to spend unlimited amounts of money to influence federal elections. It's a decision that has plenty of fans in the Republican Party.
Since that 2010 ruling, the conservative-led court has declined to revisit that decision. That's why Hillary has promised to do whatever it takes to overturn this ruling—including by fighting for a constitutional amendment.
5. Affordable health care
The Affordable Care Act has now survived two attempts to strike it down in the Supreme Court—but there are more challenges to the law making their way through the lower courts. John Kasich and Ted Cruz have spoken out against the court's Affordable Care Act rulings—and you can bet the justices they'd appoint would lead the charge against the law.
6. President Obama's executive actions on behalf of DREAMers and parents
Twenty-six states have brought a lawsuit against President Obama's executive actions (known as DACA/DAPA) to let DREAMers and parents remain in the United States. The Supreme Court will hear the case in this year. That matters—because every leading Republican presidential candidate wants to end the executive actions that would keep millions of families together.
Hillary Clinton, Hillary Clinton Campaign Press Release - A Republican President Could Transform the Supreme Court—and Upend Our Most Fundamental Rights Online by Gerhard Peters and John T. Woolley, The American Presidency Project https://www.presidency.ucsb.edu/node/316984